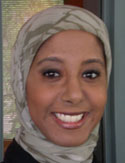 By Hind Makki
June 28, 2013
The authors of this piece, Shereen Yousuf and Hind Makki, first met in 2007 while we were working at an interfaith organization. We became friends and quickly developed a mutual respect for our respective practice of Islam; our friendship, you might say, was post-denominational. Through the years, we asked each other Shia-specific and Sunni-specific questions, clarified points of misconception and spent hours discussing how we can help build Intrafaith relationships among Muslims in our local Chicago communities. The latest sectarian violence in the Middle East and South Asia in these holy months leading to Ramadan has led us to take our personal friendship public. By condemning this violence and offering some avenues for Intrafaith cooperation, we hope to help build stronger ties between young Sunni and Shia Americans – sectarian violence abroad does not need to sow seeds of mistrust and hate here at home.
In the last year, sectarian conflicts between Sunni and Shia Muslims have been reaching a critical point: the ongoing bloody civil war in Syria is becoming sectarian and international in nature, violence against Shias Pakistan and Afghanistan is escalating, the crackdown against Bahraini anti-monarchy protesters is viewed as a regional Sunni-Shia conflict, and the UN has warned of a renewed sectarian war in Iraq, with the death toll in May alone being higher than it has since 2008. The targeted killings of Shia Muslims have been particularly brutal; some have even referred to it as a genocide. It was only after a bomb in Quetta, Pakistan that left 84 Shia Muslims dead on the street and the citizens living in that region collectively refused to bury the dead, that the Pakistan government took any action to protect them.
In Egypt, after months of incitement by Salafi religious and political leaders, tensions came to a gruesome boil on Sunday June 23, when an angry mob attacked Shia homes, injuring 30 and murdering 4 Shia Egyptians. One of those murdered was Hassan Shehata, a prominent Shia cleric, in whose home the local Shia worshipers were meeting. Since Sunday, an investigation has been opened, 8 people have been arrested in connection with the attack, and President Morsi has gone on record condemning the crime as "heinous."
In the US, mainstream – and largely Sunni – Muslim groups have publicly condemned the Egypt attacks. Last month, Muslim leaders signed an Intra-faith Code of Honor at a national Shia convention in Dearborn, Michigan. For the second time in the last decade, religious leaders pledged to prevent sectarianism in the national Muslim community – which is the most diverse Muslim population, in terms of race, ethnicity and sect in the world. In many ways, US Muslims are uniquely positioned to prevent sectarianism and promote Intrafaith unity by the very nature of our innate diversity.
As we condemn brutal sectarian violence and mourn and honor those who lost their lives, we believe it is critical to call on Muslims living in the US to use this upcoming Ramadan as an opportunity to get to know one another and learn about our varied traditions. Though many mainstream Muslims are not "over there" committing these acts, disassociating themselves from those who are committing these violent crimes, particularly in Pakistan, Egypt, Iraq, and Syria, isn't enough. Shia Muslims who are losing their lives to sectarian violence need more than a tweet here, or a statement of condemnation there from social media activists – they need real allies to advocate against discrimination and targeted sectarian terror within the Sunni Muslim community. Furthermore, Shia Muslims need to be more willing to work with Sunni Muslims and must make a more conscious effort to reach out to the broader Muslim community, since any success in creating awareness about their plight cannot happen without the help of the mainstream Muslim community.
We are inspired to work together not only because of our personal friendship, but because of our shared belief in God, His Messenger and His Holy Book.
And hold fast, all together, by the rope which Allah (stretches out for you), and be not divided among yourselves; and remember with gratitude Allah's favour on you; for ye were enemies and He joined your hearts in love, so that by His Grace, ye became brethren; and ye were on the brink of the pit of Fire, and He saved you from it. Thus doth Allah make His Signs clear to you: That ye may be guided. Qur'an 3:103
Living in a place where unity does not cost us our lives, religious practices, or personal dignity, it seems that we have an imperative to learn from one another, so that the lives that have been lost in sectarian violence are not lost in vain. Rather, we Muslims living in the US can see what is happening as prompting a movement towards genuine Muslim unity. Let us use this holy month of Ramadan to strengthen our relationships with one another.
Here are some of our suggestions on what you can do this Ramadan:
Learn about Sunni-Shia unity in Muslim history using this resource
Start a book club in which you read both "Sunni" and "Shia" texts
Host an intra-faith iftar at your mosque and invite your imams to join you
Join Taraweeh or visit a different mosque each night, like the 30 Mosques guys
Hold an intra-faith community service event, benefiting your local community
Share your activities on social media (Twitter, Facebook, Tumblr, Instagram)
May we all be granted a peaceful and blessed Ramadan, the Month of Mercy and Sanctity. Ameen.
Shereen Yousuf, a Shia Muslim whose family originate from India, received her Masters degree in Multicultural Communication from DePaul University and is passionate about studying subject matters such as race, gender, class and religion. Hind Makki, a Sunni Muslim whose family originate from Sudan, holds a degree in International Relations from Brown University and writes about the intersection of race, religion and national identity in the West. Both women are also strong advocates of interfaith cooperation.
Source: http://www.patheos.com/blogs/hindtrospectives/2013/06/joining-our-hearts-in-love-building-sunni-shia-unity-this-ramadan/
URL: http://newageislam.com/islam-and-sectarianism/hind-makki/"joining-our-hearts-in-love"-–-building-sunni-shia-unity-this-ramadan/d/12384