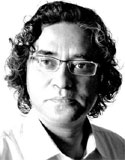 By Wajahat Masood
(Translated from Urdu by New Age Islam Edit Bureau)
Maulana Abul Kalam Azad was a litterateur, and a patriotic and nationalist Muslim leader. The journey of his life started in 1888 and his professional life started in as early as 1904. He was appointed as the acting president of All India National Congress in 1923, 1930 and 1939. He was elected the President of the Congress in 1940 and remained the chief of the largest political party of India till 1940. As a journalist, he published the weekly Al-Hilal (1912) and the Al-Balagh (1915) which have become the milestones in Urdu journalism. As an orator, he was unrivalled. The speech he delivered against the Rowlett Act in a Karachi Court has gone down into history as "Qaul-e-Faisal". When he wielded his pen, he produced the intellectual masterpieces of Urdu prose titled "Ghubar-e-Khatir and Tazkirah. His knowledge was all encompassing and his style and diction was unique. When he delved deep into religious sciences, he produced gems of knowledge in the form of exegesis of the Quran.
Maulana Azad joined the freedom movement at the age of twenty. The series of incarcerations that started in Ranchi, Bihar (now Jharkhand), ended at Qila Ahmad Nagar in 1945. His life span was 68 years and 7 months of which he spent 9 years and 8 months in British custody. He spent every seventh day of his precious life in prison, that is.
If anyone has any doubt about the political wisdom of Maulana Abul Kalam Azad, he should have a glance at 'India Wins Freedom'. Be it Nehru, or Patel, Gandhi or Jinnah, Maulana spoke to everyone in precise words and in no circumstances he spoke a single word that lowered his self esteem. Not a single word spoken by him was unbalanced or devoid of truth. The fact is that in the book which is considered one of the basic sources of the freedom movement of India, he has done a strict scrutiny of his own self. One may disagree with Maulana's point of view on the popular tradition of political dialogue. Maulana was not above the nitty-gritty of real-politic. Nevertheless, there is no denying his patriotism, sincerity, knowledge base, and sophistication. it's a blot on the political career of Quaid-e-Azam Mohammad Ali Jinnah that when he tried to project the Congress as a Hindu Party in order to emphasise the religious identity of the Muslim League, he called Maulana Azad the 'show-boy' of the Congress. Maulana had neither the habit nor the moral courage to retort. Surprisingly, on more than one occasion in his book, Maulana Azad has not only written nice words about Qaid-e-Azam Md. Ali Jinnah but also has praised his point of view on several issues. The kind of political culture Muslim League leadership wanted to promote, its followers took it to such a level which even Quaid-e-Azam Md. Ali Jinnah would not approve.
India was divided. The great sympathisers of Muslim politics went away to Pakistan, leaving millions of Muslims at the mercy of the 'Hindu majority'. On this occasion, addressing the Muslims at Jama Masjid in Delhi in October 1947, Maulana Abul Kalam Azad said:
"I do not ask you to obtain the certificate of loyalty from the madrasa of autocratic power and live the same life of parasitism which had been your way of life during the reign of the foreign rulers. I want to remind you that the bright signs scattered around in India as the relics of the past were your caravan. Please do not forget them; do not leave them; assert yourselves as their inheritors and believe that if you are not willing to run away, no power can force you to bow down. Let's pledge that this is our country. We are for it and the decisions on its fate will remain incomplete without our voice.
Speaking to a group of Muslims of UP going to Pakistan he said, "You are leaving your motherland. Did you think about the repercussions? If you continue to flee in this way, the Muslims of India will become weak and the day is not far away when regional inhabitants will rise to claim their separate identities. Bengalis, Punjabis, Sindhis, Balochis and Pathans would declare themselves independent nationalities. Wouldn't you be then in a helpless and delicate position like that of an unwanted guest in Pakistan? The Hindus may be your religious opponent but he is definitely not your national opponent. You can cope with them but in Pakistan you might face national and regional opposition which will make you feel left in the lurch."
In the latter half of the 20th century Mukhtar Masood was in the top league of Urdu writers. By virtue of his unique composition of sentences, the appropriateness of words, high human vision and sanctity of thoughts, his books "Awaz Dost" and "Safar Naseeb" became highly acclaimed. But regretfully, Mukhtar Masood could not hold on to his own standards while writing about Maulana Abul Kalam Azad:
"When students had misbehaved with Maulana (Azad) at Aligarh railway station I was also a student and was in the group that was sent to the station as'reinforcement', but unfortunately the train had already left. I regretted having lost the opportunity for a long a time."
According to late Farouque Quraishi, in the incident narrated by Mukhtar Masood, "some hands even reached Maulana's beard."
Repetition of the incident is not pleasant but it should be remembered that after the establishment of Pakistan, when Liaqat Ali Khan came to Lahore to address a public meeting as the Prime Minister, some local Muslim League die hard activists had danced with their lower garments off right in front of the dais.
In his book "Tehreek-e-Pakistan Ka Ek Baab" (A chapter from the movement for Pakistan), Prof. Md. Sarwar writes that Fazl e Ilahi Chaudhry (then speaker West Pakistan Assembly, later President of Pakistan) used to say with reference to his meetings with Maulana Abul Kalam Azad in Delhi in 1956 that Maulana among other issues had given his wise advice that elections should be held frequently in Pakistan. There is no cure for the weakness of democracy except elections. Maulana further told me to convey to the people of Pakistan that holding of Political posts by government officials was not considered good in the contemporary world. It would go without saying that by that time, Ghulam Mohammad as Governor General; Chaudhry Md. Ali as the Prime Minister; General Ayyub Khan as the Defence minister and Sikandar Mirza as the President of Pakistan had already held posts at different times. Maulana Azad knew the implications of the dominance of the bureaucracy over the political leadership. Can anyone in Pakistan today say with his hand on his heart that Maulana Azad's advice was based on malicious intent?
Also Read:
URL: https://newageislam.com/islam-politics/objectives-resolution-secularism-part-18/d/117350