By Noura Erakat, Jonathan Schanzer, Ali Abunimah and Ami Ayalon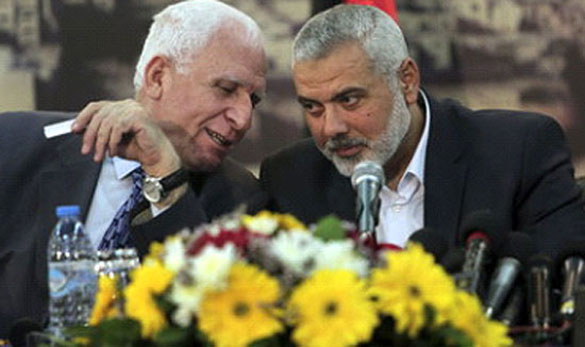 On April 23, Azzam al-Ahmad, a senior Fatah official, left, and Hamas's Ismail Haniyeh, prime minister of Gaza, announced that their groups had agreed to form a unity government. Adel Hana/Associated Press
---------
A First Step, but Israel and the U.S. Stand in the Way

By Noura Erakat
April 24, 2014,
By giving Palestinians greater strength when dealing with Israel, a Fatah-Hamas unity government is a necessary first step toward a viable solution. But continuing obstacles make it insufficient toward achieving that goal.
Since Hamas's electoral victory in 2006, Fatah has spent tremendous financial and diplomatic resources to defeat Hamas at the expense of combating Israel's apartheid regime and military occupation. While Hamas has similarly targeted Fatah members and suppressed their protests in the Gaza Strip, the magnitude of its attacks has paled in comparison to its rival's.
A unity government must find new funding if necessary and new diplomatic alliances that could fill the role the United States has held.
Fatah's control of the Palestinian Authority and its maintenance of diplomatic relations have enabled it to make decisions on behalf of the Palestinian people among other states and multilateral bodies. It has used its relative power to considerably weaken Hamas's legitimacy and position. Palestinians have suffered the most as a result of this internecine conflict.
Previous reconciliation efforts have been swiftly dashed by external intervention – most notably by the United States and Israel.
This round may be different because both Palestinian factions are enduring political vulnerabilities. The clamp down on the Muslim Brotherhood in Egypt has weakened Hamas, while the failure of the latest round of peace talks has incapacitated Fatah, which placed all its eggs in this broken basket. Fatah also recently acceded to 15 international agreements despite U.S. opposition indicating its protest to the failed negotiations.
Still, it is unlikely that the unity agreement signals a new page in the course of Palestinian national history because the West Bank economy, with a bloated public sector and high rates of debt, is reliant on donor aid for survival; donor aid over which the United States exercises considerable influence. A successful unity government must be ready to find new sources of funding if necessary and new diplomatic alliances able to fill the role the United States has historically filled and monopolized. Such radical shifts may be unlikely but they are not impossible.
In the meantime, the boycott, divestment, and sanctions movement to overcome government intransigence remains as relevant and as necessary as ever. It will grow as a younger generation of civil society activists step in where the Palestinian Authority, Hamas and governments around the world have failed. There is no alternative to national reconciliation, however, as the global movement can only shape but not supplant the political process.
Noura Erakat, a human rights lawyer, is now an Abraham L. Freedman Teaching Fellow at Temple University, Beasley School of Law and an editor of Jadaliyya.
---
Uniting With Terrorists Won't Lead to an Accord

By Jonathan Schanzer
April 24, 2014, 12:51 PM
The Palestinians have been a house divided since 2007, when Hamas, a violent Islamist organization, overran the Palestinian Authority. The violence erupted after a political standoff following their stunning electoral victory the previous year. To this day, Hamas still controls Gaza, while the rival Fatah faction (which controls the Palestinian Liberation Organization) clings to power in the West Bank.
This bloody conflict was not only a black eye for Palestinian nationalism; it has had a profound and deleterious impact on prospects for a two-state solution. Indeed, how can a solution be reached when these two Palestinian mini-states are in a state of hostility?
The Palestinians may be on the path to reunification, if they can overcome the false starts that have plagued such efforts before. But if unity is achieved, it will almost certainly come at the expense of regional peace.
The differences between Hamas and Fatah are actually not as stark as some might think. Both were founded on violent strains of Palestinian nationalism. Perhaps their biggest area of disagreement is the role of religion in the Palestinian struggle. But even then, during the second intifada (2000 to 2005), the Fatah faction invoked Islamist language and symbols. It even spawned its own Islamist terrorist faction, the al-Aqsa Martyrs Brigade.
After the death of Yasser Arafat in 2004, the new Palestinian president, Mahmoud Abbas, brought an end to the intifada. Since then, to Abbas' full credit, Fatah has maintained a course of nonviolence, and security cooperation with Israel has reached at an all-time high. To his discredit, however, incitement has continued, including the glorification of terrorists in the media. Fatah, in other words, has been wrestling with its demons. In fact, a controversy erupted recently when the Palestinian Minister of Religious Affairs, Mahmoud al-Habbash, came under fire by Fatah activists for condemning a terrorist attack against Israelis.
Yesterday's reconciliation deal appears to have interrupted, or even ended, this important tug-of-war. Hamas' embrace of terrorism is full-throated, and so is its rejection of Israel. So, while Fatah's embrace of Hamas may lead to national unity, it bodes poorly for peace. It also portends poorly for the Palestinian nationalist movement as it takes its first steps into what appears to be a post-Oslo world.
Jonathan Schanzer is the vice president for research at the Foundation for Defense of Democracies. A former terrorism finance analyst at the Treasury Department, he is the author of "Hamas vs Fatah: The Struggle for Palestine" and "State of Failure: Yasser Arafat, Mahmoud Abbas and the Unmaking of the Palestinian State."
---
Only a Single-State Solution Will Bring Peace

By Ali Abunimah
April 24, 2014, 12:57 PM
Let's go back to basics: The Palestinian people live under occupation and siege in the Gaza Strip and West Bank, as second-class citizens in present-day Israel, and as refugees, as a consequence of the Zionist colonization of historic Palestine that began more than a century ago and continues today.
Efforts to "solve" the situation by creating separate, ethnically homogenous states for the colonizing society, on the one hand, and for the victims of the colonization, on the other -- along the lines of apartheid South Africa's Bantustan system -- have failed.
The remaining route to a just peace would be a historic agreement to dismantle this colonial reality; it would transform Israeli Jews from a settler-colonial garrison society, and Palestinians from a subjugated people, into citizens of a common state committed to protecting the rights of all. Painstaking work would be needed to reverse the gross inequalities that are the consequence of the purposeful dispossession of the Palestinians.
As in South Africa and Northern Ireland, where historic settlements along similar lines are being implemented, such an agreement would require a legitimate, broad based Palestinian leadership and an Israeli leadership that recognizes that Israel's form of ethno religious apartheid must end.
Yet for many years, Israel and the United States have done all they can to thwart the emergence or recognition of representative Palestinian leaders: the Palestinian Authority functions as a native enforcer on behalf of Israel's occupation. Hamas, though it is currently observing the November 2012 ceasefire it negotiated with Israel, remains committed to exercising the Palestinians' right to resistance and self-defence.
This contradiction cannot be resolved through the agreement that was just signed in Gaza. Nor will Israel or the United States permit the weakened and aid-dependent Palestinian Authority to implement it.
A major step toward a just peace would be if the United States would stop interfering in Palestinian politics and instead use its influence to pressure Israel to abandon its commitment to ethno religious segregation.
While that is unlikely to happen soon, Palestinians will continue to seek other ways to defend their internationally recognized rights, and that includes their peaceful strategy of boycott, divestment and sanctions.
Ali Abunimah is cofounder of the Electronic Intifada and the author of "The Battle for Justice in Palestine."
---
The Strength to Move toward Peace

By Ami Ayalon
April 24, 2014, 5:51 PM
A reconciliation between Hamas and Fatah is a major step toward a comprehensive agreement between Israelis and Palestinians. But we need a new path to get there.
The reconciliation produces an entity that officially represents all the Palestinian people, removing the obstacle of Hamas's rule of Gaza, and therefore enables a reality of two states. It is a victory for pragmatism.
Israel and the Palestinians can now take independent steps to move toward a two-state solution.
But that pragmatism should not be squandered on bilateral negotiations that are little more than empty words in the closed negotiation room. The "peace process" has become an ends for itself, leading to the frantic efforts by the United States in the last weeks to resuscitate the failed talks.
What could work is coordinated, independent and constructive unilateralism, with Israel and the Palestinians independently taking steps to move toward a vision for a two-state solution articulated by the United States.
Israel could also take steps that move it closer to its goal of securing its future as a Jewish democracy: declaring it has no sovereignty claims over areas east of the security fence, enacting a voluntary evacuation and compensation law for settlers who reside in these areas (while the Israel Defense Forces remain in those areas until an Israeli-Palestinian agreement is reached) and planning the absorption of these settlers back in Israel proper.
The next constructive step should be the Palestinian admission into the United Nations in September provided the Palestinians accept the international community's conditions to renounce terror, recognize Israel and recognize previous agreements. The United States has a key role in facilitating this step.
Once progress is made in creating the reality of two states, negotiations can be restarted from a point much closer to a real Israeli-Palestinian agreement.
The reconciliation agreement between Hamas and Fatah is a testimony that the Palestinians have lost faith in the negotiations and are preparing for the next stage, which should include a new model for reaching the agreement.
Ami Ayalon, a former director of Israel's security agency Shin Bet, is a cofounder of the Israeli organization Blue White Future, which seeks a two-state solution through a negotiated agreement and the relocation of settlers.
Source: http://www.nytimes.com/roomfordebate/2014/04/24/can-hamas-fatah-unity-lead-to-mideast-peace
URL: https://newageislam.com/islam-and-politics/noura-erakat,-jonathan-schanzer,-ali-abunimah-and-/can-hamas-fatah-unity-lead-to-mideast-peace?/d/76742