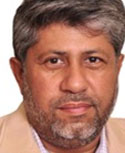 By Mansoor Jafar
12 February 2013
Last December, Tehrik-i-Taliban Pakistan (TTP) invited new candidate for its periodical "Ahyah-e-Khilafat" through an advertisement on Facebook, but website's owner Mark Elliot Zuckerberg promptly removed the ad as 'objectionable and uncivilized'. Usually, the social networking websites exercise extreme care for removing something, like Facebook's counterpart YouTube owners have remained stubborn on not removing blasphemous material against Islam despite continued protests all over the Muslim world.
Not troubled by their failure of 'liking' at the Facebook, the untiring Taliban came up with a new social rather well calculated political move manifested in the form of talks offer to Islamabad hardly one-week before Valentine's Day, as if saying "Be my Valentine". This offer came through a video featuring TTP spokesman Ehsanullah Ehsan, flanked by Adnan Rasheed, a fugitive of last year's jail-break.
No doubt, talks offer deserves a positive response but Taliban's stance and objective need to be determined before going ahead. The million-dollar question remains what should be the prime objective of talks? Besides, the talks should be kept out of media reach since media prying often sabotage possible deals in these sensitive matters; and unfortunately Pakistani media is notorious for its unwarranted activism.
U.S. Pressure
The fact remains that U.S. freely holds talks with Afghan Taliban for whatever objectives but will never allow Islamabad to do the same with the Taliban in its tribal region. So, standing firm against all kinds of U.S. pressure is the key to the success of any kind of talks with Taliban, if it were ever held. Islamabad must be prepared for disasters which the U.S. can spur in its already endangered economy and peace.
TTP and Democracy
In another video one-month back, TTP leaders Hakimullah Mehsud and Wali-ur- Rehman Mehsud had stated they were not opposed to 'serious' and 'meaningful' talks with government, but questioned Islamabad's autonomy of holding and honouring talks, saying Islamabad policy makers were U.S. slaves who can break any promise or law on Washington's dictation. They refuted Islamabad's precondition for laying down arms, terming it as illogical and saying arms are considered the basic ornament of tribesmen.
In the aforementioned video, both TTP leaders repeatedly condemned democracy and democratic system, terming it 'system of infidels' and reaffirming the pledge for continuing the struggle for re-establishing Islamic system of Khilafah. They greeted "Arab Spring" but warned Islamic movements in Middle East against pinning any hopes with democratic system saying it can never enforce real Islam, which it had proved through the last century.
Offer for Talks
But in a very recent video, TTP spokesman made a conditional offer for talks, requiring three important Pakistani leaders to act as guarantors for implementing the outcome of negotiations. They include twice prime minister and head of main opposition party Pakistan Muslim League (Nawaz) Mian Nawaz Sharif; Ameer of Jamaat-e-Islami [replica of Akhwan ul Muslimun in Pakistan] Syed Munawwar Hassan; and noted cleric Fazl ur Rehman who is head of Jamiat Ulema Islam and dubbed as patron of Afghan Taliban but has been a close ally of ruling Peoples' Party till last year.
Interestingly, the parties of all these three leaders believe in democracy which Taliban term as "system of infidels", so these guarantors are in no position to pledge anything on behalf of Zardari government or Washington. Syed Munawwar Hasan has openly refused to act as guarantor for Islamabad, while Nawaz Sharif has been lamenting over Zardari's breach of promises over the last five years. But, the shrewd Fazl ur Rehman, known for doing anything in lieu of 'substantial gains', has left all his options open. In order to add another feather in his cap, he dashed to Doha to facilitate the ongoing U.S.-Taliban talks, before he could guarantee anything for the peace of his own country facing a civil war.
Buying Time?
The pro-U.S. quarters in Pakistan say militants in the past, had used talks to buy time for carrying out their agenda, and became stronger every time. While Taliban say Islamabad government always backed out of promises and deceived them to bargain with Washington, which brought more lawlessness to the country.
Islamabad's pre-condition throwing arms looks pointless since it pre-empts any kind of talks which primarily aims at making peace with the militants. The military operation against tribal militants is aimed at two things, to submit to the writ of state, and dissociate themselves from foreigners (Al-Qaida). TTP had categorically expressed their refusal to dissociate from Al-Qaida, saying "they (foreigners) are Muhajirs and we are Ansaars." They also refused to lay down arms and closing sanctuaries, but put their own pre-conditions of halting military operations and pulling out army from tribal areas.
Under this scenario, any talks will be a futile exercise and a replay of a number of broken peace pacts between Taliban and Islamabad which General [retired] Pervez Musharraf broke during 2006-7. The most noteworthy was that with Taliban chief Nek Muhammad which broke the next day when the U.S. drone killed him. Another pact with Swat Taliban broke when Islamabad refused to restore the promised Shariah courts in Pakistan administered Malakand Agency and instead nominated its own judges for those courts.
As an alternative to peace with Taliban, the U.S. then forced Pervez Musharraf to issue the controversial National Reconciliation Ordinance (NRO) in 2007 which revoked all criminal cases against noted politicians, particularly Benazir Bhutto and her spouse, currently president Asif Ali Zardari, and paved the way for their return to country by ending ten-year self-imposed exile.
It is also noteworthy that all those pacts with Taliban were broken when elections were close. History is set to repeat itself after six years when elections are just two months away. May be TTP wants to gain something from a dying U.S.-puppet government?
Mansoor Jafar is Editor of Al Arabiya Urdu based in Islamabad.
Source: http://english.alarabiya.net/views/2013/02/12/265811.html
URL: http://newageislam.com/islam-and-politics/mansoor-jafar/taliban's-'be-my-valentine'-offer-to-pakistan/d/10406