Memorandum
19 September 2016
Exiled PoK leader Shaukat Kashmiri leading a demonstration in front of United Nations Human Rights Council in Geneva
-----
1. United Kashmir People's National Party (UKPNP) is a secular, progressive and democratic political organization of the Former Princely State of Jammu and Kashmir. It mainly operates in Pakistani occupied Kashmir and plays an active role in evolving a consensus among Kashmiri Diaspora for a peaceful resolution of the Kashmir issue. UKPNP is striving peacefully at different fronts for achieving its ideals in the service of civil society, political, socio-economic and human rights of the people of State of Jammu and Kashmir, which is currently under India, Pakistan and China. Since its inception United Kashmir People's National Party has advocated the unification and independence of Former Princely State of Jammu and Kashmir.
2. We are deeply concerned about the state of human rights and security situation in former Princely state of Jammu and Kashmir and Pakistan.
3. The assembly of eminent members of civil society, political activists, journalists and citizens from different parts of the globe have converged at UN human rights head office in Geneva to register our concerns over the growing extremism, terrorism, blasphemy laws, discriminatory laws, enforced and involuntary disappearances, extra judicial killings, violence towards Kashmiri Nationalist, Human Rights Defenders and minority groups such as Christians, Hindus, and target killings of Ahmadias and other religious sects, political crisis and other human rights situation in Pakistan, and Pakistan administered Kashmir Gilgit Baltistan.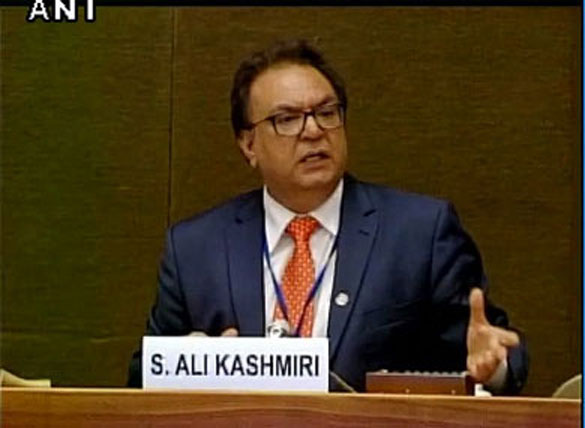 Exiled PoK Leader Shaukat Kashmiri
--------
4. The United Kashmir People's National Party (UKPNP) would like to bring to the notice of the United Nations Human Rights Council the blatant Human Rights violations being carried out by the Government of Pakistan and the Pakistani military on the people of Pakistan Administered Kashmir and Gilgit Baltistan. The local population of these regions are increasingly being threatened by terrorism, religious intolerance and extremism, all perpetrated by the Pakistan army.
5. We would like to draw the attention of the UN High Commissioner for Human Rights to the complete failure and disregard of the Government of Pakistan to provide the people of Pakistan Administered Kashmir and Gilgit Baltistan their basic rights to live without the fear of persecution, forceful displacement, arbitrary arrests and suppression of political rights. Due to rising religious extremism, religious minorities are systematically targeted both by extremist groups and the Pakistani security forces. The media is heavily gagged to ensure that these atrocities go unreported.
6. Assassination of Sardar Arif Shahid, Chairman of the All Parties National Alliance.
We call upon the United Nations Human Rights Council to note that many voices of opposition raised against the Pakistani Government's deliberate policy to keep the people of Kashmir and Gilgit Baltistan subjugated have been silenced permanently. The brutal killing of Sardar Arif Shahid, Chairman of the All Parties National Alliance and a very prominent Kashmiri political leader, in Rawalpindi on May 13, 2013 by the Pakistani intelligence services is a clear reflection of the reprehensible policy adopted by the Government agencies to remove sane voices of peaceful resistance. We have repeatedly raised this issue in the UN Human Rights Council to put pressure on Pakistan to institute a judicial enquiry into the target killing of Sardar Arif Shahid but no action has been taken yet.
7. Extra Judicial-Killings In The Name Of Countering Terrorism.
We fear the situation in that region will deteriorate. Under the National Action Plan and on the pretext of countering terrorism, the Pakistan army will continue to carry out more extra judicial-killings. The recent decision by the Pakistani Supreme Court to declare as legitimate the rulings against civilians suspected of engaging in terrorism by army controlled military courts is also counter to the basic laws of human rights. It allows for a parallel system of military justice to operate. The military courts have already sentenced 16 people to death and many more are likely to be sentenced in future.
8. Azad Kashmir (meaning Free Kashmir)
It is a well-known fact that the offices of Prime Minister, President, Legislative Assembly, High Court and Supreme Court have no powers over constitutional, political, social, economic, cultural development. All these institutions function under the hegemony of Islamabad.
9. Ministry of Kashmir Affairs and Kashmir Council.
It is very well known that both Ministry of Kashmir Affairs and Kashmir Council control the entire life of the so-called Azad Kashmir and Gilgit Baltistan. This underlines the non-elected nature of Kashmir council that is headed by the Prime Minister of Pakistan. It controls 53 subjects out of 56 and Prime Minister of Pakistan has prerogatives of dissolving any Government at Muzaffarabad whenever he/ she deems it necessary without taking the legislative assembly into confidence. According to article (7) sub-section(2), no person or political party shall be allowed to take part in activities prejudicial or detrimental to the ideology of state's accession to Pakistan. Act 1974 is not only contradictory to the UNCIP and stipulations of Truce Agreement but also with the article 257 of constitution of Pakistan that is described as257, for short.
Provision relating to the State of Jammu and Kashmir
When the people of the State of Jammu and Kashmir decide to accede to Pakistan, the relationship between Pakistan and that State shall be determined in accordance with the wishes of the people of that State. According to the UN resolution, Pakistan is obliged to ensure life, liberty and dignity of the people of Pakistani Occupied Kashmir and Gilgit Baltistan.
10. Restrictions on Freedom of Expression.
Tight controls on freedom of expression have been a hallmark of the in so-called Azad Kashmir and Gilgit Baltistan. This control is highly selective. Militant organizations have had free rein to propagate their views and disseminate literature. However, those supportive of independence for a united Kashmir, or otherwise critical of the Pakistani government, have faced continual repression.
11. Systematic change in the demography of so-called Azad Kashmir and Gilgit Baltistan.
Jammu and Kashmir is a disputed territory. State subject of Kashmir dated the 31st January 1927 do not allow non-locals to buy property in Kashmir. But Pakistan is violating the state subject and settling its citizens in Gilgit Baltistan and So called Azad Kashmir to change the demography of these areas.
12. Use Of Religion As Weapon And Terrorism As Foreign Policy Tool.
We are deeply concerned about Pakistan's policy to use religion as weapon and terrorism as a foreign policy tool and our region as a launching pad for terrorism and training camps to suppress the secular, democratic and progressive voices of the entire region.
13. Sedition Charges against peaceful Kashmiri Nationalist Leaders and Human Rights Defenders.
In so-called Azad Kashmir and Gilgit Baltistan, nationalists leaders and political workers are facing sedition charges. Section 124-A is related to sedition, which states that whoever brings into hatred or contempt the federal and provincial government shall be punished with imprisonment up to life, to which fine may be added.
14. Use of Anti-Terrorism Act (ATA) against peaceful Kashmiri Nationalist Leaders and Human Rights Defenders .
The government is using the Anti-Terrorism Act (ATA) against secular, progressive, nationalist political workers, civil society activists and human rights defenders who are struggling for their basic and fundamental human rights. Recently Anti Terrorism Court (ATC) in Gilgit Baltistan awarded 40 years in prison to human rights defenders and peaceful political activists Baba Jan, Iftikhar Hussain and their colleagues.
15. Pakistan Established Military Courts In Country And In So Called Kashmir And Gilgit Baltistan.
Establishing military courts in disputed territory of Former Princely state of Jammu and Kashmir is a clear violation of International Laws. Allowing civilians to be tried by military tribunals is a serious blow to human rights and rule of law in the country. Militarizing the judicial process will not lead to justice and it will not control terrorism. This is the lesson from around the world. It has not proven to work in Pakistan in the past, and there is nothing to indicate that it will do so now.The trial of civilians in military courts is incompatible with international standards, including article 14 of the (ICCPR)international Covenant on Civil and Political Rights, which requires Pakistan to ensure that those accused of any offence – no matter how heinous – are guaranteed a fair trial by an independent, impartial and competent tribunal. Military courts in Pakistan are neither independent nor do the proceedings meet internationally agreed standards of fairness.
16. Plundering Of Natural Resources.
Islamabad is involved in plundering of natural resources of the region without the consultation of local population. Islamabad is constructing mega dams as part of a proposed China-Pakistan Economic Corridor project which runs across our region before it enters Pakistan. Mega projects in a disputed territory of Kashmir are a clear violation of international laws and UNCIP resolutions on Kashmir. Kashmiri are denied of ownership and benefits of their own natural resources.
17. Enforced Disappearance In So Called Azad Kashmir.
There are reports published on BBC Urdu that dozens of people are missing after their arrest by the intelligence agencies, operating in Pakistani held Kashmir, the Azad Kashmir particularly in Kotli District. It is reported that the people were arrested when they left the Jihad (holy war) in Kashmir or stopped providing information to the intelligence agencies about the movements of people across the borders of the Pakistan. The majority of the disappeared persons were residing along the control line, a border line between India and Pakistan, dividing disputed Kashmir.
18. Enforced Disappearances and Extra Judicial Executions.
Extrajudicial killings are a symptom of a dysfunctional judicial and criminal justice system that has failed to deliver justice. When the criminal justice system collapses it gives rise to arbitrary actions by the State, which uses unlawful killings of opponents as a tool to curb crime and manage law and order. Enforced disappearances have also become a common occurrence in Pakistan, as a consequence of absence of rule of law. In Balochistan alone, credible sources have claimed that more than 14,000 people are still missing, while the Balochistan provincial government officially recognizes less than 100. To date, the Commission of Inquiry on Enforced Disappearances still has more than 500 cases unresolved of persons from Balochistan. Enforced disappearance and extra judicial killings are also common in Sindh; Pakistani held Kashmir and other parts of Pakistan and law enforcement forces are acting with impunity.
19. Misuse of Blasphemy Laws.
Pakistan's blasphemy law "is overwhelmingly being used to persecute religious minorities like Christians and Hindus to settle personal vendettas. People accused of blasphemy have been murdered before their respective trials were over, and prominent figures who opposed the blasphemy law have been assassinated.
20. The United Kashmir People's National Party (UKPNP), therefore, appeals to the UN High Commissioner for Human Rights to organize a UN fact-finding delegation to visit Pakistan Administered Kashmir and Gilgit Baltistan and bring on record the extreme repression of the people by the Pakistan.
Name Signature
URL: https://www.newageislam.com/islam-human-rights/exiled-pok-leader-shaukat-kashmiri-condemns-serious-violations-human-rights-pakistan-memo-unhrc/d/108601