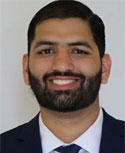 By Hassam Munir
24 September 2019
Since 1958, the final week of September every year has been marked around the world as International Week for the Deaf (IWDeaf). The WHO estimates that more than 460 million people around the world, including 34 million children, have hearing loss. One in every 10 Canadians is hearing-impaired to some degree.
As one of the world's largest Muslim NGOs, we at Islamic Relief Canada feel that it is high time for us to initiate conversations that enable us to learn about the experiences of the hearing-impaired (or otherwise differently-abled) within the Muslim community. In doing so, we can revive and carry forward a Prophetic legacy of compassion.
The description of the Prophet Muhammad (ﷺ) in the Qur'an is that he was an agent of God's mercy to the 'ālamīn, an Arabic word that refers to all of God's creation. No person⁠—and in fact, not even animals or plants⁠—were excluded. In practice, the Prophet kept himself keenly aware of the unique needs of every individual around him, and was especially considerate of those who were differently-abled or disadvantaged in some way.
The Prophet respectfully delivered to these differently-abled Muslims their God-given right to not be reminded of their difference in a demeaning way. Instead, they were encouraged to take on dignified and meaningful roles within the Muslim community.
A famous example is one of the Prophet's earliest followers, 'Abd Allah ibn Umm Maktum, a man who had been blind at birth. The Prophet appointed him as one of those who summoned the Muslims to perform their prayers⁠—a prestigious role in Muslim societies to this day.
Later on, something caused 'Abd Allah to feel discouraged from coming to the mosque for prayers due to the difficulty he faced in getting there. But the Prophet encouraged him to come, not by being dismissive of his challenges but by emphasizing that any Muslim who heard the call to prayer—a subtle reminder to 'Abd Allah that he himself often made that call—was obligated to pray in the mosque.
At one point, the Prophet left Madinah for some time and chose to leave 'Abd Allah as his deputy, showing that 'Abd Allah's blindness was no obstacle to him assuming leadership of the entire community and that, in fact, some of his other qualities made him ideal for the job.
In all this, the Prophet reminded 'Abd Allah and all Muslims, including today's Muslims, that it was important to focus not on the faculty that 'Abd Allah lacked, but on the many that he had, which he could use—if respectfully given the opportunity—to make meaningful contributions to the community. The Prophet truly saw him not as disabled but as differently-abled.
There are other, similar examples from the Prophet's life. Muslims since then have sometimes, in the different places and contexts to which they spread, failed to show the same consideration for the differently-abled among them. But in many cases, they successfully followed the Prophet's example, too.
In the 1540s, the imam and preacher at the same mosque in Madinah where 'Abd Allah had made the call to prayer was Ali al-Shami, a completely deaf man. This did not prevent him from holding such an esteemed position among Muslims. By his time, Ali al-Shami could benefit from a tradition of accommodating special needs that went all the way back to the Prophet, and produced a complex Ottoman Turkish sign language and special bathhouses only for the deaf-mute, to name just two examples.
That is the same tradition that we at Islamic Relief Canada draw on today as we take part in the International Week for the Deaf. By bringing together hearing and hearing-impaired Muslims, we aspire to learn about the many things we all have in common and share those aspects of our lives that make each of us unique in our own way.
Hassam Munir is the founder of the iHistory project and the primary writer of this blog. He is pursuing an MA in Middle Eastern History from the University of Toronto. He is a research fellow at Yaqeen Institute for Islamic Research. He has lectured in Canada and the US, and his work has appeared in various outlets.
This opinion piece was co-authored by Arshia Lakhani, Creative Engagement Specialist at Islamic Relief Canada.
Original Headline: The Prophet (ﷺ)'s compassion for the differently-abled
Source: iHistory
URL: http://www.newageislam.com/islam-and-human-rights/hassam-munir/the-prophet-(ﷺ)'s-compassion-for-the-differently-abled---he-was-considerate-of-those-who-were-differently-abled-or-disadvantaged-in-some-way/d/119820