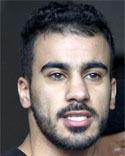 By Hakeem al-Araibi
Feb. 26, 2019
I will never forget the love and support I was greeted with the moment I arrived here on Feb. 12 after spending 76 days in detention in Thailand. The combined international engagement on my case is what gave me my freedom back. I am home now with my wife and for that we deeply thank all who played a role in my safe return.
What kept me going during these dark 76 days knowing that the whole world was witnessing the injustice? Millions of people saw me barefoot and shackled at a hearing in Bangkok, not because I had committed any crime — I had not — but because, I believe, Thailand's ruling family happened to be tightening its relations with the Khalifas, the family that rules Bahrain, where I was born and which I had represented on its national soccer team.
The shackles were humiliating. I am not a criminal, though I had been tried in absentia on what are widely accepted to be made-up charges — including the nonsensical accusation that I participated in burning a police station at a time I was playing soccer in a televised match — and was sentenced to 10 years in prison. I strongly believe my only "crime" was upsetting the Bahraini royal family by drawing attention to the failure of Sheikh Salman bin Ibrahim al-Khalifa, the president of the Asian Football Confederation, to protect athletes, and his alleged involvement in their arrest and torture, after pro-democracy demonstrations in the country in 2011.
I escaped Bahrain in 2014 after learning of the charge against me, and took up residence in Australia, where I was granted refugee status in 2017. Feeling safer, I often forgot there were still unfair charges against me, and my wife and I planned our honeymoon.
I arrived in Thailand only to find myself rapidly separated from my wife and confined to a detention centre.
Many people believe that my return to Australia was a glorious victory, but to me it is only a half victory. I am safe and reunited with my wife, but I am also reminded that my dream of eventually going back to Bahrain will not be a reality any time soon.
Bahrain has only a jail cell to offer me, while Australia is now my home and its government and people have stood by me.
While in prison, I had a long time to consider how I got there. I have no doubt my imprisonment in Thailand was a punishment for my criticism of Sheikh Salman, a member of the Bahraini royal family, during his 2016 campaign to be elected president of FIFA, the international soccer organization. My highlighting of his alleged violations of human rights in 2011 likely contributed to his failure to win the election.
I am a free man now, but what about the more than 150 Bahraini athletes and sports officials who were arrested and in some cases tortured in 2011? Some remain in prison to this day. No credible investigations into these abuses were carried out.
There is a dark side to sports in Bahrain. The kingdom uses wealth and sports to whitewash its legacy of abuses, and silences those who try to draw attention to this pattern.
The activist Najah Ahmed Yousif was tortured, sexually abused and imprisoned in 2017 for daring to criticize the Bahrain Grand Prix auto race, and the journalist Ahmed Ismail Hassan was shot and killed while attempting to cover protests surrounding the race in 2012. Salah Abbas Habib Musa, a protest leader, was shot by the police during the weekend of the race, and nobody was held accountable for his death. Next month Formula One racing is scheduled in Bahrain; if the Formula One management fails to secure the release of Ms.Yousif, it should cancel the race.
In Bahrain there are consequences for speaking up, but I am willing to take a personal risk and stand up for human rights no matter what, as are many brave Bahrainis. Don't be mistaken, as I was when I went on my honeymoon to Thailand: I may be free now, but I and many other peaceful critics remain a target for Bahrain. Relatives of my friend Sayed Ahmed are imprisoned in Bahrain for his speaking out against the regime from his home in London. This week, Bahrain's court upheld its three-year sentence in what the United Nations considers an unlawful act of reprisal through family connections.
Bahrain has been emboldened thanks to President Trump, who has made it clear to Bahrain that "there won't be strain with this administration." The United States was in a powerful position to help end my ordeal, but instead it chose to stay silent.
Indeed, Secretary of State Michael Pompeo traveled to Bahrain and praised the strategic partnership between the two countries, but made no mention of my case. Not only did he not mention my situation while I was still detained in Thailand, he failed to raise the issue of human rights at all. The United States had the means to use its leverage, since Bahrain is a close ally and host of the Fifth Fleet, but it failed to take a stance. Britain, similarly and shamefully, avoided offering support for my situation.
If Bahrain has learned anything from seeking to extradite me, it is that the government can arrest, torture and repress its people and countries like the United States and Britain will continue to look the other way. My case underscores Bahrain's enormous power to flout international standards, like lodging an illegitimate "red notice" with Interpol to stop a refugee while he travels.
It also shows Bahrain that the United States and Britain consider their own interests more important than the lives of individual Bahrainis. These countries are abandoning human rights at a time when things are worsening in Bahrain and will only continue to deteriorate.
I am so fortunate to have been able to return to Australia and continue my life, but many other Bahrainis are not as lucky. If they received the same level of international support I did, they might be enjoying the same freedom I am now.
Hakeem al-Araibi, a former member of Bahrain's national soccer team, plays for Pascoe Vale Football Club in Melbourne.
Source: nytimes.com/2019/02/26/opinion/running-from-bahrains-dark-side.html
URL: http://www.newageislam.com/islam-and-human-rights/hakeem-al-araibi/bahrain-uses-wealth-and-sports-to-whitewash-its-legacy-of-abuses-and-silences-those-who-try-to-draw-attention-to-this-pattern/d/117876