Geneva, Press Release
19 March 2016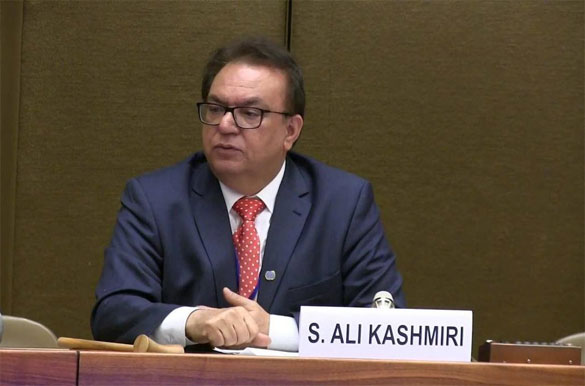 Chairman of UKPNP, Sardar Shaukat Ali Kashmiri
-----------
At the ongoing 31st Session of the United Nations Human Rights Council in Geneva, the exiled Kashmiri leader Sardar Shaukat Ali Kashmiri urged the UN Human Rights Council to take notice of deteriorating human rights situation in the region.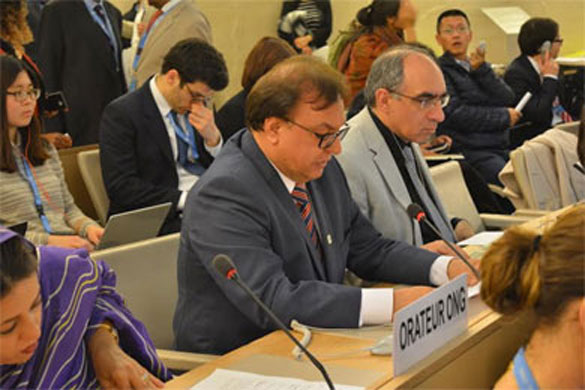 Chairman of UKPNP, Sardar Shaukat Ali Kashmiri
-------------
Sardar Shaukat Ali Kashmiri, Exiled Chairman of United Kashmir People's National Party (UKPNP), addressed the United Nations Human Rights Council's General Assembly and said that so called Azad Kashmir is a land of strict curbs on political pluralism, freedom of expression, and freedom of association; a muzzled press; banned books; arbitrary arrest and detention and torture at the hands of the Pakistani military and police; and discrimination against refugees from Jammu and Kashmir state. Kashmiri nationalists are singled out for discrimination because they do not support the idea of Kashmir's accession to Pakistan. Recently Sixteen books on various aspects of Kashmir have been banned by the government of so-called Azad Kashmir.
Mr. Kashmiri also raised the issue of exploitation of natural resources in Gilgit-Baltistan and so-called Azad Kashmir has deprived the natives of the region of their own natural wealth. Pakistan is involved in plundering of natural resources of the region without consulting the local population. Islamabad is constructing mega dams. The proposed China-Pakistan Economic Corridor project will cause environmental damage to air quality, water resources, soil erosion or contamination. Kashmiris are denied royalty because Islamabad says royalty is only paid to provinces and Kashmir is not a province of Pakistan. Mega projects in a disputed territory of Kashmir are a clear violation of international laws and UNCIP resolutions on Kashmir.
"Pakistan's province of Punjab has recently passed the Women's Protection Act despite stiff opposition from conservative clerics, religious and feudal leaders. However, we appreciate it as it gives legal protection to women from domestic, psychological and sexual violence. Forced conversion of Christian and Hindu girls, rape, gang-rape, domestic violence, honour killing (Karo Kari), Vani (exchange of women in settling the disputes), and forced/child marriages are some examples of women's rights violations in Pakistan. There is need to do more and abolish all evil practices and discriminations, violence against women and young girls in Pakistan." Said Shaukat Kashmiri
Mr. Kashmiri urged upon UN HRC to put pressure on Pakistan to stop victimization of nationalist leaders of Kashmir and Gilgit Baltistan. All political prisoners including Baba Jan and his colleagues should be released immediately and unconditionally who were trialled under Anti-Terrorist Acts (ATC) and are facing 40 years' life imprisonment.
URL: https://www.newageislam.com/islam-and-human-rights/geneva,-press-release/pok-is-a-land-of-muzzled-press,-banned-books,-arbitrary-arrest-and-torture-of-freedom-fighters,-sardar-shaukat-ali-kashmiri,-exiled-chairman-of-ukpnp-tells-unhrc-at-geneva/d/106715