By Baseer Naveed
23 January 2020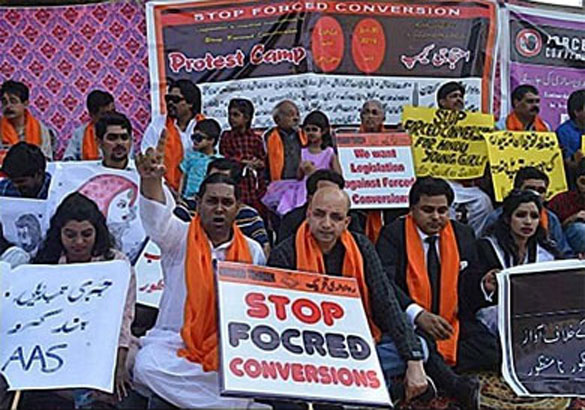 IHRC Hong Kong started this petition to Mr. Imran Khan (Prime Minister of Pakistan) and 4 others
----
While forced conversion are not a new phenomenon in the country the recent spike in cases of forced conversions and marriage of underage non Muslim girls is a worrisome trend. The IHRC is concerened about the recent spate of these abductions where underage girls are kidnapped and later married to their kidnappers.
The IHRC has received information regarding two minor teenage girls from Sindh province. The girls, one Hindu and one Christian were forcibly abducted by Muslim y men and were disappeared after that. Amrot Sharif Madressa is stated to be behind the conversion. The Madressa has the notoriety of abetting the abduction of young girls from religious minority community. Once converted these girls are not allowed to meet or have any contact with their parents.
As per the information received through local media the victim, Huma Younus went missing from her home on 10 October 2019 from her home in Zia colony, an improvised neighborhood in Karachi. She was taken to Dera Ghazi khan 600 km from her home and was converted and married the same day.
The conversion papers presented to the parents were rejected by them as phony, they demanded to meet their daughter in person to know her side. However to date teh parents have not been allowed to see their daughter. Younus Masih, The father of Huma has filed an appeal in the Court, the case however, has stalled after the certificate of conversion and marriage certificate was presented in court.
According to the aggrieved parents the three men who abducted Human waited until her parents were out of the house to seize the girl. Her mother, Nagina, laments that police refused to accept their initial complaint, and filed the case only on 12 October after refusing several times.
Huma's parents state that their daughter was supposed to appear before the court for the scheduled hearing on 11 November, but she failed to show up. The parents are apprehensive that she may no longer to be alive.
Another recent case of forced conversion from Sindh province was reported on social media. As per the social media posts Mehak Kumari, 14, a resident of Jacobabad district in the Sindh province and a student of 9th standard was reportedly kidnapped on January 15 and later converted to Islam. A Facebook page called Pakistani Hindus Youth Forum (PHYF) has reported the incident and says that Mehak Kumari is a daughter of a businessman. She was kidnapped by one Ali Raza Solangi, and converted on the pretext of marriage
Raza is stated to be laborer barely earning enough to support his two wives and children it seem improbable that Mehak could fall for a guy already married twice.
The cases of forced conversion of non muslim underage girls has spiked recently, a conservative figure of 1000 cases of Hindu and Christian girls being forced to convert were estimated in the province of southern Sindh alone in 2019. The reality is much grimmer. There are no official figures available the experts however cite that the number may be in thousands as many parents given their socio economic vulnerability do not seek judicial intervention.
A majority of cases of forced conversion pertain to the girl being underage, being gullible and naïve the girls become easy targets for human and sex traffickers who trick them into a life of slavery. These girls are not allowed to meet their parents and all outside contact is strictly forbidden to bar them from escaping their captors.
Some 16 girls and young women have gone before the Sindh High Court asking for support against their forced marriages. Ironically in Pakistan though marriage under the age of 18 is illegal, forced conversion of underage children is not.
in 2016, Sindh Assembly unanimously passed a bill against forced religious conversions: The Criminal Law (Protection of Minorities) Act. The bill, however, was returned two months later by Sindh's then Governor, Saeed-uz-Zaman Siddiqui, without being ratified, due to pressure from influential conservative and extremist Muslim groups.
The power dynamics of religio-political parties has made matters worse for the religious minority in Pakistan. The nexus of wealthy landlords, extremist religious organizations, weak local courts and an indifferent administration work in tandem in this forced arrangement.
The all out impunity against the clergy and extremist elements is deeply ingrained in the political landscape of the country. The state becomes hapless at the hands of these religious leaders who assert their clout and stall all measures to legislate against the practice. Unlike other Muslim countries the state authorities in Pakistan do not issue the conversion certificate. Instead it is the "conversion factories" or madressah who issue these, making the veracity of voluntary conversion virtually impossible.
In Malaysia for example those who want to convert submit an application/affidavit saying they are adults and want to change their religion. The process takes around three months. Then, a statement is recorded by a civic authority. Conversions cannot take place without the consent of the family in case of a minor.
The state must legislate and implement the law against forced conversions the religious seminaries should be prohibited from issuing conversion certificates and any contravention must be penalized. Moreover the law against child marriage must be adhered to strictly to curb forced conversions and subsequent underage matrimony. Conversion subsequently, becomes a secondary issue if underage marriage can be stopped entirely.
The IHRC would like to remind the Prime Minister Imran Kahn of his promise made during his election campaign to uplift religious groups across Pakistan and to take effective measures to prevent forced marriages of Hindu girls. The IHRC believes that unless a law is enacted on conversions and strictly implemented, it will be an uphill task to put a stop to forced conversions.
The IHRC demands for the recovery and impartial enquiry into the kidnapping and forced conversion of the teenage girls- Huma Younus and Mehek Kumari- the state must outlaw the practice of forced conversion penalizing those issuing the certificate of conversion.
Original Headline: Call to recover forcibly converted minor girls
Source: Change. org
URL: https://www.newageislam.com/islam-human-rights/ihrc-concerned-forced-conversions-minor/d/120868