By Zainab Sikander
23 November, 2020
Love jihad' is a figment of political imagination, but the power of its politics can't be underestimated. You thought Ram Rajya was the foundation stone of the Hindu Rashtra? Think again. It is actually the bending of Hindu minds around the ghosts of 'love jihad' that will ultimately create the Hindu Rashtra.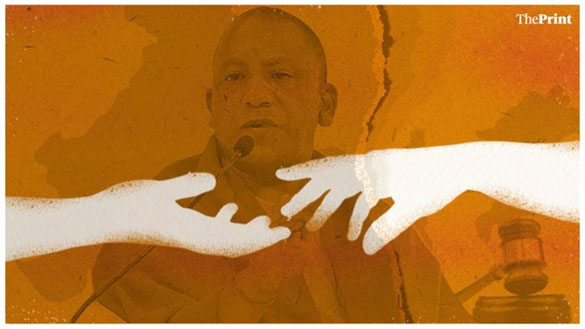 Illustration by Ramandeep Kaur | ThePrint
-----
'Love jihad' is slowly and steadily turning into the carrot that is leading the donkey towards the formation of a state where politics and religion merge, and the Hindu Rashtra will finally become a reality. Of course, those with even basic common sense can foresee that this will spell disaster for India. With popular acceptance of the concept, legitimised by discussions on television debates and social media, 'love jihad' has turned into a Loch Ness monster that people are convinced exists but has rarely ever seen, which makes it all the more dreadful.
Death Of A Secular State
The anatomy of 'love jihad' is fascinating. Since time immemorial, lands have been fought over, conquered, and won for the pride of a kingdom, community, or tribe. One piece of land has recently been won in our very own country from the 'Mughals' — the Ram Janmabhoomi. Thus, reinstating the pride and honour of Hindus of India. But there is apparently a new conquest taking place in the 21st century in Narendra Modi's New India that most Right-wing Hindus have taken note of. The conquest of the Muslim man over the Hindu woman. And the man who can't stop noticing it is Uttar Pradesh Chief Minister Yogi Adityanath.
Muslim men are being accused of running a "foreign funded" jihadist ploy for a while now, where much like guerrilla warfare, "charming" Muslim men ambush and lure innocent Hindu women to fall in love with them. These men then, apparently, smooth talk women into converting to Islam for the sake of 'love'. This phenomenon of a Hindu woman marrying a Muslim man has been coined as 'love jihad' — because consensual interfaith marriage can't be a reality in new India.
Yogi Adityanath has openly declared that any Muslim man indulging in 'love jihad' will be inviting death.

His government, along with the Bharatiya Janata Party governed states of Haryana and Madhya Pradesh, have decided to enact laws against 'love jihad'. These are three states of a secular nation unabashedly endorsing religious diktats. In Kerala, too, the concept has found support from Catholic bishops, with former Chief Minister Oommen Chandy claiming that 2,667 young women had converted to Islam in the state since 2006. Last year, the National Commission for Minorities vice-chairman George Kurian wrote to Home Minister Amit Shah saying that Kerala's Christian community was a 'soft target' for Islamic radicals who were trapping women through 'love jihad'.
How is this fear and paranoia any different from the Wahabi policing in Saudi Arabia, where women are told how to dress, how to behave, or who to be accompanied within a public place? We are also now dictating who to fall in love with — with state sanction.
When a state starts policing its citizens based on religion, it turns from a democracy to a theocracy. Europe has struggled with this for long. And the very suggestion of such a law by India's ruling political party's state governments is, in fact, laying the first foundation stone of the Hindu Rashtra, which so far was only rhetoric — a concept of a Hindu country (as opposed to a secular one) endorsed by the BJP and the Rashtriya Swayamsevak Sangh (RSS) in their gatherings. Now we have the legal basis for it.
A Patriarchal State
The concept of a Hindu Rashtra, at first, seems simplistic — a country whose official state religion is Hinduism. But if you were to scratch the surface, the concept has overtones of patriarchy and a totalitarian state where even someone you marry has to be approved by the state that is quite clearly being ruled by men.
Let's understand the patriarchy. The very concept of 'love jihad' is based on the premise that Hindu women are incapable of thinking for themselves and that they're gullible enough to fall for potential 'terrorists' who just want to marry them for the sake of religious conversions. They have no agency or choice. Often, it is the parents or family of the woman who files complaints alleging 'love jihad'. Only because their daughter's choice goes against theirs.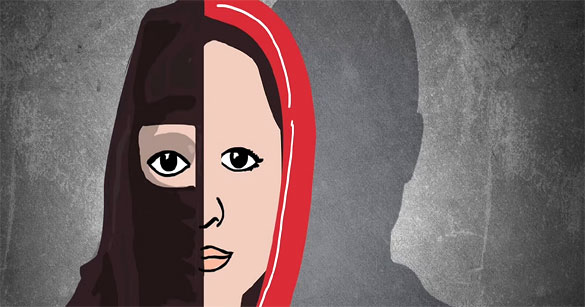 Many Right-wing Hindu men have also reduced Hindu women to just their wombs, because they claim that Muslims are marrying Hindu women only to produce Muslim children, thereby pandering to the fake narrative that Muslims are going to overtake the Hindu population in India. Lesser 'Hindu wombs', lesser Hindu children.
In fact, if you think that 'love jihad' is a modern concept, you'll be surprised to know that Right-wing Hindus were stricken by the same paranoia in the 1920s. Back then, riots took place over the alleged abduction of Hindu women and their forced conversions to Islam in Kanpur in June 1924 and Mathura in March 1928, according to history professor Charu Gupta.
And the story is not very different today. Without any confirmed fact, there is still a big show of the number of Hindu women who have been "forcefully" converted to Islam by nefarious and seductive Muslim men masquerading as lovers. In 2009, pamphlets distributed in Jawaharlal Nehru University claimed that "4,000 girls" had been converted to Islam under 'love jihad' in Delhi and Maharashtra. This number, whose source is unknown, was circulated by the Akhil Bharatiya Vidyarthi Parishad or ABVP — the student wing of the RSS.
But there are new figures of the number of cases of love jihad being put forth in Uttar Pradesh, with the police actually investigating such cases. And this is how we understand the manner in which totalitarianism is embedded in the very concept of the Hindu Rashtra. Under Yogi Adityanath's very own administration, 14 cases were being investigated for 'love jihad' in August this year. But half of those cases have been found to be consensual marriages between Hindu women and Muslim men, and closure reports have been filed for them. The remaining seven cases are still under investigation. Yet, the myth of love jihad is still considered real enough for Yogi Adityanath and other chief ministers wanting to enact a law on it.
------
Zainab Sikander is a political observer and writer. Views are personal.
Original Headline: Not Ram Mandir, the 'love jihad' laws are the foundation of Hindu Rashtra
Source: The Print
URL: https://newageislam.com/interfaith-dialogue/love-jihad-figment-political-imagination;/d/123613
New Age Islam, Islam Online, Islamic Website, African Muslim News, Arab World News, South Asia News, Indian Muslim News, World Muslim News, Women in Islam, Islamic Feminism, Arab Women, Women In Arab, Islamophobia in America, Muslim Women in West, Islam Women and Feminism