By Samuel G. Freedman
August 8, 2014
Shortly after the latest cease-fire expired in Gaza on Friday, Jacob Bender gingerly climbed the steps of the Membar, the pulpit at the Islamic Society of Delaware here. A Jew in a mosque, his hands palpably quivering but his reedy voice steady, he read some brief comments to close the afternoon's worship service, called Juma'h.
Mr. Bender offered both hope and censure, twinned: Muslims and Jews could still be "partners for peace and justice," he said. Israel and Hamas bore shared responsibility for the current carnage, he added, and more hatred would lead to more violence, while love would lead to reconciliation.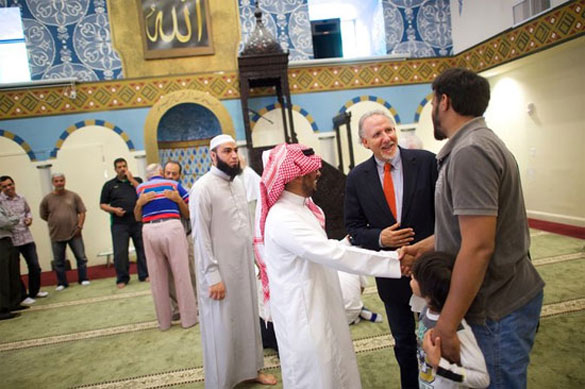 Jacob Bender, in a suit, after a speech at a mosque. Mr. Bender, a Jew, is part of the Council on American-Islamic Relations. Credit Mark Makela for The New York Times
-------
After he finished those words, he intoned the Judaic funeral prayer, El Malei Rachamim, adapting its English translation to remember the victims in Gaza. He closed the prayer by saying "amen," and the several hundred men and women replied in kind. Then, unbidden, they joined in sustained applause.
It was an emblematic moment for an unusual man. For the past 10 months, Mr. Bender has served as executive director for the chapter of the Council on American-Islamic Relations in Philadelphia — the first non-Muslim to ever hold such a high-ranking position within CAIR, as the council is commonly known.
"I feel like I'm living out a certain Jewish prophetic stance, albeit in a Muslim organization," Mr. Bender, 64, said. "I've wanted to play a role as a bridge builder, and I just couldn't do it in the organized Jewish community because I insist on washing Israel's dirty laundry."
That chosen role has made Mr. Bender a reviled figure among some Jews. He has been assailed on the Internet as "CAIR's court Jew" and "an 'Interfaith'-schlock-peddler." Some have even assigned him the middle name "Judenrat," a reference to the local Jewish councils during World War II that complied with Nazi directives to organize their own people for transit to concentration camps.
Describing itself as an advocacy and civil rights group, CAIR has often been the object of suspicion in Jewish quarters, particularly since being named an unindicted co-conspirator in a 2007 court case involving a Texas charity that funnelled money to Hamas. Even after references to the group were officially expunged from the court records, and even after it formally condemned terrorism by groups including Hamas, CAIR has made few inroads with Jewish organizations.
Yet the effects of the unrest may put Mr. Bender in the position of interlocutor between Muslims and Jews in America during a volatile time.
"How can we make sure that a deep disagreement over a conflict in the Middle East doesn't permanently damage relationships in the Midwest?" asked Eboo Patel, a leading coexistence advocate who is founder and president of the Interfaith Youth Core. "The core idea of America for me is that groups who are at each other's throats over there can build, together, a nation here."
Mr. Bender's path toward his present perch began as the child of secular Jewish immigrants in Los Angeles who taught him Yiddish as his first language and took him to "ban the bomb" rallies as a 6-year-old. While earning a degree in religious studies at University of California, Los Angeles, Mr. Bender discovered the history of Muslim and Jewish coexistence, known as Convivencia, during the Moorish era in Spain.
That period became not just his scholarly interest but also the centre of a kind of belief system, a vanished Eden that needed to be recreated by modern peacemaking. While developing his career as a filmmaker in the 1970s and 1980s, Mr. Bender also served as a volunteer or paid staff member in a series of Jewish groups that were pushing for a two-state solution — Breira, New Jewish Agenda, Meretz USA — when such an idea was considered radical. He also lived in Israel for seven years over the decades, and for part of that time worked at the Yad Vashem Holocaust museum in Jerusalem.
The Sept. 11 attacks plunged Mr. Bender into both despair and activity. Fearful that a global religious war seemed possible, he spent a decade producing "Out of Cordoba," a documentary film about both his beloved Convivencia and his growing indignation at Israel's occupation of Palestinian land.
After the film's 2012 release, Mr. Bender faced the practical need of finding another job. He found the CAIR position posted on an email list for jobs in the non-profit sector. In August 2013, he applied. Of 50 applicants, Mr. Bender quickly rose to the top — for his media, managerial and interfaith experience, as well as for being an observant Jew who had consistently and vociferously denounced the occupation.
"We put our money where our mouth is," said Osama al-Qasem, a marketing manager who is on the CAIR chapter's executive committee. "By bringing in a non-Muslim, a Jew, to head the largest Muslim organization in the area, it shows we have no animosity toward any other religion, as the Islamophobes always claim. We're sending a message."
The message has been well received in many quarters. Mr. Bender has built or strengthened the CAIR chapter's bonds to Christian ecumenical groups and to Philadelphia's municipal government. Under his aegis, CAIR was a sponsor of an Iftar dinner at City Hall during Ramadan and was included in a historical exhibit at Philadelphia's airport about the civil rights movement.
Much of Mr. Bender's day-to-day work involves domestic issues — a Muslim pupil bullied in his school, a local mosque vandalized, a Muslim security guard forced to remove her hijab while being photographed for a gun permit. Yet the Middle East conflict is not merely the proverbial elephant in the room, but a stomping herd of them.
In the Jewish religious community, Mr. Bender's fierce critique of Israel has found willing listeners only among the left-leaning fringe, primarily the small Reconstructionist and Renewal movements. The moderate mainstream, while less vituperative than the online antagonists in criticizing Mr. Bender, has treated him as a pariah.
During Mr. Bender's first month on the job, for instance, he saw that one of the Philadelphia area's most prominent conservative synagogues, Temple Beth Hillel-Beth El, was going to host a panel discussion featuring such speakers as Daniel Pipes, a historian, and Michael Medved, a radio talk show host. Deeming them "anti-Muslim," Mr. Bender emailed the congregation's rabbi, Neil S. Cooper, to ask for a chance to appear and talk about CAIR's interfaith efforts. But the discussion ran aground over the two men's disagreements about the Israeli-Palestinian issue, as well as whether the panel members opposed Islam or just its radical variant. Rabbi Cooper, recalling their exchange in a recent email, wrote that he doubted that CAIR has "been given a 'hechsher,' "a kosher certification, by all but a far-left sliver of American Jewry.
"The rest of us boring rabbis and their respective flocks, making up 95 percent of the Jewish community, are neither interested, swayed, nor shocked by the placement of a Jew in such a position," Rabbi Cooper wrote. "Given the fact that some of us are our own worst enemies, we take Mr. Bender's Judaism with a grain of salt.
Source: http://www.nytimes.com/2014/08/09/us/guided-by-history-a-jew-tries-to-unite-two-faiths-divided-by-war-in-gaza.html?_r=0
URL: https://www.newageislam.com/interfaith-dialogue/samuel-g-freedman/guided-by-history,-a-jew-tries-to-unite-two-faiths-divided-by-war-in-gaza/d/98579