By Mariana Baabar
August 20, 2012
Mohammed Khurshid Khan, former deputy attorney-general of Pakistan, cleans shoes at the Golden Temple, Amritsar

A top Pakistani official's 'act of penance' for Taliban intolerance raises official hackles

----------

The town of Hasan Abdal, on the Grand Trunk Road, comes alive each year when thousands of Sikhs from the world over visit the Gurudwara Sri Panja Sahib here on the eve of Baisakhi. Amongst the pilgrims are Sikhs from India who travel on special trains and for whose stay exceptional arrangements are always made in Pakistan. It was also to the Gurudwara Sri Panja Sahib that Sikhs from the interiors of Swat (and speaking fluent Pashto) came in droves as the military opened a major offensive against the Taliban in the summer of 2009.

On a spring morning this year, as Sikh pilgrims walked barefoot into the Gurudwara, they chanced upon a volunteer whose duty it was to collect and store the pilgrims' shoes. If there was anything incongruous about his appearance, it was that along with the obligatory bandana covering his head, there was a pair of Ray-Ban sunglasses.

But then, 62-year-old Muhammad Khurshid Khan is no ordinary volunteer; as is apparent from his name, he is not even a Sikh. Till recently, Khan was Pakistan's deputy attorney-general. He was sacked for giving Pakistan a 'bad image' by polishing shoes and sweeping floors at Amritsar's Golden Temple, and other Indian Gurudwaras and temples during an official visit last March.

Pakistan deputy attorney-general to clean shoes at Amritsar's Golden Temple, the headlines screamed, with accompanying photographs of Khan, shoe brush in hand and intent on the job, seemingly oblivious of the swarming media. The reaction in Pakstan, naturally, was marked by embarrassment, tinged with anger and discomfort. One official, with scant regard for protocol, responded: "What an idiot!". Islamabad cared little that Khan was doing "penance" for crimes committed by the Taliban against minorities, including the beheading of a Sikh, Jaspal Singh, in Peshawar in February 2010. Not a common phenomenon in the Islamic faith, the concept of 'penance' is much misunderstood.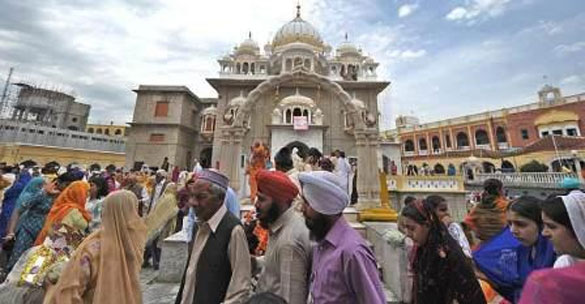 Devotees at Panja Sahib Gurudwara near Rawalpindi. (Photograph by AFP, From Outlook 20 August 2012)
------------
The killing of Jaspal Singh was a turning point in Khan's life. He was filled with remorse after he visited the victim's family. He was determined since then to make a personal contribution towards greater communal amity. During his visit to India as part of an official delegation, he also visited Delhi's Gurudwara Rakabganj, and performed kar seva.
Seeing this proud Pakhtoon's acts of humility in Indian Gurudwaras, churches and temples prompted Manzoor Khatana, a publishing firm CEO, to comment: "I appreciate the gesture of Mr Khan; indeed, a true Pathan, a good Pakistani, and a great humanist...." But from the state came the inevitable charge that he was tarnishing Pakistan's image. The sack followed soon. Undeterred, Khan responded: "How can they term it a disgrace? I will fight this head on."
On Tuesday he struck, filing a defamation suit against the president of Pakistan's Supreme Court Bar Association, Yaseen Azad, for bad-mouthing his acts of 'penance'. "I do not sweep toilets at home but did so at the Gurudwaras for inter-faith harmony", Khan said in his legal notice, challenging Azad, demanding an apology and asking how he could be sacked. He alleged that he was being punished for pointing out corruption in the Pakhtunkhwa government.
Other, saner voices were also heard. Fatima Mustafa of Boston University pleaded, "Instead of censuring Khan, Pakistan could have used his case to show their stance against terrorism and their empathy for the sufferings of Pakistan's minorities.... Pakistan should celebrate such actions, and see them as a means through which to open channels of communication with other communities."
As Khan explained in India, "I am a Muslim, not a terrorist; I am a Khan, not a terrorist; I am from Pakistan, but not a terrorist. But I want to tell the world it's unfair to tarnish a whole community for the sins of a few. I have been keen on visiting places of worship here to promote harmony between India and Pakistan."
Perhaps the Taliban—whose reign of terror and intolerance sparked Khan's unique reaction—would even be shamed into at least some soul-searching. Usually, they have had little patience for anyone who dared to differ and things they deemed alien: minorities, girls' schools, Sufi shrines, even polio drops for babies.
Muhammad Khurshid Khan has proved to be that rare lone, courageous voice in the teeth of hostile, cynical opposition. "I live in a rigid society. But the Ulema have never criticised me. The Hadees says anything good must be spread all around," he says.
Source: http://www.outlookindia.com/article.aspx?281953
URL: https://www.newageislam.com/interfaith-dialogue/mariana-baabar/a-muslim-at-the-gurudwara/d/8379