By Kanika Sharma
29 Nov 2015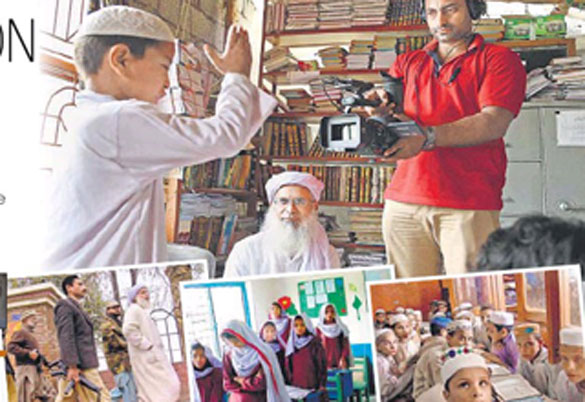 Photo: (Clockwise from top): The documentary begins with an unnamed sixyear-old being quizzed by Maulana Abdul Aziz Ghazi on all that he has learnt about jihad in his year at the Red Mosque madrasa. Students here are told to focus only on the Quran, avoid secular subjects such as maths and science and avoid all forms of the mass media. A classroom at the secular village school where former student Zarina (not in photo) studied after she fled a Red Mosque-affiliated madrasa in 2009. Armed guards walk with Aziz within the mosque premises. Though he was fired by the Pakistan government, he continues to serve as head cleric.
--------
"Do you remember the sermons we taught you," the old man asks the six-year-old.
Among the Believers, a documentary by an Indian Hindu and a Pakistani Muslim, explores the roots of jihadi terror through five years spent at Islamabad's controversial Red Mosque
"I seek Allah's refuge from Satan," the boy intones. "We will destroy you if you attack us. You cannot enter here. You cannot conquer us. You cannot! And if you dare to enter here, we will destroy you in the name of jihad."
"Well done!"
So begins the documentary Among the Believers.
The old man questioning the little boy is Abdul Aziz Ghazi, controversial self-appointed head cleric of Pakistan's Red Mosque. He beams with pride over having given shelter, food and education to this fatherless child for a year. He says he has hundreds of other such students housed within the mosque complex, where they are taught radical Islam and trained for jihad.
Maulana Aziz is an avowed supporter of the ISIS and Taliban. He boasts that his father, who served as maulana before him, had close relationships with Pakistani Presidents and Osama bin Laden.
Aziz envisions a Pakistan where the Sharia is the only law, where all women must wear the burqa, where other religions are stamped out. And he is part of a tradition at the Red Mosque of actively working towards these goals.
Lal Masjid has been a mujahideen training base since soon after its establishment by the government in Islamabad in 1965.
First, the fight-to-the-death soldiers were training for the battle against the Soviet Union in Afghanistan, under the leadership of Aziz's father, Maulana Muhammad Abdullah, and with support from the US.
After Abdullah's assassination in 1998, Aziz and his brother took over, and for the past 15 years they've been training jihadis for the fight against the post-9/11 US-led offensives.
In a case of unprecedented access, the two filmmakers behind Among the Believers were allowed to film the goings-on within the mosque complex from 2009 to 2014. They shoot Aziz talking to students, preaching, and sharing his views on Islam and death, including the violent deaths of his father, mother, brother and 20-year-old son.
Among the Believers is the brainchild of Mumbai-based Hemal Trivedi, who then roped in Pakistani filmmaker Mohammed Ali Naqvi.
"I felt driven to explore the world of the jihadis after I lost a very dear friend in the 26/11 terror attacks of 2008," Trivedi says. "I felt so much rage over the way those terrorists were able to orchestrate a massive show of strength in the heart of my city and get away with it. Eventually I decided that anger was futile; instead, perhaps I could learn something about where they came from."
Trivedi has previously worked on the e Oscar award-winning Saving Face, about ut Pakistani acid attack victims, which she e co-edited with Davis Coombe. Naqvi has won a Special Emmy for his documentary Shame, on the international human rights icon and gang-rape survivor Mukhtaran Mai.
As it turned out, it was Naqvi who did most of the filming within the mosque.
"Considering my gender, it was a given that I wouldn't be welcome," says Trivedi. "When our co-producer Naziha Syed Ali [assistant editor at Dawn] went in with Mohammed, for instance, he wouldn't look her in the face because of his religious beliefs and that hampered communication."
So Trivedi focused on one young student, Talha, and an ex-student, Zarina, whose divergent paths became another central element in the documentary.
Zarina ran away from a Red Mosque-affiliated madrasa in 2009 and pursued a secular education in her village of Bunni Behk on the outskirts of Islamabad. Talha, originally from Kashmir, stayed on at Lal Masjid, despite opposition from his father.
Both youngsters are now 17. After Zarina's school was shut down following continued threats from the Taliban, she was married to a man nine years older, in 2012, and is now a mother of two. Talha has 'graduated' from the Red Mosque madrasa and is pursuing 'further study of the Holy Book'.
Meanwhile, inside the mosque, Naqvi recorded some interesting personal conversations too. "At one point, Aziz began explaining why the life I pursue is very shallow," he says. "'You make these films, show them at festivals, pursue accolades, but what about a spiritual goal? You are only serving yourself,' he said to me."
Naqvi replied that most of his films dealt with issues such as human rights, so they were in a way an attempt to better society. "'That is my jihad,' I told him," Naqvi says. "Jihad means struggling to overcome your own demons, fighting to improve the lot of society."
SCHOOLS OF THOUGHT
Among the Believers — the title, incidentally, is borrowed from VS Naipaul's 1981 book on the rise of Islamic fundamentalism in Asia — premiered at this year's Tribeca film festival in New York, and had its India premiere at the ongoing International Film Festival of India (IFFI) in Goa on Friday, where it is also nominated for the UNESCO Fellini Award for 'respect and promotion of cultural diversity'.
In addition to Aziz and his students, the film talks to secular Pakistanis such as national security analyst and nuclear physicist Pervez Hoodbhoy and Bunni Behk village chief Tariq, who find Aziz's reading a corruption of their faith.
"What's troubling to me is that entire generations of Muslim youth are growing up in a post-9/11 world where their faith has been vilified, their identity questioned. Combine this with the lack of opportunities and support structures in countries like Pakistan and you have building resentment just waiting to be harnessed," Naqvi says.
Education has become a crucial battlefield, Trivedi adds. "Institutions like the Red Mosque madrasas are teaching the equivalent of 'A for Allah, B for Bandook and H for Hijab' in Urdu, excluding secular subjects like mathematics and science, and dissuading students from accessing any kind of mass media except for the propagation of Islam," Hoodbhoy adds.
The other cause of the malaise is the political posturing in the West, says Naqvi.
"Who funded the Taliban and paved the way for the mujahideen to wage this kind of jihad? The US administration did. What the United States did in Iraq has come back in the form of ISIS, I think. And all they offer by way of solutions is more political posturing," he adds. "I believe that, in Pakistan and elsewhere, the solutions can only come from within, from among the believers."
Source: goo.gl/NLhMyT
URL: https://newageislam.com/interfaith-dialogue/a-corruption-faith/d/105462
New Age Islam, Islam, Islamic Online, Islamic Website, Islam Women and Feminism, Interfaith Dialouge, Jihad, Madarasa, Mujahideen, Lal Masjid, Afghanistan