By Arshad Alam, New Age Islam
10 March 2021
The National Institute of Open Schooling (NIOS) has recently suggested the introduction of Gita and other religious texts in madrasas. This has led to severe criticism from different quarters. Sections of the 'secular' press have tried to understand this step as an imposition of 'alien' religious values on Islamic madrasas. Muslim clerics similarly have declared that they will oppose any such move on part of the government. Others have pointed out that there may be nothing wrong in teaching the Gita to madrasa students but then they are of the opinion that the Quran should also be taught in Hindu religious institutions like the Gurukuls. But as it often happens, between the polarised positions of those opposing the move and those supporting it, the nuance often gets lost.
------------------------------------------------------------------------------
Also Read: Madrasa Education is a Clear Violation of the Human Rights of Children: Sultan Shahin asks UNHRC to make Muslim Countries Stick to their Pious Declarations
------------------------------------------------------------------------------
First things first. The proposal to introduce Hindu religious texts has come from the NIOS, which is an autonomous body within the HRD ministry and thus cannot be said to be directly coming from the government as it is made out to be. Through the Scheme for Providing Quality Education in Madrasas (SPQEM), the NIOS has already enrolled fifty thousand students from around hundred madrasas all over the country. For madrasa students, the NIOS is beneficial as they are able to pursue courses and programs which are not available in their own institutions. There is demand from within the madrasas to expand the reach of NIOS and get their students accredited to it. In fact, it was the Sachar Committee Report, which for the first time, had suggested that NIOS could be one of the ways of mainstreaming madrasas. The open schooling system offers a bouquet of subjects and students are free to choose from the many courses.
The flexibility that NIOS system gives is not possible within the formal schooling system. Within the open schooling system, it is the discretion of the learner to choose any subject or a combination of them. Thus it needs to be clarified that NIOS has just suggested that courses on Hindu religious themes, and many others, be introduced to madrasa students. It is just a proposal and not an order as it is made out to be. The very nature of NIOS would mean that these courses will not be imposed on students but that the latter would be free to choose them only if they want.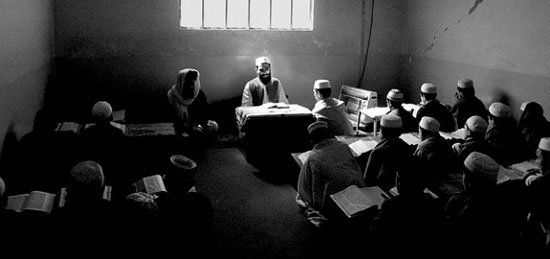 Representational Photo
-----
It is important to understand that there are two very different kinds of madrasas which operate in the country. The more numerous ones are those who are outside the control of various state madrasa boards and hence will not likely even consider the NIOS proposal. The NIOS proposal might be entertained by board controlled madrasas but even here just a few thousands do accredited courses from NIOS. Thus the overall number of madrasa students who will be impacted if such a proposal gets considered will be a minor fraction of the total strength. The Muslim clergy, being fully aware of these details, are opposing the proposal just for the political optics of it.
------------------------------------------------------------------------------
Also Read: RESTRUCTURING MADRASA EDUCATION: Muslim Opponents of India's 'Right of Children to Free and Compulsory Education Act' are Enemies of Indian Muslims
------------------------------------------------------------------------------
The more important question that we need to ask is what is the problem if Gita and texts of other religions are to be taught in madrasas? Madrasa students, especially those who study in independent seminaries, are normally insular when it comes to knowledge about other religions. The pedagogy has become so ossified that they do not even have contemporary knowledge of the Muslim world. Most of their energy is spent on refuting what they consider 'erroneous' interpretations of Islam. Thus an average Barelwi student learns more about how to refute the Deobandi rather than learning about Islam in contemporary contexts. Some madrasas, in higher classes, have courses on 'comparative religion' but then the emphasis here also is about falsifying other religions rather than making any attempt to comprehend them. A little exposure to Hindu religious traditions will only do them good in the long run.
However, NIOS is utilised by many other sections of students as well, not just madrasas. Students of different religious communities, not just Muslims, access their courses. So it is rather intriguing why only texts of one religion is being deemed fit to be offered as pedagogical material. By the same logic, why should the teaching of Quran and Bible not be offered by NIOS? Part of the reason emanates from one of the core objectives of the New Education Policy which lays emphasis on teaching of Indian culture and civilization. While the objective is laudable, the policy makers forget that Indian culture is not just about Hinduism but rather is the outgrowth of contributions from various religions and traditions. Excluding non-Hindu texts, even at the level of proposal, certainly adds up to being discriminatory to other faiths. If the objective of the NIOS was to enhance religious pluralism amongst students, then by limiting this exercise to introducing Hindu religious texts to Muslims, that objective seems to have failed even before it started.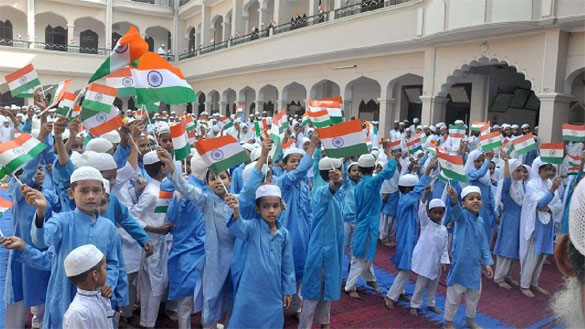 Representational Photo
-----
In fact, Hinduism, being the dominant religion in the country, is accessible to all through various other mediums. Ramayana and Mahabharata were consumed by millions of Muslims and Christians through the medium of television. As such, minority religious groups already have some Knowledge of the Hindu religious faith. The same, however, cannot be said about a majority of Hindus, who, no matter what ideology they belong to, happen to know very little about Islam or Christianity. One of the reasons why there are fantastic stereotypes about Islam is simply because there is not enough understanding about it within the majority community. If there was ever a need to teach religious subjects in this country, they should be targeted at the majority population. The NIOS will do well to design courses with such an objective in mind which will only complement its efforts to teach the Gita to madrasa students.
-----
Arshad Alam is a columnist with NewAgeIslam.com
URL: https://newageislam.com/interfaith-dialogue/it-all-right-madrasas-offer/d/124508
New Age Islam, Islam Online, Islamic Website, African Muslim News, Arab World News, South Asia News, Indian Muslim News, World Muslim News, Women in Islam, Islamic Feminism, Arab Women, Women In Arab, Islamophobia in America, Muslim Women in West, Islam Women and Feminism