New Age Islam Edit Desk
New Delhi: 2 July 2013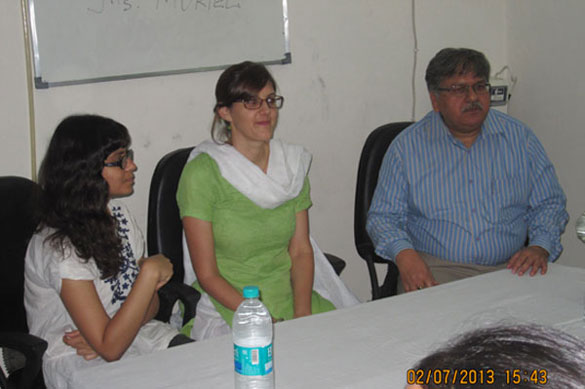 (From left) Ms Sumbul Shahin, Ms Muriel Potherat, French research scholar and Mr Sultan Shahin during the Interfaith interaction with the students of New Age Islam Foundation's Centre for Education and Research
-------
The New Age Islam Foundation' Centre for Education and Research has been successfully running a free computer education centre in New Delhi for more than a year. The centre has students from both Hindu and Muslims communities where boys and girls learn computers in fully furnished and well-equipped air conditioned rooms.
On July 2, 2013, Ms Muriel Potherat, French research scholar in JNU, New Delhi visited the computer centre and interacted with the students. She is also associated with an Indian NGO called Faith Matters. The purpose of her visit was to know about the attitude of students towards other religions and about gender justice in a multicultural and multi-religious society like India.
The Director of New Age Islam Foundation and editor of New Age Islam website, Mr Sultan Shahin, was present along with the computer instructor of the centre, Mrs Sonika Rahman.
In the beginning, students presented bouquets to Ms Muriel and Mr Sultan Shahin. Ms Sumbul Shahin acted as the interpreter as the students did not understand English well. Ms Muriel asked the students' questions in English and Sumbul translated it into Urdu and Hindi for the students. Again she translated the answers of the students in English for Ms Muriel.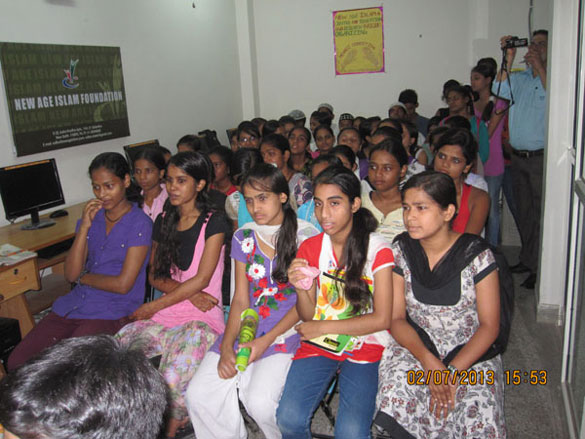 Students of the New Age Islam Foundation's Centre for Education and Research
------
Ms Muriel also spoke a little Hindi saying, 'Main Hindi nahi janti. Mujhe thoda thoda Hindi ati hai. So mai English me bolungi.' (I do not know Hindi. I know a little Hindi and so I will speak to you in English.)
Muriel: I like India, I love India and I want to know India better. That's why I am here to talk to you. My first question to you is; why do you come to this centre? What do you like about this computer centre the most?
Sumiti: I come to this centre because the computer classes here are free. We learn computers here in a good set up. Our computer instructor madam teaches us in a decent way.
Imran: I come to this centre because the centre is good. It is clean and we learn computer here in a better way than what is taught in paid centres.
Muriel: So everybody is happy here?
Class: Yes, madam
Muriel: Now, you live in India and India is your country. So naturally you like your country very much. So what do you like about India the most?
Sumiti: We like India because we live here together and mix with the people of all religions, caste etc. We have no bias against or discrimination against each other. And because all the festivals are celebrated with great zeal and enthusiasm..... and because here the computer classes are free. (Muriel smiles)
Then Muriel asked all the Hindu students to raise their hands. More than half of the students raised their hands. Then she asked if there were some Muslims as some boys were wearing skull caps and if they could raise their hands. She then said, 'If there are students from other religions like Christians, Buddhists, please raise your hands'. No one raised his hand as there was no student of any other religion in the class. Muriel said, 'I see that there are both Hindu and Muslim students in the class. She asked a Hindu girl student, 'What do you like about Hinduism the most'?
Shivani: Diwali is a very good festival in Hinduism. On Diwali we light candles and lamps.
Now she asked a Muslim girl student what she liked about Islam the most.
Seema: In Islam we are taught to respect our elders and not to talk back at them. We respect our parents.
She asked a Muslim boy student the same question.
Rizwan: We live together; we celebrate Eid and Baqar Eid together with Hindus.
Imran: We recite the Quran Sharif, offer Namaz and on Eid we get together.
Muriel: In all religions we celebrate our festivals with great zeal and enthusiasm and enjoy them.
Muriel: You belong to different religions but learn computer together here. You have mixed friends here or do you have friends of your own religion only?
Students: No, we have mixed friends. We have both Hindu and Muslim friends.
Muriel: That's great. Do your parents know that you have friends from the other religion?
Students: Yes they know.
Muriel: If you come home with Hindu or Muslim friends at home, will your parents object?
Students: No, they don't.
Students of the New Age Islam Foundation's Centre for Education and Research
-----------
The conversation goes on. Muriel now tries to touch on some sensitive issues like gender bias so rampant in the Indian society in which sons are preferred over daughters.
Muriel: In your family, you have brothers. Do some parents prefer your brothers over you in terms of giving money or sending you to school?
At first all the students said that they did not face any discrimination from their parents against them but when the computer instructor probed them and asked them to be honest, there were divided opinions. Some of them said that there was no discrimination in their family while some said that they faced discrimination.
One girl said, 'we have to stay back at home because we have a lot to work to do like cooking.'
Muriel said to them that it did happen and some parents do not like their daughters study much but you have to go to school and study as much as possible though sometimes they might not help you.
Next she asked what the students wanted to do in their life.
Shivani: I want to become a teacher.
Neha: I want to become a dancer. I want to teach dance to those interested in dance.
Priyanka: I want to be a singer.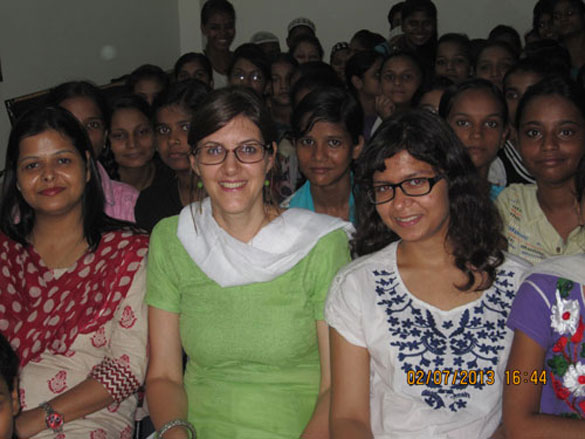 Muriel asks her to sing a song and after some hesitation, she sang some lines of a patriotic song, (my soul and my body is with my beloved country)
Since she was asked to sing a song because she said she wanted to be a singer, so Neha, who had said she wanted to be a dancer, asked Muriel if she could show some dancing skills. Everybody laughed at her joke. Muriel asked her to sing a song which she complied with.
Sonika Rahman asked Ali to stand up and say what he wanted to do?
Ali: Hotel Management
Imran: I want to be a teacher and spread education among both Hindus and Muslims.
Arifa said she wanted to learn religious sciences and spread the message and teachings of religion among the Muslims.
Sonali: I want to do English honours and become a lecturer.
Ghazala: I want to become a scientist.
Aman, Sonika's son also said he wanted to be a scientist.
After that, Mr Sultan Shahin introduced the team of New Age Islam to her.
URL: https://newageislam.com/interfaith-dialogue/guided-french-scholar,-hindu-muslim/d/12423
New Age Islam, Islam Online, Islamic Website, African Muslim News, Arab World News, South Asia News, Indian Muslim News, World Muslim News, Women in Islam, Islamic Feminism, Arab Women, Women In Arab, Islamophobia in America, Muslim Women in West, Islam Women and Feminism