By Saif Shahin
A new translation introduces the master of Urdu romantic poetry to 21st century readers
Wine of Passion: The Urdu Ghazals of Ghalib
English translations by Sarfaraz K. Niazi
Ferozsons Pvt Ltd
Lahore-Rawalpindi-Karachi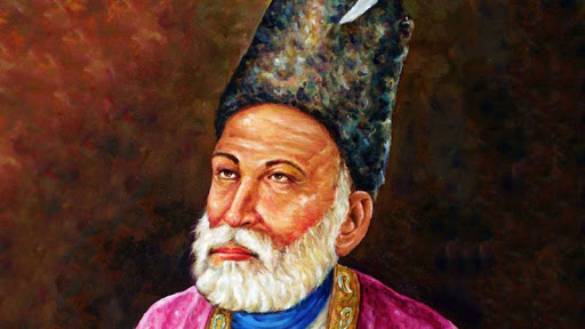 Mirza Ghalib. A century-and-a-half has passed since he passed away, yet the mention of his name is sufficient to breathe life into hazy impressions of the idyllic age in which he lived. The shabby bylanes of the Walled City suddenly become suffused with the smell of hukkah and kebab, shalwar-clad girls start selling noisy bangles in teeming streets, and gilded courtrooms begin to echo with bursts of peerless poetry.
It was an era that people of the subcontinent remain as deeply as ever in love with. This is evident in the difficulty you have in finding a dinner table at Old Delhi's Dastarkhan-e-Karim restaurant, despite its falling standards, even today; in the popularity of the 'sound and light' show on Mughal history at the Red Fort; in the success that books like 'White Mughals' and movies like 'Jodhaa-Akbar' and a restored and colourised 'Mughal-e-Azam' enjoy across the borders of India and Pakistan.
Most tellingly, it comes through in the lingering interest in the ghazals of Ghalib. Even as Urdu twists and turns on its deathbed, with few takers for a language in which no call centre is ever expected to operate, Ghalib's romantic verses are globetrotting with the subcontinental diaspora. 'Ghalib nites' are held from Delhi to Dubai to Detroit. Ghalib is studied in universities around the world. And new translations, new insights into his works continue to emerge.
The latest entrant is 'Wine of Passion: The Urdu Ghazals of Ghalib', a compilation of his love poems translated into English by US-based Pakistani professor Sarfaraz K. Niazi. The book seeks to open "a window to the mind and heart of Ghalib for English readers" by making him available in their language.
Of love and loss, liquor and loathing
Many have tried to walk down this path before, but that hasn't made it any easier to traverse. Poetry, after all, is what is lost in translation and Niazi is acutely aware of the illogicality of his undertaking. But he makes a bold attempt to sneak past the language barrier by beginning the book with a glossary of unusual words, historic characters and incidences, and peculiar idioms found in Ghalib's poetry.
This helps him convey "the meaning of a thought and a scene created through the elements of language, of cultural, social and religious nuances, and of rare culture-specific idioms" to the 21st century reader. Sample this:
"Besides Qais, no one else entered in the field of action,
The desert was perhaps as narrow as a jealous eye."
Without the knowledge that Qais was the real name of Majnun, the star-crossed lover of Laila in the Arabic story tradition, it will be difficult for a reader to grasp that 'field of action' here refers to being in love and the 'desert' to the despair of lost love. Men are also known to go crazy searching for a way out of deserts, just as Majnun went crazy in his love for Laila – another evocation that will easily be lost on an ignorant reader.
Qais, in fact, is regularly invoked as much of Ghalib's love poetry dwells upon the anguish of unfulfilled love – a theme he borrowed from his own life. As is Farhad, the equally unfortunate lover of the Persian princess Shirin sent to carve stairs out of mountains. Ghalib is often credited with introducing these characters into subcontinental consciousness; the fact that many Indians and Pakistanis refer to them today without realising they are foreign is another testimony to Ghalib's enduring impact.
But the couplets also come coupled with the poet's eminently fulfilled love for liquor and loathing for religious authority. (Critics believe the universality of these sentiments is as much a reason for Ghalib's popularity as his poetic brilliance.) This anthology's title too implies a profusion of these themes in the volume. Here's another example:
"The noise of the Advisor's counsel sprinkled salt on the wound,
Let someone ask him, 'What savor did you find in tormenting me?'"
To rhyme or not
Ghazals owe much of their beauty and appeal to their lyrical quality, created by the rhyming of both lines of the first couplet and the continuation of the same rhyme in the last line of subsequent couplets (AA, BA, CA…) As each couplet expresses a different mood, even a different theme, and can stand alone as a piece of poetry, it is the rhyme that binds the entire ghazal together.
Some translators of Ghalib, as well as other ghazal writers, have tried to follow the rhyming pattern even in English to maintain their lyrical appeal. Here's an example from 'Ghalib: Rhymed Translations of Selected Ghazals' by Pakistani writer Khwaja Tariq Mahmood:
"Creation is reflection of creator's caricature
Each picture is depicted in its paper pack inure"
But Niazi trades off the advantages of rhyme in favour of a more precise expression of the original thought. So his rendition of the same couplet reads:
"About whose mischievousness of writing is the image a plaintiff?
Of paper is the robe of every countenance of the picture."
This may not appeal to those who want to enjoy Ghalib's poetry more than they want to comprehend its thematic and philosophical complexity. But Niazi obviously intends otherwise. In any case, even a rhyming translation cannot really do justice to the melody of the original verse.
To truly appreciate Ghalib's genius, there is no other way than reading him in Urdu. Ironically, Ghalib insisted on calling himself a Persian poet and considered his Urdu canon as a lesser work. With every succeeding subcontinental generation now disregarding the language, his Urdu verses will ultimately be read as flawed translations. Poetic justice, as some might call it!
URL of this page:https://www.newageislam.com/islamic-culture/gallivanting-with-ghalib/d/2297