By Dr. S. Chandrasekharan, SAAG
27 June 2010
Maldives: Protect Islam, But Avoid Using It As A Political Tool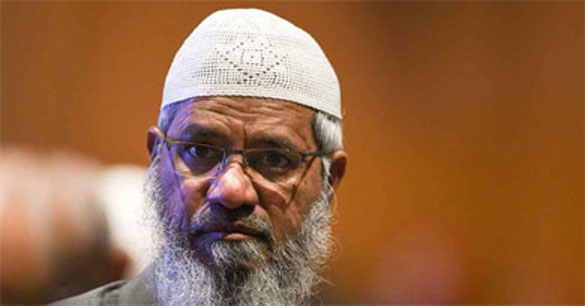 Anti-Islamic Preacher Zakir Naik
------
Maldives: While in Police Custody and Given Government "Islamic Counseling," Mohamed Nazim "Reverts" to Islam
Maldives is a hundred percent Muslim country. Article 2 of the Constitution stipulates that Maldives is a sovereign, independent, democratic Republic based on the principles of Islam. Article 9 d states that no non Muslim can become a citizen of the Maldives even if he or she fulfills all the other criteria like being born to the citizens of Maldives etc. The same article 9 b also stipulates that no citizen of the Maldives may be deprived of citizenship.
The President, Vice President and all the Cabinet ministers should not only be Muslims but also belong to the Sunni sect of Islam.
It therefore places a heavy responsibility on the present government in question to tread a careful path in developing democracy and at the same time ensure that there is no deviation of any citizen from his/her adherence to Islam. It is claimed that it is possible to establish such a balance and it will be interesting to see how Maldives under the present President Nasheed who in many ways is a liberal himself is able to manage his country and keeps it safe from extremism.
In the days of Gayoom, it was easy to keep track of visitors and prevent elements holding extremist views from visiting or from preaching, but in a democracy as is being practised now, it is difficult for the present government to prevent such visitors from coming in or from such persons making rigid interpretation of Islam.
The result is that on the invitation of religious NGOs within the islands or from the Islamic ministry itself, visitors with dubious background are allowed to come preach without restraint.
One Dr. Phillips a convert from UK? who was invited by the Islamic NGO- Jamiyyathulsalaf under the programme "The Call 2010, spoke to a big audience of the weakness of democracy and how it contributes to the "destruction of society." He was speaking in a country that is yet to find its feet fully in democracy.
Invitation to Phillips was part of the "jihad to establish in Maldives what the NGO considers as an Islamic State." Besides suggesting Islamisation of education, Phillips spoke of the dangers of secularism which according to him is the religion of democracies.
Praising Sharaih he made the claim of its necessity in Maldives and commented that "where heads are cut off, hands are chopped and people are lashed- such societies enjoy peace and stability." He was particularly referring to Saudi Arabia where he spent many years and claimed that he did not even have to close the main door of his house. Of course, he did not add that most of the terrorists involved in the 9/11 attack were also from Saudi Arabia.
Another "world renowned" scholar/visitor was Dr. Zakir Naik who made a second visit to the country. His visit was at the invitation of the Ministry of Islamic Affairs of the Government. Dr. Naik was banned from entry into UK when he wanted to give a lecture on "freedom of expression." There were media reports that Zakir Naik had spoken in praise of the perpetrators of the 9/11 attack and is said to have justified violence on those who committed violence!
What happens to a citizen of Maldives who renounces Islam? He cannot be deprived of citizenship and yet he cannot continue as a "citizen" either. This is a constitutional problem for which there is no ready answer and such a piquant happened very recently during the lecture of Dr. Zakir Naik.
In a question and answer session of Dr. Naik, one Mohamed Nazim from the audience publicly declared that he is not a believer of Islam. This response would not have risen if Dr. Naik had not asked personal and intrusive questions. The media reported that Nazim was attacked by some of the people in the audience and the Police had to intervene and take him into custody.
The opposition DRP called upon the government to take strong action against Nazim for apostasy. The local Islamic NGO went further and asked for death sentence for Nazim if he did not repent.
There is no law in the constitution by which action could be taken against Nazim nor could the citizenship be taken away as per article 9 b of the Constitution. The only way will be to apply Shariah under article 142 of the Constitution and death sentence under Shariah is the only remedy!.
In the end, after two days, Nazim publicly recanted and declared that the misconception he had, has been since clarified and that he wanted to become a Muslim again. It is said that the authorities sent two scholars to counsel Nazim when he was in custody and persuaded him to repent.!
One cannot forget the problems faced by the former Attorney General and Presidential candidate Dr. Hasan Saeed for his innocent book on apostasy and freedom of expression. My paper 2348 of 25th June 2008 may be referred to.
Nazim's incident should not be seen in isolation. What is disconcerting is the way the political parties are using Islam as a political tool of furthering their political ends. In fact, the Presidential office did accuse the opposition of using Islam as a political tool. This is a dangerous trend.
A deliberate and a virulent campaign is being mounted against the poor Education minister Dr.Mustahafa Luthfee by the opposition and a no confidence motion is being sponsored in the Majlis against him. All he did was to make the study of Islam "optional" in class 11 and 12!
Dr. Luthfee was frank enough not only to admit that the study of Islam is not a favourite subject of the students, but also to declare that he is trying is to train the students to become world students rather than narrowing their perspective. One good thing is that the education minister is being fully supported by the President.
There is another case though not directly related to the current issue is still of interest on the role religion is playing and would continue to play in the lives of ordinary citizens. There was a simple case of one Sulath Abdulla who verbally abused a doctor in the IGMH when he was not satisfied with the treatment given. Criminal proceedings were taken against him by the State, but the court ruled in favour of Abdulla on the ground that "there was no law that prohibited such incidents." The State went on an appeal to the High Court which overturned the criminal court's ruling and imposed a house arrest of four months on the accused. The reasoning given by the High Court was that where there are no laws, article 142 (a) mandates the judge to refer to Islam. The Judge went on to say that verbal abuse, threats and actions that would destabilise social and economic systems are prohibited in Islam! It is not clear as to who or how he got this interpretation or whether he is authorised to make such an interpretation of Islamic Shariah.
Maldives after being long in isolation is joining the international community in a big way. Its voice is heard in any discussion on global warming. It is a member in the UN Human Rights Council. The MDP has close relations with the conservative party of Britain. Many of the leaders have studied abroad. A large number of students ( large indeed for a small country like Maldives) are studying abroad and will return with some idea of western values. In such a globalised world, the returnees and those having modern education are sure to put pressure on the government to ease up. Extreme conservative views are likely to be resisted. Article 24 of the Constitution gives a right to the citizen to respect for his private and family life, his home and his private communications. Rigid enforcement will bring in a reaction sooner or later.
Protect Islam by all means, as it is mandated by the constitution, but avoid its misuse or use as a political tool.
http://www.eurasiareview.com/201006273945/maldives-protect-islam-but-avoid-using-it-as-a-political-tool.html
SAAG
SAAG is the South Asia Analysis Group, a non-profit, non-commercial think tank. The objective of SAAG is to advance strategic analysis and contribute to the expansion of knowledge of Indian and International security and promote public understanding. In so doing, the SAAG seeks to address the decision makers, strategic planners, academics and the media in South Asia and the world at large. The group holds the concept of strategy in its broadest meaning-including mobilization and application of all resources to understand national and international security. The aim of the group is not to compete with Governments, Academics, NGOs or other institutions dealing with strategic analysis and national security but to provide another point of view for the decision makers and other national/international think tanks.
http://www.eurasiareview.com/201006273945/maldives-protect-islam-but-avoid-using-it-as-a-political-tool.html
Background Stories
Maldives: Arrested Man Reverts to Islam - in Police Custody
In the Maldives, Mohamed Nazim has announced his "reversion" to Islam, after being taken into police custody after publicly announcing that he was not a Muslim on May 28, 2010. As reported in our previous posting "Maldives: Man Attacked, Threatened with Death, for Freedom of Conscience," Mohamed Nazim had announced that he was not a Muslim at a lecture by Zakir Naik (who widely calls for the death penalty for "apostates"), and then was promptly taken into police custody and given "counseling" by the Maldives government Islamic Ministry. Mohamed Nazim made his public "reversion" to Islam at the Maldives government Islamic Ministry before journalists invited by the Islamic Ministry.
Mohamed Nazim was brought before Maldivian media to make a statement to the press about his "reversion" to Islam, while the police are still deciding whether or not to bring criminal charges against Mohamed Nazim for choosing his freedom of conscience.
A Maldivian lawyer previously told the Maldives press that Mohamed Nazim had to be given such government "Islamic counseling" before capital punishment charges were considered against Mohamed Nazim for "apostasy."
Haveeru News stated that: "Mohamed Nazim, 38, repented and gave the 'Shahaadha' testimony before journalists at the Islamic Ministry Tuesday with a public apology." It quoted Mohamed Nazim as stating "And as that action was very much related to the feelings of all Maldivians, I believe that it was an agony for the Maldivian people. I deeply apologize for that to all the Maldivians. Along with that, I would like to say that the major misconceptions I had regarding Islam have been clarified. Therefore, I am now a Muslim. I want Maldivians to accept me as a Maldivian and as a child of this community."
Maldives: While in Police Custody and Given Government "Islamic Counseling," Mohamed Nazim "Reverts" to IslamThe Maldives Deputy Minister for Islamic Affairs Sheikh Mohamed Farooq told Haveeru News that Mohamed Nazim reverted to Islam "on freewill" (while in police custody).
The Minivan News also reported on the "reversion" of Mohamed Nazim while in police custody. The Minivan News further reported that the Maldivian NGO the "Islamic Foundation" leader Jammiyyathu Salaf Sheikh Abdulla Bin Mohamed stated that there were "many people trying to introduce other religions to the Maldives underground" and that he would "release the names of these underground people at the appropriate time."
On May 13, 2010, the Maldives was elected to be part of the United Nations Human Rights Council (UNHRC).
The Maldives constitution mandates that all citizens of Maldives must be Muslims. A December 2009 study showed the Maldives (with a 99 percent literacy rate) to be in the top 5 percent of the worst nations for religious freedom. It is a nation that has been building its criminal law based on Sharia law, and whose Parliament bans non-Islamic houses of worship. There have been repeated reports on Maldives government publicly whipping of women and the Maldives is in the bottom rankings of nations with a global gender gap.
http://beforeitsnews.com/news/71/036/Maldives:_Arrested_Man_Reverts_to_Islam_-_in_Police_Custody.html
---
Maldives: Man Attacked, Threatened with Death, for Freedom of Conscience
By R.E.A.L. Organization • on May 30, 2010
In the Muslim-majority nation of Maldives, a man stunned an audience during questions and answers period in a lecture given by an Islamic cleric, by stating that he had chosen freedom of conscience not to follow Islam. The man, Mohamed Nazim, was promptly attacked, taken into custody, and has been threatened with death and beheading, or other punishments for choosing his freedom of conscience. Maldives media are reporting that it is the first time in many hundreds of years that a Maldivian has publicly renounced Islam, since Sultan King Hassan IX converted to Christianity in 1552 and was deposed.
The Maldives constitution mandates that all citizens of Maldives must be Muslims. A December 2009 study showed the Maldives (with a 99 percent literacy rate) to be in the top 5 percent of the worst nations for religious freedom. It is a nation that has been building its criminal law based on Sharia law, and whose Parliament bans non-Islamic houses of worship. There have been repeated reports on Maldives government publicly whipping of women and the Maldives is in the bottom rankings of nations with a global gender gap.
The Maldives is also a nation that, on May 13, 2010, was elected to be part of the United Nations Human Rights Council (UNHRC).
The Haveeru newspaper reported that Mohamed Nazim came up to ask a question of Islamic cleric Zakir Naik, stating "Dr Zakir Naik. I am a Maldivian. I am still struggling to believe in religion. That is why I just came to the front of this row. I was born a Maldivian. My parents taught me the religion of Islam. They are good practitioners, actually. I read a lot of books. I have read the translation of Quran. Yet, I still do not believe in a religion. So what do you say, [about] my verdict in Islam?"
Islamic cleric Zakir Naik asked "are you a Muslim?" and Mohamed Nazim replied "I am not." Zakir Naik has a long history of calling for the death penalty for "apostates" in both Muslim majority nations and other parts of the world.
The Haveeru newspaper reported that Zakir Naik responded by stating: "according to Prophetic traditions, every child is born as a Muslim and that a Muslim is one who submits his/her will to God. In Islam, death penalty should not necessarily be evoked on every person who leaves Islam, but to those who propagate the non-Islamic faith and speak against Islam, he added."
The Haveeru newspaper report states that his question "sparked comments of hatred from an angry crowd of around 11,000 with many calling to kill him and attack him, while Naik was answering the question. Several people rushed towards Nazim, who was sitting at a back row after moving away from the microphone, as an official of the Islamic Ministry tried to escort him out. Police, however, came between Nazim and the crowd and escorted him into custody." The Haveeru newspaper report also stated that a crowed gathered outside the police station and demanded that Mohamed Nazim be handed over to the crowd. The Haveeru newspaper report stated that "They shouted anti-atheism slogans and called for Nazim's beheading."
In a separate report, the Haveeru newspaper stated that Maldives Islamic Ministry would arrange for religious "counseling" for Mohamed Nazim while he is in custody.
Another report by the Haveeru newspaper stated how Maldives lawyers felt that Mohamed Nazim deserved such counseling before receiving the death penalty or other punishments, stating that: "While some local lawyers claim Nazim is eligible for punishment both by Maldives laws and Islamic Shari'a, others argue only Shari'a could be evoked on him. Mohamed Ibrahim Waheed, a defense lawyer said Nazim must first be counseled giving him the chance to repent before considering capital punishment. 'First, he should be counseled. If he does not take the advice and repent, the penalty stated in Shari'a should be evoked on him. According to Shari'a, the punishment for apostasy is death,' he said. Waheed further argued that Nazim could be charged under the Religious Unity Act, for disrupting the religious unity of the country. A state prosecutor who wished to remain anonymous said Nazim could be prosecuted for legal disobedience."
The Maldives newspaper Minivan News reports that a Maldives Islamic group is calling for the death of Mohamed Nazim. Minivan News reports that "The Islamic Foundation has called for self-declared apostate Mohamed Nazim to be stripped of his citizenship and sentenced to death if he does not repent and return to Islam…Today the Islamic Foundation of the Maldives issued a press statement calling on judges to give Nazim the opportunity to repent 'and if he does not, then sentence him to death as Islamic law and Maldivian law agree.' "The Islamic Foundation believes that the person who announces apostasy should be punished according to Islamic laws,' the NGO said, warning that Nazim represented 'a disturbance to the religious views and the religious bonds that exist with Maldivians.' 'Hereby if this man does not do his penance and come back to the Islamic religion, the Islamic Foundation of the Maldives calls to take the citizenship away from this man as mentioned in the Maldivian constitution.' If case crossed into areas not covered by the laws of the country, 'then the judges should rely on Islamic law,' the NGO stated, as per article 142 of constitution which says judiciary shall look into Islamic shar'ia on matters not covered in law, and sentence accordingly." Malaysian Miadhu news also reported on such calls for the death of Mohamed Nazim in their story "Islamic Foundation calls on death sentence for Nazim, if not repented "
According to the constitution of Maldives, "The judges are independent, and subject only to the constitution and the law. When deciding matters on which the Constitution or the law is silent, judges must consider Islamic Shari'ah."
The speaker at the Maldives event that Mohamed Nazim attended, Zakir Naik, has a long history of calling for violence against those who choose their universal human right of freedom of conscience and leave Islam. Religious supremacist Zakir Naik has repeatedly called for denying human beings their universal human rights of freedom of conscience, calling those who leave Islam as "traitors." The London Times has quoted Zakir Naik as stating that "People who change their religion should face the death penalty."
In a widely broadcast video, Zakir Naik has called for the death penalty for those who leave Islam and promote another religion as "apostates." In the broadcast, Zakir Naik states "if a Muslim becomes a non-Muslim and propagates his/her new religion, then it is as good as treason. There is a 'death penalty' in Islam for such a person. In many countries, the punishment for treason is also death. If an army general discloses his army's secrets to another country, then there is a 'death penalty' or life imprisonment for such a person according to the laws of most of the countries. In the broadcast, Zakir Naik also states that the death penalty for leaving Islam ("apostasy") should also apply to "non-Muslim countries." Zakir Naik also challenges other "Islamic scholars" who believe in such death penalty for "apostates" to extend such defiance of religious freedom not just to Muslim majority nations, but to the entire world. Zakir Naik states "If these scholars are really righteous people then they must welcome their own principle (of death for apostates) in the non-Muslim countries as well."
Zakir Naik has also reportedly stated that women must cover themselves, and reject "revealing Western dress," or they are "susceptible to rape." Zakir Naik is infamously known for his defense of Osama Bin Laden and stating that "every Muslim should be a terrorist."
www.realcourage.org/2010/06/maldives-reverts/
Zakir Naik will turn Maldivian against Maldivian
Posted By Hilath
[From EighteenMaldives blog]
Sheesh. Zakir Naik cannot distinguish between Natural Laws and Religion. He cites mathematics in the same vein as religion: he thinks that only Islam offers the 2+2=4 answer and that all other religions offer the "illogical" 1+1=3 answer!
So, only Muslims deserve to live? Get a life and engage in some useful profession, Mr. Naik!
Have you ever read the Quran through and through? It says that on Judgment Day, all People of the Book who believed in the Oneness of God will go to Heaven, whether they are Christian or Jew, as long as their ageeda is not clouded by Shirk-ish concepts such as the Trinity. I have met many Christians who don't believe in the Trinity and just believe in One God. Who are you to say they are going to Hell when God Himself has said in the Quran that all People of the Book who believe in the Oneness of God will go to heaven?
If this is the kind of absolutist crap this so-called "preacher" preaches in Maldives on Thursday and Friday, I won't have anything to do with it! Doesn't Zakir know that all religions are striving towards the One thing — Unity? Adhaalath Party and Salaf can go to Hell and be ready to be responsible for any religious or sectarian violence that may occur in Maldives.
I guess gullible Maldivians will still go to watch the show and possibly be swindled of thousands of Rufiya in "charity" to this millionaire-preacher…
Responses to "Zakir Naik will turn Maldivian against Maldivian – VIDEO"
Ibrey: May 27, 2010 at 3:41 am This is the type of brainwashing orchestrated in the name of religion in many unfortunate religious societies. I have seen children preaching religion in some videos when they should be playing like other children. Unfortunately, many a god loving moderate people of Maldives think they are doing a good by attending these events, whereas they will come out with hate for fellow people opposing their views.
I hope we will use God given brains to learn that truth doesn't need maniacs and anything imposed on others. I hope there will be a time when the masses are able to have equal tolerance for critics of religion. A real pluralistic society! Now for me that would be very Islamic and when people have trust in themselves and God (Eeman) they will have no fear of opposing views.
After all, if God had so willed we would all be angels. Don't let preachers play God and fool us!
#10943Check this video, Mr. Vice President | Hilath Online
May 27, 2010 at 9:27 am
URL:
https://newageislam.com/debating-islam/should-islamic-maldives-allowed-anti/d/3064