Indomitable Spirit
By Vikhar Ahmed Sayeed
Mar. 23-Apr. 05, 2013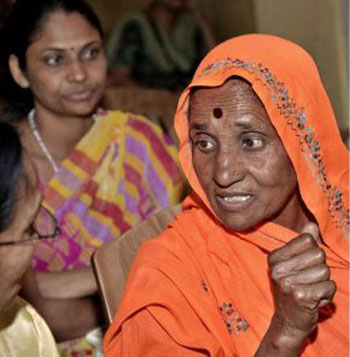 Bhanwari Deviwith her daughter Rameshwari at the International Women's Day celebrations organised by the Karnataka Lekhakhiyara Sangha (Women Writers' Association) at Kannada Sahitya Parishat in Bangalore on March 9.
Bhanwari Devi is still waiting for justice. It is almost 21 years since she was gang-raped for opposing the marriage of a nine-month-old girl child in Bhateri, her native village, 55 kilometres from Jaipur. The perpetrators of the crime are yet to be punished and the case drags on in the Rajasthan High Court.
Bhanwari Devi was working as a "saathin" (a village-level volunteer for the implementation of State government schemes as part of the Women's Development Programme) in 1992 when the Rajasthan government launched a drive against child marriage. She informed the police when she found out that a child marriage was going to take place in a family of the Gurjar community, which was dominant in the area. The marriage was stalled, but her own life changed forever. Her husband was thrashed and she was raped by five men.
Bhanwari Devi has shown great resolve in the protracted legal battle that followed. Her battle assumed great significance, considering that she was a lower caste woman who was taking on upper-caste people in her village. "After the incident, I decided that I would fight and not sit quietly," she recounted at a function in Bangalore on March 9, 2013, as part of an event held to mark International Women's Day. After the gang rape, she had to face several hurdles before her complaint was taken seriously. A botched-up medical examination followed further humiliation. She was ostracised in her village and even by some members of her family, but the final blow came when the Sessions Court acquitted the accused. Bhanwari Devi is very critical of the role of the Central Bureau of Investigation (CBI) in the probe. She said: "Never trust a CBI inquiry. It is very dangerous!"
Bhanwari Devi's spirited fight for justice attracted widespread attention. Five non-governmental organisations (NGOs) working on women's issues filed a public interest petition in the Supreme Court under the platform "Vishaka". In 1997, the apex court took cognisance of the case and delivered the historic judgement in Vishaka and others vs State of Rajasthan and others (AIR 1997 Supreme Court 3011). It used international principles to formulate guidelines to address sexual harassment at the workplace and recognised such incidents as violation of the fundamental rights as guaranteed in the Constitution.
In the prefatory comments as part of the judgment, the Supreme Court stated: "The immediate cause for the filing of this writ petition is an incident of alleged brutal gang rape of a social worker in a village of Rajasthan. That incident is the subject-matter of a separate criminal action and no further mention of it, by us, is necessary. The incident (rape of Bhanwari Devi) reveals the hazards to which a working woman may be exposed and the depravity to which sexual harassment can degenerate; and the urgency for safeguards by an alternative mechanism in the absence of legislative measures." Thus, Bhanwari Devi's gutsy struggle led to the historic recognition of an everyday fact for millions of working women in India. The Rajya Sabha recently passed the Sexual Harassment of Women at Workplace (Prevention, Prohibition and Redressal) Bill, 2010, which was passed by the Lok Sabha last year. This much-awaited and important piece of legislation uses the definition of "sexual harassment" as laid down in the Vishaka judgment.
Bhanwari Devi, who was 33 when the incident took place, has emerged as an icon for women and lower-caste groups in the past 20 years. Young girls who were inspired by her story accosted her in Bangalore and she responded lovingly, though they did not share the same language. Bhanwari Devi is fluent only in a Rajasthani dialect of Hindi, but she was ably assisted by her daughter Rameshwari, who translated her courageous words for the audience. Bhanwari Devi ensured that her two daughters (she also has two sons) were educated. Rameshwari, 32, has an M.A. in sociology and teaches in a school.
Bhanwari Devi continues to work as a saathin, though she complains about the limited protection at her workplace and the low salary (Rs.1, 600 a month). While recognition has come her way, she continues to remain hungry for justice for herself and for other rape victims like the girl in Delhi who was gang-raped last December.
She said: "What is the use of rewards? What is the meaning of giving parents money as compensation? What is the meaning of making a film about my case? What is the meaning of all these gestures when the perpetrators have still not been punished? My real hunger is for justice for me and for victims like me."
Source: http://www.frontline.in/stories/20130405300611200.htm
URL: http://www.newageislam.com/current-affairs/vikhar-ahmed-sayeed/bhanwari-devi-continues-to-fight-for-justice,-21-years-after-she-was-gang-raped/d/10839