By Rubab Abid
Jan 16, 2013
The Canadian-Pakistani cleric at the head of a protest movement that is galvanizing Pakistan says he wants to bring about reforms where Islam is at the root of democratic politics in the country.
Tahir ul Qadri told the National Post, "Islam teaches democracy, Islam teaches human rights, Islam defends the rights of minorities. Islam does not believe in discrimination. So my interpretation of Islam is a bit different from the mullahs. I feel that the teachings of Islam creates a moderate, progressive, free and democratic society, free of every kind of extremism and terrorism. This is my interpretation of Islam and what I want to see here."
The preacher's calls for electoral reforms and a peaceful, moderate Islamic state for Pakistan, have brought out tens of thousands of his supporters on to the streets of Islamabad for a second straight day.
"People are coming out of their houses and joining this march," he said. "The crowd is very motivated, but totally peaceful, totally unarmed. There are men, women, girls, boys, young and old — even up to 90 years of age. There are farmers, there are workers, there are lawyers, and people from every party are here."
Mr. Qadri's supporters have vowed to stay in Islamabad until reforms are put in place.
On Tuesday, they were delighted by the news that the country's Supreme Court had ordered the arrest of Prime Minister Raja Pervez Ashraf in a corruption case, in a drastic intensification of hostilities between the country's embattled government and its opponents.
"I think people have become more confident after the Supreme Court decision and know that we are on the right track," said Mr. Qadri about the ruling.
The confluence of the court ruling and Mr. Qadri's protest stoked growing speculation that Pakistan's powerful military was quietly supporting moves that would delay general elections that are due to take place this spring, most likely through the imposition of a military-backed caretaker administration.
Mr Qadri denies any ties to the Pakistani military and claims such accusations are being spread by those who are opposed to his movement.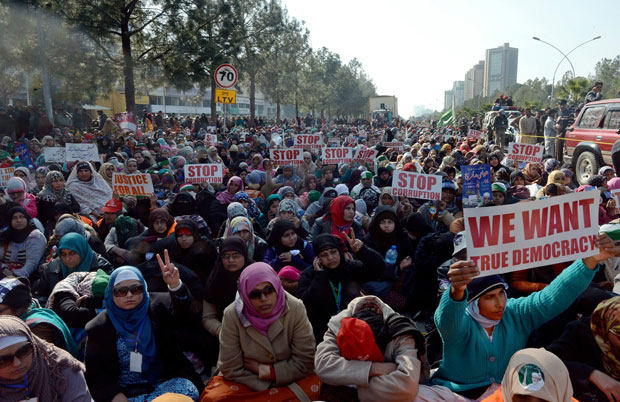 Asif Hassan/AFP/Getty ImagesSupporters of Pakistani cleric Tahir-ul Qadri hold placards at a protest rally in Islamabad on Jan. 15, 2013.
Speaking by telephone from the Pakistani capital, Mr. Qadri said he hopes to establish a socially free and progressive Pakistan, based on the tenets of Islam.
"Of all my demands, nothing I am asking is against the constitution of Pakistan and nothing I am asking is against the universal principles of democracy," he said.
"In Pakistan we do not have effective democracy, we have electoral authoritarianism. The elections here are just a tool, to win elections by hook-and-crook, manipulation and corruption."
'The elections here are just a tool, to win elections by hook-and-crook, manipulation and corruption'
Mr. Qadri claims the government has let down the people and failed to implement any kind of democracy.
"They have not established human rights, the rule of law, they have not established social democracy, economic democracy, or political democracy," he said.
Mr. Qadri also criticized the government's inaction on fighting terrorism and religious extremism.
"They have not been able to establish the rule of law here — radicalism is increasing and extremism is increasing. These officials are getting money in the name of counter-terrorism, but the money is all going into their pockets," he said.
"Our demands are very clear, very simple. We just want to get rid of corruption and have democracy, true democracy, in play. This is so that the electoral process can be clarified and guarded against corruption so that good, honest people can be elected into the parliament and lead our country.
"We are trying to educate the people, to lead the people of Pakistan to work for democracy, to work for peace, to work for the rights of minorities, and to work for the rights of women and the empowerment of women."
He denied he had interest in running for Parliament.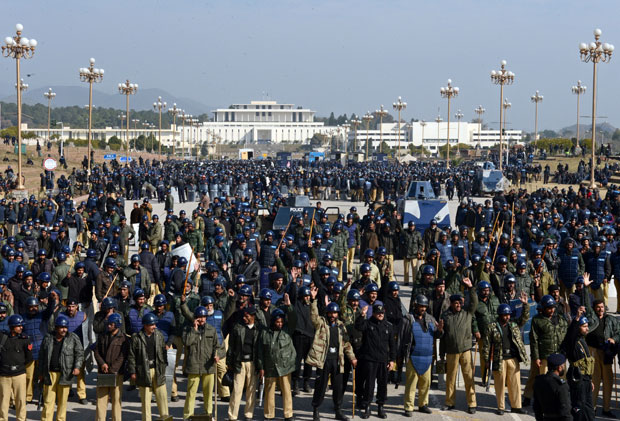 Asif Hassan/AFP/Getty ImagesPakistani policemen stand guard as supporters of Pakistani cleric Tahir-ul Qadri attend a protest rally in Islamabad on Jan. 15, 2013.
Mr. Qadri, who previously lived in Canada for seven years with his wife and five children, said he led a semi-retired life in the Greater Toronto Area, dedicating his time to research and community work.
"I was there [in Canada], but I was never active in any organizational matters or political matters. Whenever I was in Canada, I lived a calm and quiet life. I was always busy in my research work, writing books and studying, and conquering extremism, theologically and ideologically, writing books about tolerance and counter-terrorism, and running workshops."
When asked what he admired about Canada, Mr. Qadri replied, "The Canadian policies of democracy, I love. Canadian democratic policies are the best in the world and our society, the Canadian society, is the best multicultural society in the world, and the most peaceful society in the world.
"If anyone asks, 'Where on Earth is heaven?' I would say that Canadian society is our heaven. I want the same kind of reflection in Pakistan — it is impossible to create the same kinds of circumstances, but I want to put the society of Pakistan at least in the same direction that we see in Canada."
'They have not been able to establish the rule of law here — radicalism is increasing and extremism is increasing'
And he added, "I always loved it went I went to Tim Hortons there. I always drank Tim Hortons."
Some analysts said that in ordering the prime minister's arrest Tuesday, the Supreme Court, which is led by the independent-minded chief justice Iftikhar Chaudhry, was taking advantage of the anti-government sentiment generated by Mr. Qadri to pursue its longstanding campaign against President Asif Ali Zardari.
The Supreme Court ordered the National Accountability Bureau, a government body that investigates graft, to arrest Mr. Ashraf and 15 other senior current or former officials, including a former finance minister and a former finance secretary.
The case relates to longstanding accusations that Mr. Ashraf took millions of dollars in kickbacks as part of a deal to build two electricity plants while serving as minister for water and power between March 2008 and February 2011.
The National Post, with files from The New York Times
Source: http://news.nationalpost.com/2013/01/16/canadian-society-is-our-heaven-cleric-behind-pakistan-protests-touts-islam-democracy-tim-hortons/
URL: http://www.newageislam.com/current-affairs/rubab-abid/'canadian-society-is-our-heaven'--cleric-behind-pakistan-protests-touts-islam,-democracy,-tim-hortons/d/10050