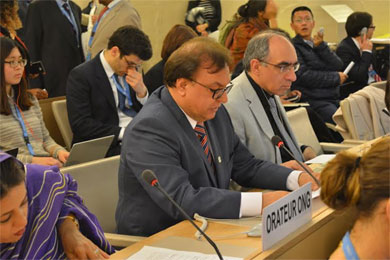 Sardar Shaukat Ali Kashmiri
New Age Islam Edit Desk
Rawalpindi February, 2013
Progressive leaders from Pakistan and Kashmir jointly demand a peaceful political solution of unresolved issue of the state of Jammu Kashmir, a disputed territory between India and Pakistan and a motherland of one hundred and fifty million people of Kashmir. They said that due to the policies of establishment and intelligences agencies the whole region was facing religious fundamentalism, militarization, and poverty. The regressive Theo-fascist forces were penetrating in the society day by day.
On the occasion of a seminar on 'No to religious terrorism No to Talibanisation, Kashmiries demand for Peaceful political solution' organized by United Kashmir Peoples National Party Abdul Mojeed Kanjo, President Sariki National Party said that the people of Kashmir were fighting for their fundamental right of the freedom of Kashmir and that no one can slave them forever. He reiterated the progressive forces of Pakistan demanded for an independent Kashmir.
UKPNP exiled chairman Sardar Shaukat Ali Kashmiri said that his party clearly stood for non violent political solution of Kashmir issue and that they have always been struggling against those forces that are backing militant religious fundamentalist groups. "Our party members are facing state repression as they have always opposed the state sponsored terrorism", he said.
While lamenting the present geo- political scenario of the region, Sardar Shaukat Ali Kashmiri said that due to state sponsorship of the extremist forces in Pakistan the constituency of peace and democracy was under constant threat. The different actors were trying to destabilise the whole region. Whenever both countries come together such forces become active and Pakistani military also aggravates the situation. Mr. Kashmiri went on saying that the democratic and progressive forces of the region would have to stand against these war mongers. Talking about Chinese and Saudi Arabia's role Sardar Shaukat Ali Kashmiri said that both countries were using Pakistan as a proxy land to safeguard their national interest and advancing their economics through that land. Today there is no industry set up inside Pakistan, because china does not want that. Pakistan has fragile relationship with Iran. On Kashmir issue, Pakistan is deeply interested to have complete control on rivers. This is very disappointing that Kashmiri people who are owners of these natural resources have been marginalized and sidelined in the peace process. We are saying that without taking legitimate Kashmiri leadership into confidence no solution to this issue could be achieved. We have also said on many Occasion that he Government of Jammu and Kashmir at Srinagar should offer scholarships to the students of Pakistani administered Kashmir and Gilgit Baltistan as pragmatic initiatives. Such initiatives would be catalyst to more trust between all the regions, he said.
He further said, "We believe that without resolving the issue of Kashmir and accepting the basic rights of the nationalities, religious and cultural minorities of the region the goal of peace, prosperity, stability, and development of the society cannot be achieved". Shaukat Ali Kashmiri further said that Pakistan has become a slaughter house of religious fundamentalist groups, no one is safe there, and these religious groups are also operating in Gilgit Baltistan, to divide the people on sectarian and ethnic basis.
Awami Workers Party Spokesperson Nisar Shah Advocate said that now the time has come, when the all progressive forces of the region have to decide whether they are going to unite or ready to face the repression of fundamentalists. He said that we should recognize the role of UKPNP to expose the fundamentalist groups and their desire for the division of Kashmir on religious and sectarian basis. We always extend our support to the struggle of UKPNP.
The others who spoke on the Occasion were Liaquat Hayat, President of Jammu Kashmir National Awami Party, Naila Khaneen, Chairperson Convening Committee of the United Kashmir People's National Party. Syed Tahir Shah Gardazi,
Dr. Yahya and Azhar Kashar strongly condemned the conspiracy by state actors to divide UKPNP. They also extend their full support and cooperation with exiled party leader Sardar Shaukat Ali Kashmiri, and United Kashmir People's National Party
URL: http://newageislam.com/current-affairs/new-age-islam-edit-desk/progressive-leaders-demand-peaceful-solution-to-kashmir-issue/d/10596