New Age Islam Edit Bureau
10 August 2015
A Thank You Note to India from a Father In Pakistan
Manabi Katoch
Rise of Zealots
Zarrar Khuhro
Iran Nuclear Deal Is A Battle Between The US Right-Wing And President Obama
By Ahson Saeed Hasan
Why Gilgit-Baltistan Is Not Given the Appreciation It Deserves
By Sana Sabir
Dear Karachiites, Before You Plant Trees, Think
By Farahnaz Zahidi
-----
A Thank You Note to India from a Father In Pakistan
By Manabi Katoch
July 10, 2015
Young Abeeha took her last breath in India. Yet, her father has nothing but appreciation for his late daughter's Indian hosts, the Indian doctors and medical staff who treated her, and even the Indian army.
"Now That the Lines Are There,
Let Them Be There…
Someone Must Have Drawn Them in Anguish,
Now Use Them to Divide the Field into Two Halves
And Come; Let's Play The Game Of Kabaddi…
Now That the Lines Are There, Let Them Be…"
– Gulzar
Thirteen-year old Nalain Rubab Imran, or Abeeha as she was affectionately called, must have known the real essence behind these lines by Gulzar. And hence, despite the LoC, a symbol of hatred on both sides of the border, this little angel crossed over from Pakistan to India and left us behind with a lesson of love.
Mr. Hamid Imran, her father, has written a thank you note in the Pakistani newspaper Dawn:
"Neither can I forget the pain caused by the sudden death of my daughter, nor the love which I received in India".
Abeeha was a resident of Chakwal, Pakistan. She went through a liver transplant once in Saudi Arabia, where her father was working in 2011. But again this year, doctors advised another transplant. The transplant would have cost Rs. 5 million in Pakistan, so Imran decided to head towards Apollo Hospital, Delhi, India.
However, this was not going to be easy. Abeeha's mother, Mrs. Sajjda Imran, was pregnant and in need of medical attention too. Moreover, they did not know a single person in this unknown country, which was more like an enemy to them until now.
Imran had graduated from the Govt. High School in Chakwal, which was built by Sardar Chet Singh Kohli in 1910. Sardar Chet Singh belonged to Chakwal, Pakistan, before the partition of India and Pakistan. His noble deeds are well documented there and the people of Chakwal remember him even today. He built schools and hospitals there before migrating to Delhi after the partition. Coincidentally, Mr. Rattan Deep Singh Kohli, the grandson of Sardar Chet Singh Kohli, visited the school recently on the occasion of its 100th anniversary. He still cherishes the affection that the residents of Chakwal bestowed on him during his visit.
"During my visit to Chakwal in October 2010 when the school celebrated its 100 years, and again in 2012, the people of Chakwal and the students of the school showered so much love and affection on us that it cannot be expressed in words but only felt. My wife was in tears most of the time she was there as they addressed her as the daughter-in-law of Chakwal and were full of praise and thanks for what my elders had done for Chakwal. Beautiful articles in the Pakistani newspapers 'The News' and 'Aman ki Asha' were published about our visit," recalls Rattan Deep Singh Kohli.
One of the old students from the same school gave Imran the contact details of Kohli in India. When Imran, along with his wife, Abeeha and a donor, Manzoor Hussain, reached Kohli's home, the latter, along with his wife Paramjit Kaur, warmly greeted them.
"When Hamid came to India for Abeeha's surgery, we did not know each other. He came with a reference from another old student of the school who I had met when I visited the school. From the moment we met, Abeeha became very fond of my wife Paramjit. When my wife offered to cook special food of Abeeha's liking, she and her family were thrilled as she was finding hospital food boring and tasteless. So, my wife would make different items for her and the family as per their choice. For non-veg items, I used to get items especially from Muslim vendors and cook for them. I knew Muslims only eat Halal. So, when I told Hamid the meat was Halal, he said in Punjabi: 'Bhai jaan, sade waste thuhade ghar di har sha Hak Halal hai (dear brother, for us everything from your house is Hak Halal).' My wife and I were very touched by these words," says Kohli.
Abeeha was successfully operated on, on 16th March 2015. Mrs. Sajjda Imran had to leave for Pakistan due to her health condition. But she left feeling assured that Abeeha would be cared for by Paramjit who treated Abeeha like her own child.
The next few days were critical. Abeeha's health started to deteriorate. But Paramjeet was there with her all the time. For Abeeha, Paramjit was like a second mother. She not only cooked and took food for Abeeha but also for other Pakistanis who were getting treated in the same hospital. The Kohlis also invited some of them home and made the Punjabi delicacies that they were missing. Paramjeet shared duties at the hospital and spent three to four hours there, everyday.
"During our stay of over three months, we never felt for a moment that we were in some foreign country. Rather, the exceptional love, affection and care showered by Kohli sahab and his family made us feel that we were at some hospital in Chakwal," says Imran.
"Kohli Sahab, his wife Paramjit Kaur, and their younger son Gurjap Singh Kohli, used to visit us thrice a day. Mrs. Paramjit would cook special food for us. We did not face any problem in Delhi," Imran adds.
But on 7th May 2015, Abeeha lost her battle with death.
"She often used to say that she loved India. She loved this hospital and the doctors here and she would also say that once she was fine she would become a doctor and join this hospital. I miss her!" says Paramjit.
Imran had taken a treatment package of 21 days at the hospital. However, the rest of the fees were waived off by Apollo Hospital. Imran can also not forget the way he was treated at the border by the Indian Army while taking Abeeha's body back to Pakistan.
"When our ambulance stopped at the border, a soldier rushed to the vehicle and put a piece of green cloth on it so that the body could be saved from the scorching heat."
– Hamid Imran
Even though Hamid Imran went with tears in his eyes from India; he did not forget the love that Rattan Deep Singh and his family bestowed on his daughter during their stay here.
"Partition may have divided us and forced us to leave our ancestral birthplaces, but even after 66 years, the love of the people for each other has not diminished. The love of the people will one day overshadow the politics of both the countries and bridge the hostilities between them," Mr. Kohli believes.
Speaking to TBI from his home in Pakistan, Imran said: "I accept my fate. As a father I did whatever I could, with whatever resources I had, for my daughter. As a Muslim, I accept Allah's will."
Imran could not find enough words to express his appreciation for India: "I want people to know what ordinary Indians are like. Not just Mr. Kohli, but the wonderful doctors and nurses at Apollo Hospital who did their best to save my daughter – Dr. Subhash Gupta, Dr. Sibbal, and so many others."
"I also want people to know that people on both sides of the border don't care about politics. The human bond between them runs much deeper," he added.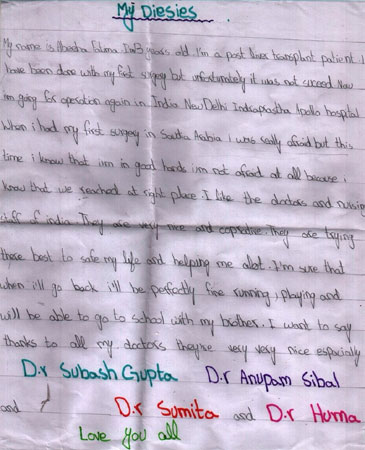 Abeeha's diary was found full of thank you notes to the Kohli family and to the doctors of Apollo Hospital, Delhi. "I love India!" wrote the little angel, before leaving for heaven.
"My daughter was meant to take her last breath in India," concluded Imran. May young Abeeha rest in peace now.
Manabi Katoch is a Mechanical Engineer; Manabi Katoch has been brought up listening to Tagore's poems and stories, so she is kind of an emotional person within. She loves writing poems and stories on social and political issues. Few of her poems can be viewed on www.poemocean.com and satires on www.mindthenews.com. She has worked with Wipro, Frankfinn and Educomp in the past.
thebetterindia.com/28406/a-thank-you-note-to-india-from-a-father-in-pakistan/#sthash.6WwGSj6F.dpuf - See more at: http://www.thebetterindia.com/28406/a-thank-you-note-to-india-from-a-father-in-pakistan/#sthash.6WwGSj6F.dpuf
------
Rise of Zealots
By Zarrar Khuhro
August 10th, 2015
SOMETHING rotten has ripened in Israel, breaking the skin of its body politic like a boil. It is a sickness that, far from being treated, has been encouraged to spread in the mistaken belief that it is in fact a cure.
Two events occurred in rapid succession. The home of 18-month-old Ali Dawabsha was firebombed by radical religious Jewish settlers, killing the child and badly wounding his family. On Saturday, his father also succumbed to his injuries. Around the same time, an ultra-orthodox Israeli stabbed six people at a Gay Pride march in Tel Aviv, killing one girl. Interestingly, he had recently been released from jail after serving 10 years for stabbing participants in the annual Gay Pride Parade here in 2005. He said he had come "to kill in the name of God". The men who caused the death of Ali Dawabsha undoubtedly believed the same thing.
The latter attack was high-profile enough to prompt even Benjamin Netanyahu to call it "terrorism", a word hitherto reserved for others. Several others in the Israeli government have followed suit.
Palestinians are no longer the only targets of settler violence.
But they can hardly feign shock and surprise. After all, Israel's justice minister defined the enemy as the entire Palestinian people, calling Palestinian children "little snakes". Why then is it shocking that someone decided to kill one little snake before it grew fangs?
That Israel has grown steadily more right-wing is no revelation. It is a development that has been lamented by more reasonable segments of the Israeli population, voices in the wilderness though they are, and actively encouraged and abetted by successive right-wing governments. There is, as Israeli professor Idan Landau puts it, "a convergence of interests between Jewish militants and the state: namely, nationalistic supremacy".
Violence by the settlers, who are increasingly religious radicals as opposed to their more secular nationalist forebears, has consequently been ignored when it has not been abetted, an offering at the altar of this nationalist supremacy.
In data compiled by Yesh Din, out of a sample of 1,000 cases of settler violence that included deaths of Palestinians and damage to property, 91pc were closed without indictment. In all, "only 2.5pc of complaints by Palestinians result in conviction".
But now the Palestinians aren't the only targets — not that settler violence against Palestinians makes the rounds on Israeli media. When it does, it is considered a 'price tag' for Palestinian resistance, winked at and often cheered on. Attacks on Christians — one settler leader openly called for arson attacks against churches for their "idol worship" — are on the rise as well. During the last assault on Gaza, right-wing mobs attacked pro-peace Israeli rallies with impunity.
In a familiar escalation the targets have shifted from Palestinians to Israeli-Arabs to Israelis who do not agree with the extremist views of the ultra-religious forces. And if this has set alarm bells ringing in corridors of power in Israel, even then it may be simply too late to correct course, because the dark ideology that powers this engine remains intact and encouraged.
Yigal Amir, who killed former Israeli Prime Minister Yitzhak Rabin, did so out of religious conviction; he thought Rabin's actions would doom Israeli Jews. Killing him was thus, in his view, God's will. Baruch Goldstein, who killed 29 Palestinian Muslims in the 1994 Cave of the Patriarchs massacre, was also doing God's will. Both are heroes to the kind of people that burned Ali Dawabsha to death. In a 2006 poll, 30pc of Israelis were found to support a pardon for Amir, with the number jumping to 50pc in the case of right-wingers and the religious. Goldstein is also considered a 'saint' by those same rabbis who provide an ideological basis for killing children.
The bulk of Israeli settlers, especially those centred around Jeru­salem, are considered 'economic' settlers; they are attracted by the many subsidies and benefits provided by the state. But of the half million or so settlers, about 130,000 are known as the Gush Emunim or Bloc of the Faithful. They are those who, according to Israeli academic Gadi Taub, believe "Arabs are an alien element in the organic unity of Jews and their land".
These are the ones who will even fight against the Israeli army when it comes (once in a blue moon) to demolish illegal structures in the settlements or when, during the Israeli withdrawal from Gaza, some settlements were disbanded. Nor are the Israeli Defence Forces (IDF) immune to their influence.
As early as 2009, the Israeli publication Haaretz warned that army rabbis had turned the IDF into "an instrument of divine punishment". Statements from IDF soldiers and rabbis during the last Gaza assault indicate that the trend has picked up pace.
People have sometimes, however hesitantly, drawn parallels between Pakistan and Israel. But when it comes to this issue, while Pakistan is finally awakening from its long national nightmare, Israel's descent into the abyss has only just begun.
Zarrar Khuhro is a Dawn staff member.
http://www.dawn.com/news/1199448/rise-of-zealots
----
Iran Nuclear Deal Is a Battle Between The US Right-Wing And President Obama
By Ahson Saeed Hasan
August 8, 2015
While travelling, a few days back, I was having breakfast at my hotel. Engrossed in my own thoughts, I heard a loud scream that prompted a bunch of folks to rush toward the pancake-maker. As I ventured to look through the mass of people, I discovered that a young kid of Persian origin, while trying to operate independently, burnt his little finger.
This prompted an Arab, an orthodox Jew and a Caucasian to congregate and help the poor soul. As for me, I just stood there, wondering in awe if the same heart-warming dynamics can be applied to the real world. Till this day, I haven't really been able to figure out. Perhaps I'm too scared to discover the truth.
In any event, my story may or may not have anything to do with what my editor has assigned me to write on, i.e. the recent Iran nuclear deal. I must confess, I had not read the text of the treaty until the day I was asked to pen down my observations. As is the case with anything new and politically novel, controversy strikes and strikes with a vengeance. The deal in question is no exception to the standard norms.
Politics is a dirty business. For the most part, what happens in the corridors of power doesn't even have a true connection to us, as humans. There's always something going on behind the scenes that we, as ordinary people, never get to know about. Politics is about power and power is a corrosive business.
So when the Iranian spiritual leader, Ayatollah Khamenei tweets and spits out a mechanistic rant across the cyber waves, he is not only expressing his insecurity for holding on to the reigns of power, but also conveying to his nation that the fight against the 'great satan' will carry on. In reality, Ayatollah has been orchestrating the long drawn negotiation process, micromanaging each and every detail that was jotted down to extract as many concessions as possible.
Similarly, when American hardliners cry wolf and express their disgust at the deal, they see their influence slipping away, causing their hearts to flutter. They've used insightful language and metaphors to arouse outrage, and have been able to polarise public opinion so far.
It not just the US right-wing nuts who have a problem with the nuclear agreement. Their Iranian counterparts are having a hard time accepting reality that they won't have anyone to condemn anymore. A détente with arch enemy America will mean lack of influence and inability to use scare tactics that could eventually result in loss of prestige and influence on the state policymaking setup.
The Saudis and Israelis are the other major obstructionists. They have their own axe to grind. Iran's re-entry into mainstream international politics is nothing but a death knell for these two, extremely contradictory role players. Iran has the smarts, the courage, the power and the ability to re-emerge as a global giant that could possibly undermine the perpetual Saudi itch to spread Wahhabism and Israel's constant complaining and moaning that gets it the American dollars.
While the big mouths battle it out, it appears that the Europeans are making hay while the sun shines! As always, they've taken the initiative and reached out to Tehran to ensure that no opportunities to cooperate and gain advantage are lost.
It remains to be seen that if the US hardliners will really be successful in skittling the process. So far, the president seems determined, actively pushing the deal ratification in the Congress. He even went to the extent of comparing them to the Iranian zealots.
"The truth of the matter is, inside of Iran, the people most opposed to the deal are the Revolutionary Guard, the Quds Force, hardliners who are implacably opposed to any cooperation with the international community," said Obama.
The administration's contention that the treaty is not necessarily aimed at helping Iran but to save the world from a nuclear Iran holds substance. What's missing in action is the ability to see reason and even the best of president's friends are not being too compassionate in this situation.
Whatever the final outcome of this circus may be, there's one undeniable fact that after years of suffering credibility setbacks, the US must do some repair work and re-join the international community. No more drone strikes, warrantless wiretapping and torture as well as working patiently with Iran are some of steps that can be taken to re-join the metric system as part of reintegration.
In the meantime, let the Netanyahus and the Khameneis keep yapping about destroying each other. Let's not over exaggerate the importance of Israel in the US-Iran paradigm. In fact, consider Netanyahu's statements as a fight for his own political survival, not what is best for Israel. And let's come to terms with the fact that Iran is economically in a desperate situation. It needs to sell its oil. Those close to the Ayatollahs tell me that since the signing of the deal, the mullahs have heaved a sigh of relief. One can imagine them dancing in their dark robes and shoving zoolbia into their mouths.
What's important is a strong follow-up and a focus on priorities to implement in true letter and spirit the terms and conditions of the deal. The antagonists will soon be silenced once the benefits of this monstrous effort become self-evident.
Long story short, in the words of Jon Stewart,
"Nothing ends. It's just a continuation. It's a pause in the conversation."
All this hoopla about the ill effects of the treaty is treacherous nonsense instigated by the leeches that do not want the world to breath in an atmosphere of peace. It's all a part of a general trend. Money, power and politics are tough to give up. Peace is an expensive ordeal but it only needs a few good men to work for it.
Undoubtedly, the treaty is not going to put the world on fire. It is hoped that while war is neither a viable nor a desirable option, the challenges faced in the path of diplomacy will soon be overcome. We all need to have faith; faith that Iran is not only ready to change but the elimination of sanctions will enhance its resolve to thrive in the comity of the nations in a peaceful and civilised manner. While haters will be haters, the warmth that I witnessed at the hotel breakfast only enhances my resolve to stay positive and look forward to a time when all of us will come together to work for a better and less nastier world.
Ahson Saeed Hasan is a Washington DC based journalist who has written extensively on US foreign policy and South Asian affairs.
http://blogs.tribune.com.pk/story/28932/iran-nuclear-deal-is-a-battle-between-the-us-right-wing-and-president-obama/
-----
Why Gilgit-Baltistan Is Not Given the Appreciation It Deserves
By Sana Sabir
August 8, 2015
The world has shrunk into a global village and everything seems to be available at the request of a single click. The promotion of any sort of business, even in far flung developing countries, has become easier than before. It seems that social media is facilitating the marketers to a great extent.
However, this ease has triggered a complex competition of creative ideas, a race of initiatives, and the tactical management of these social media mechanics in order to attract fruitful prospects. In such a scenario, it was really surprising for me when I couldn't find the name of our country and its beautiful and scenic tourism spots places on international tourism websites and blogs.
While working on a project, I randomly browsed through 50 sites and found almost every tourist destination in their list, except for Pakistan. Then to overcome my astonishment, I started exploring the essential traits of tourist destinations, something which I figured our country is lacking.
Majority of tourists want to go to places where they can enjoy nature at its best and relax. Fortunately, Pakistan has marvellous destinations like Gilgit-Baltistan (G-B) which is blessed with breath-taking landscapes to satisfy these eco-tourists.
It is a spectacular destination with the world's three tallest mountain ranges, lush green plateaus, colourful valleys, dazzling waterfalls, and much more which cannot be described in words.
Secondly, a major chunk of tourists are fond of adventurous activities. To accommodate them, G-B offers a wide range of activities such as trekking, paragliding, skiing, fishing, and boating etc. Moreover, diversified cultural and colourful festivals along with the tradition of hospitality and the general warmth the people of G-B exude, makes this place all the more an attraction for tourists.
Despite so many striking features, why is this region still far behind other countries, considering its natural scenic beauty?
The problem lies in the poor projection and promotion of this destination. The issue of poor infrastructure, accessibility issues, and security conditions in the past have also deteriorated G-B's image further. However, in reality, a lot of work is in progress to resolve these issues. We just need to work hard to change the poor perception the world has about G-B.
I've devised a two-way approach to handle this situation tactfully.
Highlight the progress being undertaken in G-B
The operation taking place in the northern areas, Zarb-e Azb, has reduced security issues to a great extent. Hence, disseminating the success of this mission to the general public is critical at this point.
Pakistan International Airlines (PIA) has been providing two regular flights to G-B since a while now, which addresses the misconception regarding the accessibility of this region. Moreover, the Lowari Tunnel is under progress, which will facilitate travellers to a great extent.
Numerous hydropower plants have been established to provide electricity to industrial and civilian areas. And the investment of $46 billion for the China-Pakistan Economic Corridor (CPEC) will definitely have a positive impact on this region as well. The government needs to identify and work on lucrative investment opportunities
It is a fact that tourists are always attracted to progress, which is why developed countries have a booming tourism industry. G-B is a region blessed with so many productive resources; however, there is a dire need to work on improving the existing businesses in order to attract foreign investment in this region. Tourism in Pakistan will definitely get the required boost once it gets the right sort of investment.
We can take the example of the gemstone industry; it could be a rewarding field if efforts are made in the right direction. This resource can bring in huge revenues, only if the latest technology is deployed for mining and extracting.
The export of organic fruits is another profitable business, but yet again, it is suffering miserably due to inadequate substandard packaging and preservation techniques. The unavailability of proper cold storages is further creating obstacles.
The aforementioned areas, if developed correctly, can play a vital role in the prosperity of the region and our country. Highlighting such investment opportunities will help change the negative perception the world has about G-B.
Promoting Pakistan through Social Media Tools
The concerned authorities need to develop a thorough planned campaign in order to project the progress of our country.
The campaign should be built by combining various social media tools to generate awareness about beautiful destinations within Pakistan. Simultaneously, it is crucial to create awareness about developments underway, concurrently highlighting available investment opportunities. The following steps would prove to be positive steps:
1. Contacting international bloggers, famous travelling websites would be highly beneficial.
2. Collaborating with different tourism organisations, such as World Tourism Organisation (UNWTO) is highly recommended to formulate plans for mutual benefits.
3. Proper management and utilisation of prospective tourist database
4. Designing and publicising tours filled with events and festivals on social media forums would attract the attention of foreigners.
Although there are several ways to promote tourism in the short run, however, to achieve sustainability in the long run, there is a dire need to change the perception of tourists. We need to work on the overall progress of this region.
Secondly, the projection of this progress on social media is fundamental in order to achieve this target. We all need to play a part in this drive for reviving tourism.
At the moment, there are a few websites and Facebook pages working towards the revival of tourism in this region. Being Pakistanis, we need to support such activities in order to build a progressive image of Pakistan and to promote tourism and other industries.
So let's play our part and provide G-B and Pakistan with the appreciation it deserves.
Sana Sabir is a program manager at the University of Management and Technology.
http://blogs.tribune.com.pk/story/28881/why-gilgit-baltistan-is-not-given-the-appreciation-it-deserves/
------
Dear Karachiites, Before You Plant Trees, Think
By Farahnaz Zahidi
August 9, 2015
The heat wave that killed more than 1,300 people in Karachi seems like a long time ago. Concerned citizens, in the heat of the moment, promised to plant trees, but very little has been said regarding when and how this can be done.
As time is passing and cool monsoon winds are blowing away painful memories of the heat wave, the promises seem to be dissipating. Where memories are short lived, long-term efforts to mitigate a recurrence of the same catastrophe seem nowhere in sight.
That is the problem with climate change – the cause and effect, both take place over extended periods of time. In a world of instant gratifications, both individuals and governments seem to have no patience to invest in something that will not show results instantaneously.
Trees are an integral part of the environment, a part sorely missing in mega cities such as Karachi. Trees have a cooling effect as they transpire water from the ground, through the roots and out from their leaves. In addition, trees provide shade. For those who experience Karachi heat on the streets and have compared the temperature in shade and in open air know the difference.
Planting trees in this concrete jungle is the real way we can stop this from happening again. However, few people recognise the impact of planting a tree today that could potentially save lives decades later. Those who are seriously inclined towards it, often end up planting the wrong trees at the wrong places due to a lack of awareness. Other than experts, like the unsung heroes of the 'Mera Karachi' (My Karachi) drives for tree plantation, people may be planting trees in Karachi but are planting them wrong.
First and foremost, not every tree can bear Karachi's temperament – what to plant should be a primary consideration. In Karachi, one thing to bear in mind is that anything we plant will have to be watered by us, as rains are a rarity and the city is already suffering from water shortage even for human consumption.
As horticulturist and activist, Tofiq Pasha Mooraj says,
"If you plant it, you water it."
For that, water conservation and recycling is important. However, this should not be the only consideration. The Corynocarpus is hassle free, fast growing, adaptable to even high salt content, economical when it comes to watering, and is the most popular choice of Karachiites since recent years.
However, it does not provide shade as it grows almost straight and vertically. There have been studies that point in the direction that Corynocarpus causes allergies in humans who live nearby. Most importantly, its roots, when they grow deep underground in search of water, break or clog Karachi's sewage and water lines.
In this, it resembles the harm the Eucalyptus trees caused the city earlier. The city realised 25 years later what the Eucalyptus had done. As a result, an unnecessary effort was put into cutting out Eucalyptus trees in the city, and we lost out on the city's greenery as well. While it has the advantage of providing cheap wood and grows fast, it literally throws toxins at other plants and does not allow other plants and trees to grow close by.
A recent trend is to plant Khujoor (date) trees with full grown tree implants. However, the tree and its fruit are prone to fungal attacks due to the humid weather here. The date tree is therefore a less than ideal choice.
The best trees for the city are those that take less water and provide shade. The best example is Neem, a very smart life form, which sucks in water from underground and provides cool shade. Other sensible choices are Gulmohar (Flame of the forest), and Amaltas (Indian Laburnum). These are deciduous trees that shed leaves, which proves to be very useful for Karachi.
Indigenous varieties like Laal Badaam (Indian almond) and Jaamun (Syzygium cumini /jambolan) are also useful fruit-giving trees that give shade. Lignum is also a good option; it looks pretty, and uses less water, but takes time to become a shade giving tree. As it is a mid-sized tree, it is good to plant in areas where there are electricity wires above.
The choice of the tree you plant also depends on where you plant it and the space available. This brings us to the second consideration – where should one plant trees?
For starters, if you are planting in a place other than your lawn, make sure you have permission to do so. Make sure the tree, once it has fully grown, will not interrupt electrical wires or obstruct underground sewage or water lines, or damage any walls. A good place is dividers or the place between your boundary wall and the road. Those living in apartments will have to be more creative, and settle mostly for plants that can be grown in pots on the roof. Yet, the important role green roofs can play must not be undermined.
The ideal planting season for trees is mid-February to mid-March and mid-July to mid-August. Trees can be planted at other times too but extremely hot or cold months should be avoided. This means that it is best not to plant in April, May, June, and October.
Farahnaz Zahidi works as a Senior Sub-Editor at The Express Tribune, and has a focus on human rights, gender and peace-building.
Source: blogs.tribune.com.pk/story/28894/dear-karachiites-before-you-plant-trees-think/
-------
URL: http://newageislam.com/current-affairs/new-age-islam-edit-bureau/a-thank-you-note-to-india-from-a-father-in-pakistan--new-age-islam's-selection-from-pakistan-press,-10-august-2015/d/104222