By Milind Ghatwai and Sweta Dutta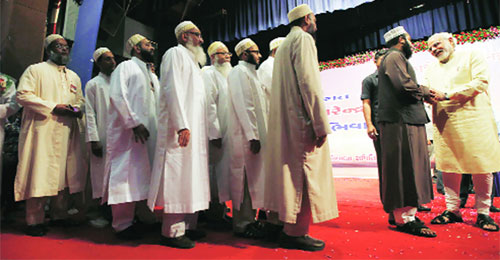 About 2,200 Muslims, most of them wearing skull caps, joined the BJP in Ahmedabad on Narendra Modi's birthday on Tuesday. (IE Photo)
Again, BJP Tells Muslims to Come for Modi's Rally 'Looking Like Muslims'
By Milind Ghatwai
Sep 18 2013
Bhopal: After Jaipur, it will be Bhopal's turn to count skull caps and Burqas at a BJP rally on September 25.
The BJP has claimed that about 50,000 Muslims, including 5,000 women, will attend its "Karyakarta Mahamukbha" in Bhopal, to be addressed by Chief Minister Shivraj Singh Chouhan, Gujarat Chief Minister Narendra Modi, party president Rajnath Singh and veteran leader L K Advani.
Party sources admitted that Muslims have been specifically told to wear skull caps and Burqas at the rally. State BJP minority cell Chief Hidayatullah Shaikh said, "They do it on their own, but our effort will be to ensure they look like Muslims.'' He added that the party would like them to sit together.
"It's not new for Muslims to wear skull caps and Burqas at Chouhan's functions; he has done so much for them,'' said Shaikh. The minority cell has asked its district units and office-bearers to ensure maximum participation, he said.
Another BJP leader said the seating arrangement hasn't been decided yet. "It won't be obvious like Jaipur,'' he said.
As reported by The Indian Express, the BJP had distributed skull caps and Burqas for a Modi rally in Jaipur last week.
"We are only looking at the assembly elections, not the 2014 general elections,'' said Shaikh, when asked if the rally was an endorsement for the party's prime ministerial candidate.
Source: http://www.indianexpress.com/news/again-bjp-tells-muslims-to-come-for-modi-s-rally--looking-like-muslims-/1170570/
---
In Jaipur, Modi's Skull Cap, Burqa Of Secularism
By Sweta Dutta
Sep 11 2013
It was a sight that was hard to miss: A few thousand Muslim men wearing skull caps and women wearing Burqas attending a massive BJP rally that was being addressed by Gujarat Chief Minister Narendra Modi.
But the secret behind the politically intriguing visual was bared when sources in the BJP revealed that the party had bought 5,000 skull caps and Burqas each two days before the event to be distributed to Muslims attending the rally.
"Hours before the event, free skull caps and Burqas were distributed among Muslims. We were allowed to take them home too. Both my wife and I have got one each. We were provided free travel and food too by the district in-charge," said Shaukat Ali, who had come from Kota for the rally.
Gul Mohammad, a resident of Ajmer, told The Indian Express that the BJP had also spread word that all those selected to travel to Jaipur for the rally should get their own skull caps and Burqas. "The selection of participants favoured Maulanas and those who sported the traditional beard and skullcap," he added.
Modi following Hitler's tactics: Digvijaya
BJP state minority cell president Aamin Pathan, however, denied the claims.
"Last year, at an event in Dudu for which the UPA chairperson had come, Muslims in the audience were asked to take off their Burqa for security reasons. We did not want that to happen to our audience and had told them that they could wear a Burqa or skull cap if they wished. There was no directive to do so," he said.
Pathan said the rally was attended by about 3 lakh people and about 25,000 of them were Muslims. Of this, an estimated 4,000 women must have come in burqas, he said.
Source: http://www.indianexpress.com/news/in-jaipur-modis-skull-cap-burqa-of-secularism/1167454/
---
Muslims Come To Narendra Modi's Party Wearing Skull Caps, Say He's Forgiven
Sep 18 2013
Chief Minister Narendra Modi's birthday gave a platform to the members of the minority community to pledge their support to his leadership, with 2,200 Muslims joining the BJP in Ahmedabad on the first of the nine-day membership drive launched on Tuesday.
Again, BJP tells Muslims to come for Modi's rally 'looking like Muslims'
BJP's Muslim leaders cut 63 kg cakes in Ahmedabad and Vadodara while others, wearing skull caps, made beeline to felicitate Modi at Gandhinagar's Town Hall. Prominence was given to Muslims present at the Town Hall event. BJP's Minority Morcha chief Mahebubali Bawa Chisty said that one lakh Muslims would join the party by September 25, the birthday of Pandit Deendayal Upadhyay and the culmination day of the drive.
Modi tried to deflect attention from his birthday to say that he would rather celebrate it as Vishwakarma Jayanti and Hyderabad liberation day. "People are fed up. Inflation, Corruption. People are waiting for elections like they wait for rains during a scorching summer. The next elections are perhaps the most awaited elections in the history of India," Modi said in Town Hall, which was packed with people from various communities.
Muslims come to Modi's party wearing skull caps, say he's forgiven
About Hyderabad liberation, he said, "On September 17, Sardar Vallabhbhai Patel had freed Hyderabad from the clutches of Nizam."
The event, organised by the Gujarat Abhiwadan Samiti, was a repeat of the Sadbhavna Mission that he had launched in 2011 on his birthday to reach out to minority communities.
Shabbir Nooruddin Sodawala, the president of Dawoodi Bohra Samaj, who had come from Vapi with seven members of his community, said, "Muslims in our locality no more associate Modi with the (2002) communal riots. In the last 10 years of his rule, there hasn't been a single incident of rioting. People have forgiven him for the riots. Peace has helped our business grow. We believe that once he becomes the prime minister he will ensure development in the entire country."
"The leaders of Bohra community should sit right at the centre of the audience and other members of the community can take their seats in the rows at the back," said the anchor of the event, instructing the audience, which included members of the royal families of Baroda and Rajkot, VHP members, religious heads of Swaminarayan sect and members of the Dalit Samaj, Brahmin Samaj, cricketers, ex-servicemen, dairy farmers, Hindu, Parsi and Christian priests.
"Modi is the lone political figure today who has the ability to free the country of debt, create jobs and reduce day-to-day sufferings of the common man. He has a clean image and tremendous will power," said Shabuddin A Multani, a Maulvi from Tapi district, who sat with Swaminarayan sadhus. Asked if members of the minority community in his area have forgiven Modi for the riots, Multani said, "People don't think he did the 2002 riots."
Earlier, Modi began his day with blessings from his 94-year-old mother Hiraba. He also met former CM and bete noire Keshubhai Patel.
Source: http://www.indianexpress.com/news/muslims-come-to-modis-party-wearing-skull-caps-say-hes-forgiven/1170670/
URL: http://www.newageislam.com/current-affairs/milind-ghatwai-and-sweta-dutta/like-tablighi-jamaat,-rss-and-bjp-also-want-muslims-to-look-different-from-other-indians--they-are-told-to-wear-skullcaps,-beards,-long-kurtas,-short-and-narrow-pyjamas,-burqas/d/13554