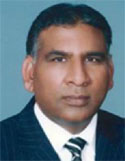 By Nasir Saeed
2013-07-18
Telling your prospective spouse that you can only marry him/her if he/she were to convert to Islam is a modern form of forced conversion and a denial of the equal and fundamental rights of the person we supposedly love
Wasim Akram's engagement to 30-year-old Australian Shaniera Thompson has created quite a buzz in the media. Akram's first wife, Huma Wasim, died in 2009 and Akram says he never thought he would get married again but is feeling "lucky and very happy" to have found love a second time. Apparently, he even got down on one knee to pop the big question and his two sons from his first marriage are reportedly both excited to welcome Shaniera, a former public relations consultant, to their family.
It is unquestionably a beautiful thing to find love after the tragedy of death but I cannot help but feel disappointed that Shaniera had to convert to Islam as a condition for her marriage to Akram And not only is she converting, she is also reportedly ready to move to Pakistan and make it her home. Will she start dressing in traditional Pakistani dress when she gets here too? For sure, some people will hold Akram in higher regard, not simply for marrying a western woman but for bringing her into the circle of Islam and making a place for himself in Heaven. He has also managed to sidestep the potential headache of marrying a non-Muslim.
Akram is not the first to marry someone from a non-Muslim background. Several notable businessmen, sportsmen and dignitaries have married western and non-Muslim women. But what they share in common is that they only married them after they converted to Islam. Surely this goes against what it means to love someone unconditionally, such a key element of marriage. What if the woman were to put the same condition in front of the man or simply refuse to convert to Islam? Would they just have abandoned them and looked for someone else?
In such marriages it is generally the case that the women must leave their religion and also their country; adopt the Pakistani lifestyle and even the Pakistani dress, Shalwar Kameez, Dupatta and so on.
And it happens the other way round too. A friend of mine married a Christian woman several years ago and had to convert to Christianity. He was admonished and disowned by his family but despite losing everything, including his job, he remains happily married with several grandchildren.
I know of one pastor who married a Hindu woman who has still not changed her religion but takes part in church activities, and a Muslim lady who married a non-Muslim and has made a happy family with him. My friend's son married a Christian girl and they have two children and are practising their own religion. They too are a happy family.
Bollywood legend Shahrukh Khan is one of the rare exceptions being happily married to a non-Muslim and having three children together. They celebrate Eid but also Diwali.
Pakistan can learn from India in this respect. While religion remains an overbearing and even destructive force in Pakistan, over the border in India there is space for personal liberty and privacy in matters of religion. There is not this religious hatred that is flourishing and indeed, spiralling out of control in Pakistan.
Telling your prospective spouse that you can only marry him/her if he/she were to convert to Islam is a modern form of forced conversion and a denial of the equal and fundamental rights of the person we supposedly love, a sort of test that he/she has to pass if he/she is to prove his/her worthiness to be accepted as a husband/wife.
What is more, it trivialises faith. Has this person truly converted or is it a superficial conversion to satisfy an outward condition? Choosing to believe in God and choosing a particular system of devotion to Him is a huge decision and should be made only after serious consideration and out of a genuine desire to be in relationship with God, not to be able to marry someone we are in love with. What is more, conversion to Islam should absolutely be made out of free will and not under duress of any kind.
If someone has decided to marry a person of another faith, they should tolerate the belief system of their chosen one and allow her to convert in her own time if she so chooses. The west has developed a healthy level of tolerance in society where other faiths are respected and people are regarded as equal irrespective of race, religion or creed. If people convert to a particular faith it is because they have become convinced of its particular merits.
Inter-religious marriages are becoming more and more common in the world and although not all are successful, many are, and I believe it is a blessing as they not only help you to understand another's religion but to develop a tolerant society too.
Pakistan is becoming an increasingly extremist and intolerant society, and while Pakistani laws do not forbid anyone from marrying a non-Muslim, the culture does not tolerate it. We can start a culture of peace and tolerance and I believe we need it more than ever before. High profile figures like Wasim Akram and the choices they make are incredibly influential. I would like to see them set an example in accepting their spouses as they are and so help to develop a peaceful and tolerant society based on mutual respect and dignity.
Nasir Saeed is a freelance columnist
Source: http://www.dailytimes.com.pk/default.asp?page=2013\07\18\story_18-7-2013_pg3_4
URL: https://newageislam.com/current-affairs/inter-religious-marriage-another-way/d/12650