Straying From the Middle Way: Extremist Buddhist Monks Target Religious Minorities
By Hannah Beech
June 20, 2013
The fault lines of conflict are often spiritual, one religion chafing against another and kindling bloodletting contrary to the values girding each faith. Over the past year in parts of Asia, it is friction between Buddhism and Islam that has killed hundreds, mostly Muslims. The violence is being fanned by extremist Buddhist monks, who preach a dangerous form of religious chauvinism to their followers.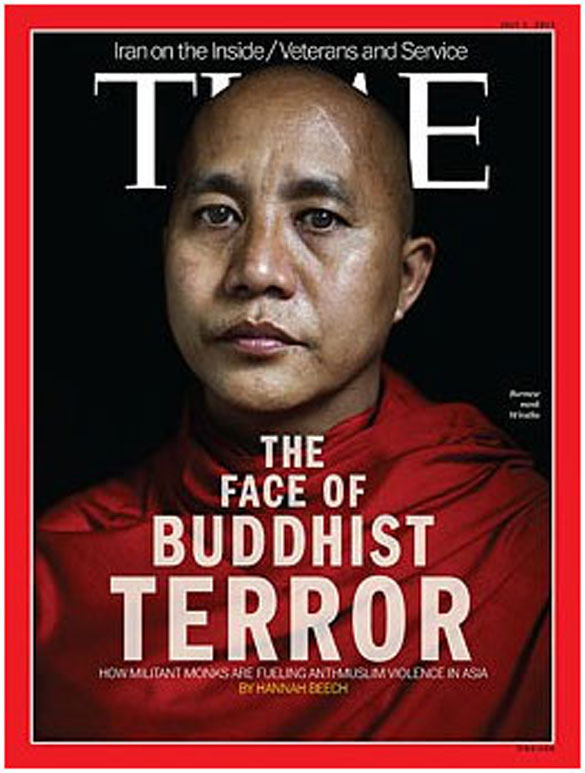 Photograph By Adam Dean / Panos For Time

----------

Yet as this week's TIME International cover story notes, Buddhism has tended to avoid a linkage in our minds to sectarian strife:

"In the reckoning of religious extremism — Hindu nationalists, Muslim militants, fundamentalist Christians, ultra-Orthodox Jews — Buddhism has largely escaped trial. To much of the world, it is synonymous with nonviolence and loving kindness, concepts propagated by Siddhartha Gautama, the Buddha, 2,500 years ago. But like adherents of any religion, Buddhists and their holy men are not immune to politics and, on occasion, the lure of sectarian chauvinism.

When Asia rose up against empire and oppression, Buddhist monks, with their moral command and plentiful numbers, led ant colonial movements. Some starved themselves for their cause, their sunken flesh and protruding ribs underlining their sacrifice for the laity. Perhaps most iconic is the image of Thich Quang Duc, a Vietnamese monk sitting in the lotus position, wrapped in flames, as he burned to death in Saigon while protesting the repressive South Vietnamese regime 50 years ago. In 2007, Buddhist monks led a foiled democratic uprising in Burma: images of columns of clerics bearing upturned alms bowls, marching peacefully in protest against the junta, earned sympathy around the world, if not from the soldiers who slaughtered them. But where does social activism end and political militancy begin? Every religion can be twisted into a destructive force poisoned by ideas that are antithetical to its foundations. Now it's Buddhism's turn."

Over the past year in Buddhist-majority Burma, scores, if not hundreds, have been killed in communal clashes, with Muslims suffering the most casualties. Burmese monks were seen goading on Buddhist mobs, while some suspect the authorities of having stoked the violence — a charge the country's new quasi-civilian government denies. In Sri Lanka, where a conservative, pro-Buddhist government reigns, Buddhist nationalist groups are operating with apparent impunity, looting Muslim and Christian establishments and calling for restrictions to be placed on the 9% of the country that is Muslim. Meanwhile in Thailand's deep south, where a Muslim insurgency has claimed some 5,000 lives since 2004, desperate Buddhist clerics are retreating into their temples with Thai soldiers at their side. Their fear is understandable. But the close relationship between temple and state is further dividing this already anxious region.

As the violence mounts, will Buddhists draw inspiration from their faith's sutras of compassion and peace to counter religious chauvinism? Or will they succumb to the hate speech of radical monks like Burma's Wirathu, who goads his followers to "rise up" against Islam? The world's judgment awaits.

Source: http://world.time.com/2013/06/20/extremist-buddhist-monks-fight-oppression-with-violence/#ixzz2XUSGhrMF

---

The Face of Buddhist Terror

It's a faith famous for its pacifism and tolerance. But in several of Asia's Buddhist-majority nations, monks are inciting bigotry and violence — mostly against Muslims

By Hannah Beech / Meikhtila

July 01, 2013

U Wirathu, the spiritual leader of the 969 Buddhist Nationalist movement, and his entourage leave after giving a sermon, at a monastery in Mandalay, Myanmar (Burma) on May 22, 2013. U Wirathu is an abbot in the New Maesoeyin Monastery where he leads about 60 monks and has influence over more than 2,500 residing there. He travels the country giving sermons to religious and laypeople encouraging Buddhists to shun Muslim business and communities.

His face as still and serene as a statue's, the Buddhist monk who has taken the title "the Burmese bin Laden" begins his sermon. Hundreds of worshippers sit before him, palms pressed together, sweat trickling silently down their sticky backs. On cue, the crowd chants with the man in burgundy robes, the mantras drifting through the sultry air of a temple in Mandalay, Burma's second biggest city after Rangoon. It seems a peaceful scene, but Wirathu's message crackles with hate. "Now is not the time for calm," the 46-year-old monk intones, as he spends 90 minutes describing the many...

Source: http://www.time.com/time/magazine/article/0,9171,2146000,00.html#ixzz2XUSMyCik

-----------

INDIA TODAY ONLINE NEW DELHI,

June 24, 2013

Time magazine's 'Buddhist terror' cover story gets flak for misrepresenting the religion, and Myanmar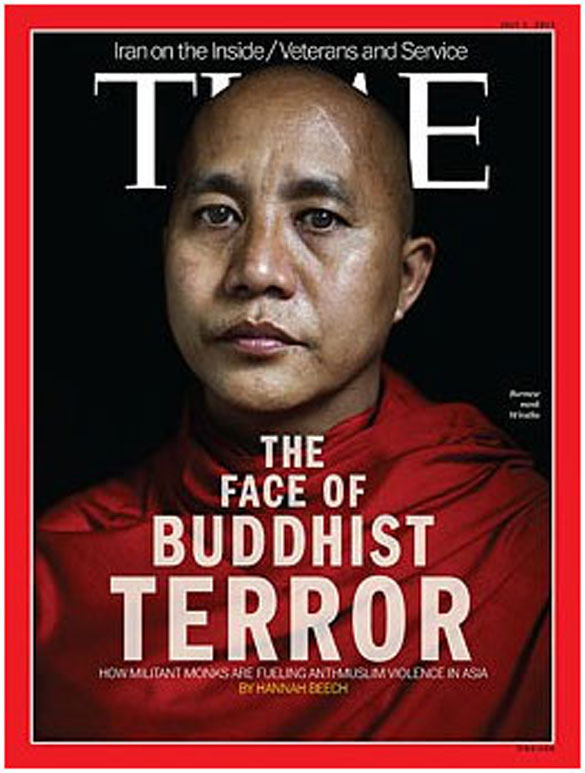 Time magazine's July, 2013 cover which has generated a lot of controversy
---------
Time magazine's cover story dubbing a radical Buddhist monk U Wirathu, "The Face of Buddhist Terror" has elicited howls of protests from Buddhists the world over and Myanmar in particular.
Myanmar's President Thein Sein has spoken out against the cover saying that the story is "detrimental to peace efforts between Myanmar's religious groups."
Netizens in the recently opened nation have taken to social media to voice their protest and dismay at the US magazine's July cover story on the controversial Mandalay monk Wirathu, who some see as spearheading and inciting a wave of anti-Muslim riots in the country's communally sensitive western regions.
In fact, an online petition to condemn the article has already garnered 40,000 supporters.
Upon seeing his photo splashed across the cover of Time magazine with the words "Face of Buddhist Terror," Myanmar's most-talked-about monk was unfazed, saying no amount of bad publicity could hurt him.
The 46-year-old is accustomed to - even flattered by - the foreign reporters who steadily parade through his monastery in the city of Mandalay to ask about religious violence that has swept his predominantly Buddhist nation in the last year - fuelled in no small part by his anti-Muslim rhetoric.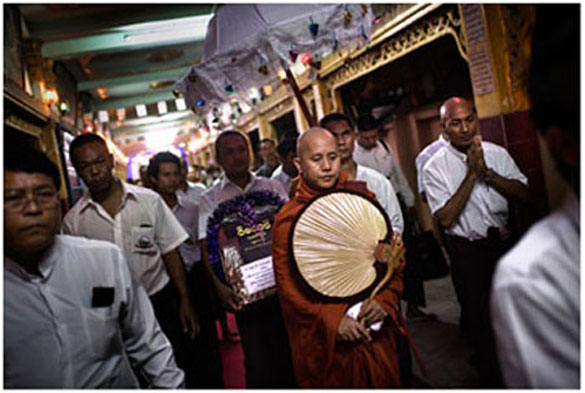 File photo: Wirathu, the Buddhist monk, who is the subject of a cover story by Time magazine, poses for a photo in his room after an interview with Reuters at a monastery in Mandalay on December 16, 2012. REUTERS/Soe Zeya Tun

-----------

Nearly 250 people have died and tens of thousands have fled their homes, threatening to destabilize the quasi-civilian government that came to power just two years ago after five decades of military rule.

"A genuine ruby will shine," said Wirathu, "even if you try to sink it in mud."

New freedoms of speech have made it easier to disseminate radical views, while exposing deep-seeded racism felt by much of the population toward Muslims and other minorities.

There has been almost no public outcry when Buddhist mobs have marched into villages brandishing machetes and clubs, but the appearance of a Burmese monk on the cover of the glossy international magazine with an inflammatory title was apparently too much.

The social networking site Facebook was alight with criticism.

Dozens changed their profiles to mock-covers of Time with the word "Boycott." One person lamented that the image of his country - and faith - was being tarnished.

"Some people misunderstood the title ... seeing it as an insult to religion," said Dr. Yan Myo Thein, a political analyst. "They believe it's equating Buddhism with terrorism."

Few took the opportunity to criticize Wirathu, however, saying it was further evidence of media bias. The monk has repeatedly called on Buddhists to unite against the "threat" Muslims pose to the country and its culture, accusing them of breeding too fast and hijacking the business community.

The Time article quoted him as saying this was not the time to stay calm.

"Now is the time to rise up, to make your blood boil," he said.

(With inputs from AP)

http://indiatoday.intoday.in/story/time-magazine-buddist-terror-story-under-attack/1/285103.html

------

On TIME's "The Face of Buddhist Terror"

By Editorial

26 June 2013

THE response to Time magazine's July 1 cover story, "The Face of Buddhist Terror", has taken few observers by surprise. However, in their rush to condemn the article, web users, the Myanmar media and the government have missed a number of issues, particularly around freedom of speech.

Neither the article nor the cover linked Buddhism and terrorism. The article does not use the word "terrorism," and only mentions terrorist when referencing Osama Bin Laden. Similarly, it does not label Buddhism a religion of extremism or extremists. Time has certainly been more careful to avoid using the "terrorist" label than some Myanmar publications, which, in their reporting on the conflict in Rakhine State last year, immediately branded "Bengalis" as "terrorists".

Rather, the Time cover presents U Wirathu as the face of a form of "terror" that has unfortunately reared its head in Myanmar over the past year in clashes between Muslims and Buddhists. There is a legitimate debate over whether this is a fair portrayal. However, given U Wirathu's incessant and inflammatory statements about Muslims the description is more apt than many seem to want to believe.

U Wirathu has not retracted or disputed anything he was quoted as saying in the article, including that Muslims are "stealing our women, raping them" and his preaching that "[n]ow is the time to rise up, to make your blood boil". Indeed, he makes similar statements on a regular basis. His primary complaint appeared to be that the interview was not run in full as a question-and-answer article. Most journalists would agree that such a demand is unacceptable and there is no suggestion that Time agreed to do this when the interview took place.

It is, in effect, a classic case of shoot the messenger: It is U Wirathu's comments to the media that have tarnished the image of Buddhism in Myanmar, not the journalists who report on them. The article's main error appears to be reporting that U Wirathu describes himself as the "Burmese Bin Laden", a charge he denies. The vague accusations that Time and Hannah Beech have somehow violated journalism ethics should be clarified. The Daily Eleven has led the charge but its nonsensical efforts to link Time magazine's "senseless sensationalism" with Newsweek's financial troubles only does itself a disservice.

Particularly worrying is that journalists and editors appear to have forgotten their own struggle over the past 50 years for the right to express themselves freely. By criticising Time for its coverage they may be endangering their own ability to report and comment freely in the future. The government has been quick to ban the distribution of Time's July 1 issue because it "may cause … unwanted conflicts". Should it not do the same to a Myanmar publication that prints an article on extremists within the mostly peaceful religion of Islam? The government's reasons for the ban are suitably broad that they could easily be used again in future to stifle reporting on other "sensitive" issues.

Regardless of how you view Time magazine's coverage, The Myanmar Times believes that the prospect of more, not less, censorship in Myanmar should not be encouraged.

http://mmtimes.com/index.php/opinion/7271-on-time-s-the-face-of-buddhist-terror.html

-----------

Time's 'Buddhist Terror' headline irks Myanmar

Afp, Yangon

June 26, 2013

Myanmar has reacted angrily to a Time magazine cover story on a prominent radical monk accused of fuelling anti-Muslim violence, accompanied by the headline "The Face of Buddhist Terror".

Social media users in the former junta-ruled nation also voiced dismay at the US magazine's July front page, which shows a photograph of controversial Mandalay monk Wirathu, whose anti-Muslim remarks have come under scrutiny following a wave of deadly religious violence.

The Time report "creates a misunderstanding of Buddhism which has existed for thousands of years and is the religion of the majority of our citizens," said a statement posted on the presidential office website late Sunday.

"The government is currently striving with religious leaders, political parties, media and the people to rid Myanmar of unwanted conflicts," it said, adding that the issue of religion should be handled respectfully by the media.

In a sign of the strength of feeling, one online petition started over the weekend to condemn the magazine had collected almost 40,000 names by Monday.

The use of the words "Buddhist" and "Terror" upset all followers of the faith, which is peaceful "and not for terrorists," a message accompanying the petition said.

Eye-witnesses to violence which flared in March in central Myanmar said people dressed in monks' robes were involved in the unrest, which left scores dead, mainly Muslims.

Radical monks have led a campaign to shun shops owned by Muslims. Wirathu has also called for a law to restrict marriages between Buddhist women and men of other faiths.

Several episodes of religious fighting have exposed deep rifts in the Buddhist-majority country and cast a shadow over widely praised political reforms since military rule ended two years ago.

In March at least 44 people were killed in sectarian strife in central Myanmar with thousands of homes set ablaze.

Communal unrest last year in the western state of Rakhine left about 200 people dead and up to 140,000 displaced, mainly Rohingya Muslims.

----------

Ashin Wirathu: The Monk behind Burma's "Buddhist Terror"

By Jonathan DeHart

June 25, 2013

When the July issue of TIME Magazine hit newsstands it got the attention of the highest levels of government in Burma. On its cover is a serene image of Burmese Buddhist monk Ashin Wirathu, with a loaded phrase superimposed on his crimson robes: "The Face of Buddhist Terror". The article explores the rising wave of anti-Muslim violence in the country and traces much of it back to Wirathu.

Reacting to the provocative story, President Thein Sein's office released a statement that said the story "creates a misunderstanding of Buddhism." It added, "The government is currently striving with religious leaders, political parties, media and the people to rid Myanmar [Burma] of unwanted conflicts." Sein went on to call Wirathu a "noble person" who is a "son of Buddha".

While it may be true that conjoining the words "Buddhist" and "terror" may cast the vast majority of the world's Buddhists in an unfair light, suggesting that real efforts are underway to cease sectarian violence and forge ethnic unity in Burma glosses over a number of troubling facts. Most significant among them: Wirathu actively encourages an extremist attitude towards Burma's Muslims.

Before a large gathering who came to hear his thoughts on Burma's Muslims – whom he called "the enemy" – Wirathu recently said: "You can be full of kindness and love, but you cannot sleep next to a mad dog."

"Muslims are like the African carp," he told Global Post. "They breed quickly and they are very violent and they eat their own kind. Even though they are minorities here, we are suffering under the burden they bring us."

This sentiment is not fringe either. As seen by the crowd, which numbered in the thousands, Wirathu has a massive following. Using an intoxicating mix of paranoia, racial stereotyping and unfounded claims, Wirathu has whipped up anti-Muslim sentiment among Burmese Buddhists. He can be seen here speaking at some length in these terms.

An organic movement has formed as a result, which has come to be known as the 969 campaign. While most distance themselves from comparing the two, some have even likened the movement to a Burmese form of neo-Nazism.

The numerological significance of the digits comes from the Buddhist idea that the Three Jewels (Tiratana) comprise 24 attributes: nine special attributes of the Lord Buddha, six core Buddhist teachings and the nine attributes of monkhood. Hence: 969.

Burmese Muslims have their own numerological talisman as well: 786, referring to the Quranic phrase, "In the name of Allah, the Most Gracious, the Ever Merciful", which has a numeric value of 786. The number is often seen plastered on the fronts of Halal restaurants in Burma.

The 969 Buddhists have struck back, putting stickers and signs that bear the number on shops, from food stalls and teashops to street vendors, to distinguish themselves as being Buddhist. There have been instances of Buddhists being beaten by 969 adherents for patronizing Muslim businesses. The numbers are a giveaway. While hundreds of Muslims have been jailed for involvement in the violence, very few Buddhists have wound up behind bars.

Yet this does not end in the marketplace or with beatings. Beginning in the northern state of Arakan and fanning out to other parts of the country, over the past year hundreds, mostly Muslims, have been killed, while more than 125,000 have been displaced. Human Rights Watch (HRW) has called the Burmese government's treatment of the nation's Rohingya Muslim minority "ethnic cleansing".

"The Burmese government engaged in a campaign of ethnic cleansing against the Rohingya that continues today through the denial of aid and restrictions on movement," said HRW's deputy Asia director Phil Robertson. "The government needs to put an immediate stop to the abuses and hold the perpetrators accountable or it will be responsible for further violence against ethnic and religious minorities in the country."

Indeed, Burmese dissident Dr. Maung Zarni has listed a number of overt anti-Muslim acts committed by the government, from backing violence against Rohingyas and "cleansing" Muslims from the Burmese military to approving anti-Muslim publications and bolstering the rise of Wirathu himself.

Even Burmese Nobel Peace laureate Aung San Suu Kyi was accused of remaining silent on the issue of the Rohingyas' plight for too long until speaking out earlier this month against the controversial two-child policy applied solely to them. While Suu Kyi may have broken her silence when it came to this hotly contested official attempt at controlling Muslim numbers, she has not commented either way on Wirathu.

While they may not be outspoken on the issue of violence against Burma's Muslim minority, more than 59,000 have signed an online petition (as of Tuesday afternoon) to protest TIME's cover story on the grounds that it misrepresents Buddhism – but not necessarily in defence of Wirathu's views.

Others with the urge to vent have taken to Facebook, such as D Day Ang who wrote: "We are not terrorist, we are peaceful people and hate terrorism…please write articles only after gathering sufficient information."

While it remains to be seen what will become of the contentious issue of the magazine in Burma, presidential spokesperson Ye Htut said that, unsurprisingly, the Burmese government might just pull it from circulation and remove it from the public's view.

Jonathan DeHart is assistant editor of The Diplomat.

Source: http://thediplomat.com/asean-beat/2013/06/25/ashin-wirathu-the-monk-behind-burmas-buddhist-terror/

URL: https://newageislam.com/current-affairs/hannah-beech-and-others/the-face-of-buddhist-terror-in-burma--the-controversy-over-time-magazine-s-cover-story/d/12346