By Alisa Mullins
September 22, 2014
< >
A peaceful PETA India gathering outside India's largest mosque in Bhopal took a violent turn when an angry mob of men who had been lying in wait for the organization's staff members and volunteers attacked them, hurling stones and trying to tear off their clothes.
The peaceful appeal, which was led by a Muslim PETA India staffer wearing a lettuce-leaf Hijab, was in support of nonviolent ways to give alms to the poor, such as gifts of grains, fruits, clothing, and money, instead of paying to slaughter goats during the Bakra Eid religious commemoration of Abraham's offering of his son to God.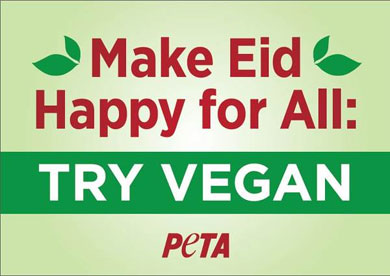 Every year during Eid, the streets of India run red with the blood of millions of slaughtered goats, many of whom play with and are the beloved pets of children until they go to the knife. Instead of killing animals, PETA India is appealing to Muslims to celebrate in nonviolent ways, as many Muslims already do. (For more information, see IslamicConcern.com.)
But PETA India's simple plea for compassion was met with violence.
The angry mob, which police estimated to have swelled to 4,000 people, had apparently gathered in anticipation of the event. After men in the crowd reportedly shouted for the PETA India staff members, who are all women, to be stripped and stoned, men started hurling rocks and assaulting the women, who were forced to run for their lives. One staffer sustained severe facial injuries and other wounds and remains hospitalized. Another staffer's pants were ripped as the mob tried to tear at her clothes. Three police vehicles were smashed, and several police officers were beaten as they tried to reason with the crowd. Two PETA India staffers remain in protective police custody. Local men apparently affiliated with the mosque have charged the women with "outraging religious feelings."
PETA India CEO Poorva Joshipura told the media that "PETA organises peaceful animal protection awareness programs for Christmas, Easter, Diwali, Janmashtami and other holidays, as well as Eid" and that "it is shameful that in working to stop violence, our volunteers were made to suffer violence."
-----
PETA Activist Roughed Up Over 'Vegan Id' Call In Bhopal
September 22, 2014
A group of PETA activists who were calling for celebrating 'Vegan Id' were mobbed and one of them was roughed up by some residents of Bhopal on Monday. The activists were urging people to celebrate vegan Id-uz-Zuha. They had assembled in front of Tajul Masajid, the biggest mosque in the country.
PETA activist Benazir Suraiya was roughed up by some residents of Bhopal for urging people to celebrate vegan Id-uz-Zuha. (Mujeeb Faruqui/HT photo)
As soon as residents saw PETA members carrying the message, they raised slogans like 'PETA, go back' and 'Mazhab Mein Dakhal-Andazi Band Karoo' (Don't intervene in religious matters).
In the ensuing melee, an activist, Benazir Suraiya was roughed up while other activists left the spot. Local residents, especially, traders, objected to the venue chosen by PETA activists.
"This is the first time they are interfering in religious issues of any community. Issuing an appeal is different and standing in front of a mosque to change the way we celebrate our festival and observe faith is different", said a protester in front of the mosque.
Stones were hurled and residents forced the PETA members to retreat. However, the number of people upset over PETA's message, swelled in no time. Sensing trouble, policemen surrounded Benazir Suraiya and whisked her away.
In a message that was being circulated through SMS and WhatsApp, it was told that PETA's Muslim activist would be present at the awareness campaign. The police officials said they were looking into the matter.
Source: http://www.peta.org/blog/peta-india-staffers-hospitalized-attack-angry-mob/
URL: http://www.newageislam.com/current-affairs/alisa-mullins/peta-india-staffers-hospitalized-after-attack-by-angry-mob/d/99234