By Roshan Shah, New Age Islam
08 April 2017
Name of the Book: Religion Gone Astray—What We Found at the Heart of Interfaith
Authors: Pastor Don Mackenzie, Rabbi Ted Falcon & Imam Jamal Rahman
Published by: Skylight Paths, Woodstock, Vermont, USA
Year: 2015
Pages: 170
ISBN: 978-1-59473-391-8
Price: $18.99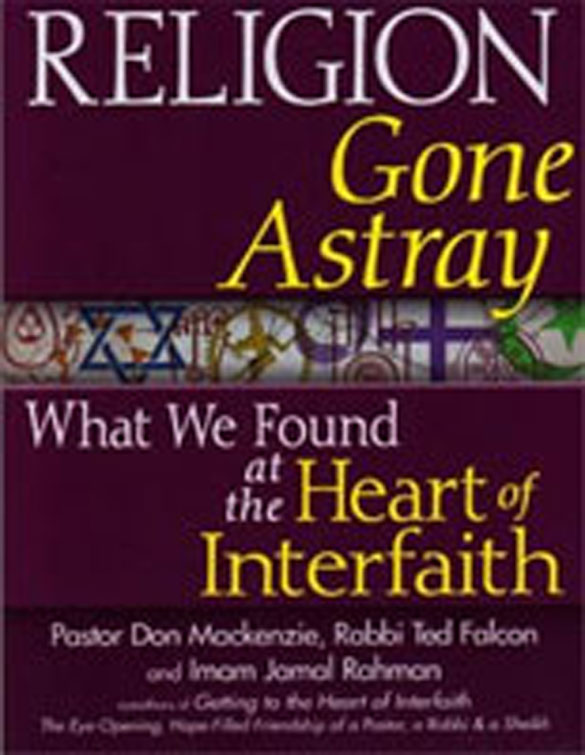 US-based Pastor Don Mackenzie, Rabbi Ted Falcon and Imam Jamal Rahman are a team that is engaged in something that is badly needed all across the world today—promoting dialogue, understanding and friendship between people who claim to follow different faiths. This book comes out of the many questions that this team of intimate friends has been asked during their numerous speaking engagements. The trio talk of what they regard as the core teachings of their respective religious traditions (Christianity, Judaism and Islam), and share aspects of these traditions that are aligned with those teachings. Along with this, they also share portions of scriptures and other texts in their traditions that seem contrary to these teachings, focussing particularly on religious exclusivism and supremacism, violence and gender injustice.
Like individuals, religions, when they become institutions, can, as the title of this book says, go 'astray', deviating far from their purpose. They do this, the authors say, when, for instance, they are interpreted to promote monopolistic claims to truth, when they are marshalled to foment conflict and engage in violence against people who behave and believe differently and when they are invoked to seek to justify gender injustice. Hence, the authors stress, they 'need to be called back'—which is what this thoroughly engaging book does a brilliant job in trying to do.
The authors point to the key importance of interfaith dialogue in this process of calling back their faith traditions and their coreligionists who have gone 'astray'. Through their own close personal friendship, through sharing with one another the problematic aspects of their own traditions and through participating in the spiritual practices of each other's traditions, they indicate how interfaith dialogue—especially when it takes the form of close friendships—can be of great help in one's spiritual evolution. Such dialogue can enable people to appreciate and incorporate wisdom and insights from other religious traditions. It can help them seriously reflect, with people of other faiths acting as a mirror, on problematic aspects of their own traditions that they might not otherwise have noticed or might have denied. Through interfaith dialogue, they can benefit from how others are coping with and seeking to overcome problematic issues in their own religious traditions that need rethinking—issues like exclusivism, supremacism, violence and gender injustice in the name of religion that this book discusses in detail and that people of all faiths have to contend with.
Oneness, the authors say, is a core teaching of Judaism, while it is unconditional love in Christianity and compassion in Islam. These core teachings provide them a standard of measurement to discern aspects of their own traditions that are inconsistent with them. Through this lens, the authors reflect on portions of their scriptural traditions that are routinely invoked by many of their coreligionists in order to seek to justify religious exclusivism, communal supremacism, violence and gender injustice, which the authors say clearly violate what they regard as their faith's core teachings. They point to the urgent need to promote alternate understandings of these aspects of their religious traditions so that they can play a role in healing the world instead of adding to human misery.
Much of this book is about how the authors seek to articulate an understanding of their own respective faiths that is inclusive, accepting of other faiths and their adherents, and gender just. In the process, they do a brilliant job of critiquing, on religious grounds itself, the arguments of their coreligionists whose interpretations of their religions they believe violate their religions' core teachings.
Along with a critical restatement of their religious traditions, the authors urge the need for us to reform some of the ways in which we seek to understand God or the Divine or the Ultimate Mystery. This rethinking is absolutely necessary in order to overcome deep-rooted supremacist and patriarchal understandings of religion, which draw on narrow and fear-filled notions of God. In this regard, Rabbi Falcon refers to the belief in God as 'an angry and avenging heavenly person who punishes and controls' and says that this image inspires 'insecurity and fear' and is perhaps more a reflection of our own being than an accurate representation of 'an inclusive Divine Being in whom all else exists.' He urges us to think of God as 'everything that exists and infinitely more' and to recognize that we are all part of God and expressions of God and so in this way 'always interconnected with one another and with all that is.' Pastor Mackenzie speaks of God as without and within. Likewise, Imam Jamal writes about God as both transcendent and immanent, something that many Sufi Muslims (and the Imam is one of them) stress. Such understandings of God (in contrast to the idea that God is completely separate from, and far beyond, human beings and the universe) point to the deep interconnectedness and intrinsic oneness of all beings, beyond barriers of religion and gender, and is thus much more to cross-religious and inter-gender harmony and compassion. If God isn't just 'up there, in the clouds somewhere', as the mystics say, but everywhere, including in you and me, in every person, no matter what his or her religion and gender, and, indeed, in every animal, plant and insentient thing, what room can there ever be for hate?
While the authors' point about the need for a critical rethinking of our understandings of religious traditions so that they be the force for healing that they were meant to be, and not a cause of suffering, is well taken, the book does not sufficiently address some questions that is on the minds of many today: What need is there to identify with just one particular religious tradition, even if it is interpreted in a truly inclusive and gender-just manner? Why not take goodness wherever it is found? Does not the mere fact of identifying with and claiming to follow only one religion automatically set up boundaries and walls between oneself and others? In this age of 'globalisation', should we not go beyond narrowly-inscribed religious boundaries and into a truly global spirituality that is not defined by a particular set of truth-claims, scriptures, and histories?
These are some very important questions that many people, tired of the horrors that have been, and continue to be, committed in the name of religion, are asking today. But the fact that this book does not deal with these issues in as much detail as one might have liked does not detract from its enormous value. It is definitely a must-read for anyone concerned with promoting interfaith or inter-community understanding and harmony. The fact that it is written by three men of faith—and of three different faiths that have often been interpreted to be viscerally opposed to each other—who happen to be intimate friends adds to its great beauty and worth.
URL: https://www.newageislam.com/books-documents/religion-gone-astray—-found-heart/d/110694
New Age Islam, Islam Online, Islamic Website, African Muslim News, Arab World News, South Asia News, Indian Muslim News, World Muslim News, Women in Islam, Islamic Feminism, Arab Women, Women In Arab, Islamophobia in America, Muslim Women in West, Islam Women and Feminism