By Roshan Shah, New Age Islam
15 September 2016
Inter-Religious Dialogue—Some Proposals for Building Peace Together
Edited by: Jean Fischer
Published by: Meeting Rivers, Fireflies Inter-Cultural Centre, Bangalore & The Charles-Leopold Mayer Foundation, Paris
Pp: 87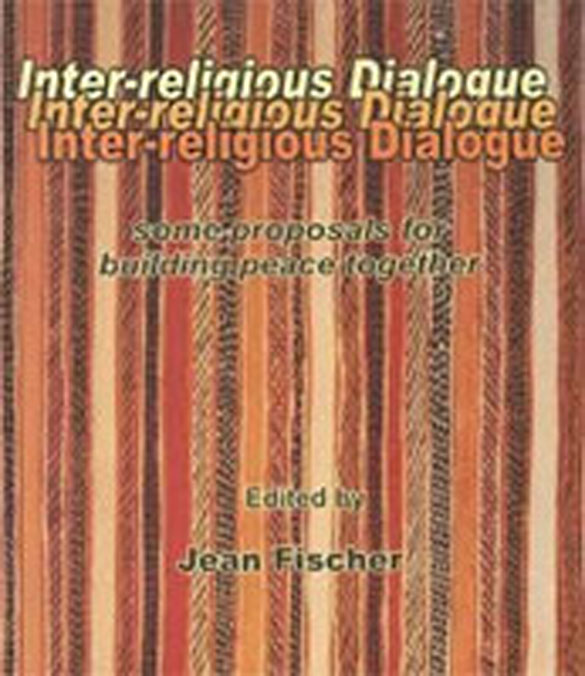 At some point in the past, it might have been possible for religious communities to live in isolation. But not so now, in the 'globalised' world of today, when people of different faiths interact with each other on a vast scale and on an everyday basis. This interaction opens up rich possibilities for mutually-beneficial learning and growth. At the same time, though, if not handled skilfully, such interaction could easily be manipulated to foment deadly conflict between religious communities, as is the case in large parts of the world today.
For religious communities to interact with each other fruitfully and learn to live together in peace despite their religious differences is one of the most pressing challenges at the global level today. The fate of the world, one could say without fear of exaggeration, critically hinges on this possibility. In this context, then, interfaith dialogue for peace-building has become a pressing global imperative, as this book indicates.
A collection of proposals presented by various authors, including interfaith activists from different religious backgrounds, the book stresses the need for interfaith dialogue to go beyond simple theological exchanges to engage in practical action involving people of different faiths working together on social issues of common concern—from promoting environmental protection and alleviating poverty to countering the negative aspects of 'globalisation' and combating violence in the name of religion.
The starting point for meaningful interfaith dialogue for peace-building, the book points out, is "a realistic self-criticism about how one's own tradition has been misconstrued by its own adherents as well as misunderstood by others." It requires dialogue partners to introspect and acknowledge where they have gone wrong, including by recognising their own role in fomenting conflict. It requires people of different faiths to see how some of the interpretations of their faiths have led to violence and how these continue to be invoked in order to foment conflict with people of other faiths. It requires that dialogue partners recognise the inter-personal nature of dialogue—the fact that dialogue happens between people, and not between two or more religious 'systems'. It also requires that they acknowledge that people belonging to different faith communities cannot bring about peace and justice in the world on their own—that they need to work in a cooperative mode with others for this purpose.
Linked to the crucial role that interfaith dialogue can play in peace-building is what it can contribute in terms of providing spiritual direction to humankind. At a time when materialism is at its zenith, when moral values face a grave crisis, and when the market is the new deity for vast millions, the crisis of the lack of religious and spiritual values affects people across all religious boundaries. In this context, interfaith dialogue assumes particular salience. Discovering and sharing the spiritual roots of various religious traditions, the book says, especially those that support peace and ways of harmonious living can help create a spiritual attitude of openness and cooperation across faith communities. In this way, interfaith dialogue can help extricate humankind from the morass of moral collapse.
The book suggests a number of useful practical steps to promote interfaith dialogue for peace-building, such as:
· Monitoring the teaching that happens within one's own religious tradition (including sermons and religious education for children and adults) for anything that might vitiate interfaith relations.
· Monitoring the media to keep them accountable for their reporting on inter-community relations and to counteract modes of reporting that foster stereotypes and prejudice.
· Engaging in a serious analysis of violence (direct, structural as well as symbolic) in history and in one's own religious traditions with a view to developing strategies that encourage non-violence.
· Healing memory of violent events through expressing and listening to conflicting memories and different recitations of history as necessary steps for reconciliation and genuine peace between religious communities.
· Developing theologies of religious pluralism and critiquing interpretations of one's own faith that are premised on intolerance, supremacism and exclusivism and that are often invoked to promote violence.
· Working together with members of other religious communities to combat violence (including in the media), as well as engaging in joint practical initiatives to address issues of common social concern, such as health, ecology, poverty and social discrimination.
URL: https://www.newageislam.com/books-and-documents/roshan-shah,-new-age-islam/inter-religious-dialogue—some-proposals-for-building-peace-together/d/108564
New Age Islam, Islam Online, Islamic Website, African Muslim News, Arab World News, South Asia News, Indian Muslim News, World Muslim News, Women in Islam, Islamic Feminism, Arab Women, Women In Arab, Islamophobia in America, Muslim Women in West, Islam Women and Feminism