By Javed Anand
Nov 24, 2013
By Malala Yousafzai
Christina Lamb Hachette, `399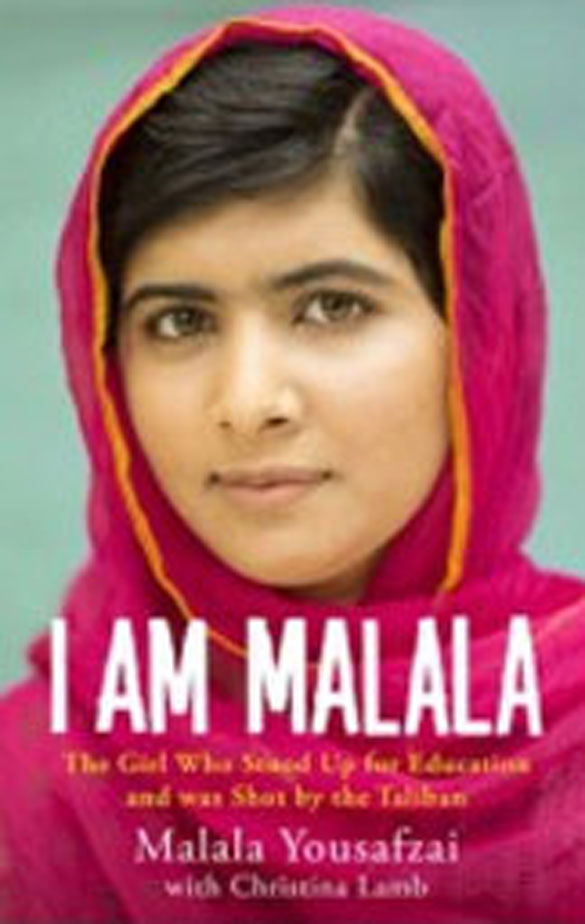 In case you missed it, here's a news report put out from New York by Associated Press on November 13: "There was a flamboyant pop star. A legendary singer. A TV star, some supermodels, and one of the world's most powerful philanthropists even a former secretary of state who may soon be running for President. But of all the prominent women who appeared on Monday night at the Glamour Women of the Year awards, no one received more acclaim and adoration than a teenager whom no one had heard of little more than a year ago — 16-year-old Pakistani education activist Malala Yousafzai."
Who doesn't know Malala? The teenager from the Swat region of Pakistan who was shot by the Taliban (October 2012), had a close brush with death but fortunately survived. A nominee for this year's Nobel Peace Prize, a global icon, since her recovery she has been sending out a simple message to the world, including from the precincts of the United Nations: "I don't want to be thought of as 'the girl who was shot by the Taliban' but 'the girl who fought for education'".
We know you Malala and we get your message. What can one say to those who claim your father is "a CIA agent", that it was he who shot you, or that "I (Malala) wasn't shot at all, and we had staged it so we could live overseas?" We'd rather get to know you and your mission better from the story of your life, I am Malala, as told to the British journalist, Christina Lamb.
We know you better when we learn where you come from: a Pashtun family in Swat Valley, a culture where "for most Pashtuns it's a gloomy day when a daughter is born; when I was born, people in our village commiserated with my mother and nobody congratulated my father". But for Ziauddin Yousafzai, the father it is love at first sight of the daughter. He names her after Malalai of Maiwand, the greatest heroine of Afghanistan. It is he who names her Malala, but for him she is always "Jani mun" (my soul mate, love of my life, joy of my life). For the mother, Thorpekai, she is "Pisho" (cat).
From Malala's account of her family it's evident that her father is different from the traditional Pashtun male. Ziauddin is constantly taunted for "unmanly" behaviour, treating his uneducated wife as an equal: "He even asks his wife". But with Malala it's different: "I see my parents happy and laughing a lot". Happiness can be infectious.
Ziauddin is different in other ways too whose Islam is at home with the country's Buddhist past. For instance, here's one of his poems: "When the voice of truth rises from the minarets/the Buddha smiles/and the broken chain of memories reconnects".
You could say that for Ziauddin education was an obsession: "My father always said that the most beautiful thing in a village in the morning is the sight of a child in a school uniform". Coming from a poor family, Ziauddin had to rely on support from elsewhere to complete his college education. Having graduated, he begged and borrowed money to start and sustain a school — Khushhal Public School, Mingora, Swat — so that others, girls and boys, may get educated. No doubt, Malala inherits her passion for education from her father and an equally supportive uneducated mother.
Education, for Malala's father, clearly means not just rote learning but the widening of mental horizon. When the fatwa against Salman Rushdie for his book Satanic Verses became the subject of a hot discussion in his college days, Ziauddin struck a different note: "First, let's read the book and then why not respond with our own book? Is Islam such a weak religion that it cannot tolerate a book written against it? Not my Islam?"
We see now why Ziauddin was destined to be labelled a "CIA agent", to clash head-on with the Taliban when it surfaced years later in the Swat Valley. Malala was 10-years-old when the Taliban entered the valley. Maulana Fazlullah ("Radio Mullah") influenced large numbers projecting himself as an Islamic reformer and an interpreter of the Quran. For a while, even Malala's mother was impressed. Muslims were told to stop listening to music, watching movies and dancing for it was sinful acts such as these that had invited Allah's wrath and caused the devastating flood in the valley.
Violence followed words of warning. As the Taliban tried to forcibly impose their version of a bigoted, intolerant Islam — killing people, bombing schools — Ziauddin turned into a fearless spokesperson of the anti-Taliban Swat Qaumi Jirga (community assembly). Despite repeated threats from the murderous and advice of well-wishers, Ziauddin refused to shut down his girl's school, desist from his opposition to the Taliban, seek security cover, or leave the valley.
At home, Ziauddin taught his daughter: "You must speak the truth. The truth will abolish fear". Malala liked what she heard. "If one Fazlullah can destroy everything, why can't a girl change it?" she asked herself and prayed to Allah for strength. At age 11 Ziauddin's "jani mun" had also become her father's "comrade in arms", speaking out as fearlessly against the tyrannical Taliban.
Long before Malala was attacked, people had feared that it was her father who was sure to be killed for until then the Taliban in Swat had not targeted young women. Malala was fated to be the first. As she was growing up, Malala was among the taller girls in her class but to her great distress stopped growing once she reached five feet. The teenager prayed fervently to Allah, promising extra prayers if only he would grant her a few inches more in height. Instead, "He made me as tall as the sky"!
Javed Anand is co-editor of Communalism Combat and general secretary, Muslims for Secular Democracy
Source: http://www.asianage.com/books/teenager-tall-sky-429
URL: https://www.newageislam.com/books-and-documents/javed-anand/a-teenager-as-tall-as-the-sky/d/34582