By Abhishek Saha
Jul 24, 2015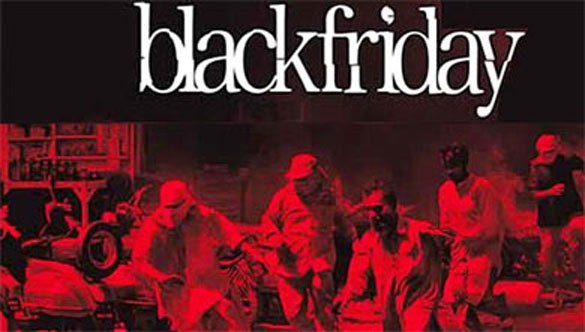 Poster for 2007 film Black Friday
-----------
Tiger Memon, blamed for carrying out the 1993 Mumbai serial blasts, is hectoring one of his henchmen, Badshah Khan, that as a Muslim it is his duty to avenge the murder and rape of Muslims during the communal riots in Mumbai in 1993.
Ek bhi Hindu nahi maara tu ne? (You haven't killed a single Hindu?)" says Memon as the other man cringes at his words.
This scene is from filmmaker Anurag Kashyap's thriller Black Friday, on the serial blasts. The controversial movie shows how the blasts on March 12, 1993 that killed more than 250 people and maimed hundreds of others were carried out, how the police tracked down the culprits and how sometimes innocent people bore the brunt of their atrocities.
As Yakub Memon, Tiger's brother found guilty of conspiracy in the blasts, is set to be executed on July 30, it's interesting to revisit the film and watch how it attempted to explain the blasts and the events that led to it.
The film was based on the book Black Friday - The True Story of the Bombay Bomb Blasts by renowned crime writer and journalist S Hussain Zaidi. It was released in India in 2007, three years after its international outing, when the Supreme Court allowed the film to be shown in theatres only after the TADA court passed its judgment in the case.
The film won the Grand Jury Prize at the Indian Film Festival of Los Angeles in 2004 and was nominated for the Golden Leopard award at the Locarno International Film Festival the same year. Black Friday's music was provided by the rock band Indian Ocean and the title track Bandeh has since become a contemporary cult hit.
Rakesh Maria (who is now the Mumbai Police Commissioner) is played by actor Kay Kay Menon, while Aditya Srivastava of the TV serial CID fame essays Badshah Khan. Jab We Met director Imtiaz Ali plays Yakub in the film, which was written and directed by Kashyap.
The film portrays Yakub as someone who claims that apart from Tiger no member of the Memon family was involved in planning the blasts. And, after his arrest at the New Delhi railway station he helps the investigating officers in deciphering important leads.
In the film, when asked on a television debate if he knows where Tiger is, Yakub replies, "Woh aap ISI se puchhiye." He is alluding to Pakistan's spy agency.
Now, consider this scene.
Badshah Khan has been arrested from his village Rampur in Uttar Pradesh, where he was hiding after the blasts. Deputy Commissioner of police, Rakesh Maria, is interrogating him in the police station.
"Tumhe malum hai kitna nuksan hua, kitne jaane gayi (Do you how much damage was done and how many lives were lost)?" Maria interrogates.
Few questions later, Khan lashes out at Maria, "Babri Masjid girayi. Hamare Musalman bhaiyon ko maara. Hamari auroton ki aabru luti.
Hamari kaum ko jitna nuksan pahuchaya kisi na kisi ko toh badla lena tha (Babri Masjid was demolished. Our Muslim brothers were killed and our women raped. Someone had to take revenge for the loss that our community suffered)."
After an argument, Maria retorts, "Tiger Memon ne tum logon ko ch***a banaya. Tum ch***e ho. Dharm ke naam pe ch***e ban gaye ho tumlog. Aur bante rahoge. Tum bante rahoge aur tumko maarne waala har woh Hindu (Tiger Memon has made a fool of you. You are a fool. You guys have been fooled in the name of religion. And you will be fooled again and again as well as every Hindu who kills you)."
1993 blasts accused Yakub Memon is a CA by profession. When he goes to the gallows, he will be one of the few prisoners who will have completed two masters' degrees from IGNOU. (HT file photo)
Kashyap's film showcases how the 1993 blasts were not an isolated, sporadic terrorist attack. Its narrative is far more complex and is rooted in how Indian Muslims had perceived a sense of injustice during the demolition of the Babri Masjid in 1992 and Mumbai communal riots in 1992-93. It examines the rise of Hindutva politics and the increasing saffronisation of Indian society - a scene shows a group of men raising "Jai Shri Ram" slogans while watching the demolition of the Babri Masjid on television news channel.
Directed in Kashyap's characteristic style, with compelling visual re-creation of the blasts and chase scenes through the slums of Mumbai, the film investigates how wanted terrorists and shrewd smugglers Dawood Ibrahim and Tiger Memon manipulated the growing resentment in the minds of Muslims youth and led them through a wrong path. How Dawood and co, in nexus with Pakistani groups, had conspired to teach India a lesson for the tribulations faced by Muslims.
The destruction of the Babri Masjid and the Hindu-Muslim violence had left a deep impact on the minds of Indian Muslims, more so because none of the perpetrators were ever sentenced. And as Yakub's imminent hanging is discussed, it's worthwhile to ponder upon the questions as to what provoked young working class Muslim men to take to the bomb.
"Neither those who demolished the Masjid nor those found guilty of the ensuing riots, in which 900 persons were killed, among them 575 Muslims and 275 Hindus, were punished, even though criminal offences were registered against the perpetrators. Two judicial commissions also indicted specific individuals for both crimes," wrote journalist Jyoti Punwani in her recent analysis of the wrong signals that hanging Yakub might send across on Scroll.in.
Critics have argued that Yakub's involvement in planning the 1993 blasts was much smaller than that of Tiger and Dawood's. Moreover, some say he was instrumental in providing crucial information to Indian investigating agencies. On the other hand, Indian authorities have not been able to catch hold of either Tiger or Dawood. At this conjecture, as debates on whether Yakub should be hanged or not gather steam, Black Friday indeed provides noteworthy perspectives.
Source: http://www.hindustantimes.com/bollywood/black-friday-is-a-must-watch-as-yakub-memon-prepares-for-gallows/article1-1372626.aspx
URL: https://www.newageislam.com/books-and-documents/abhishek-saha/black-friday-is-a-must-watch-as-yakub-memon-prepares-for-gallows/d/104009